[Updated] The OBA is holding a press conference this morning [Sept 1] where they announced two candidates for the upcoming 2020 General Election, with Marcus Jones in Constituency #19 Pembroke West, and Robin Tucker set to stand in Constituency 7 Hamilton South. We will update with more information later on.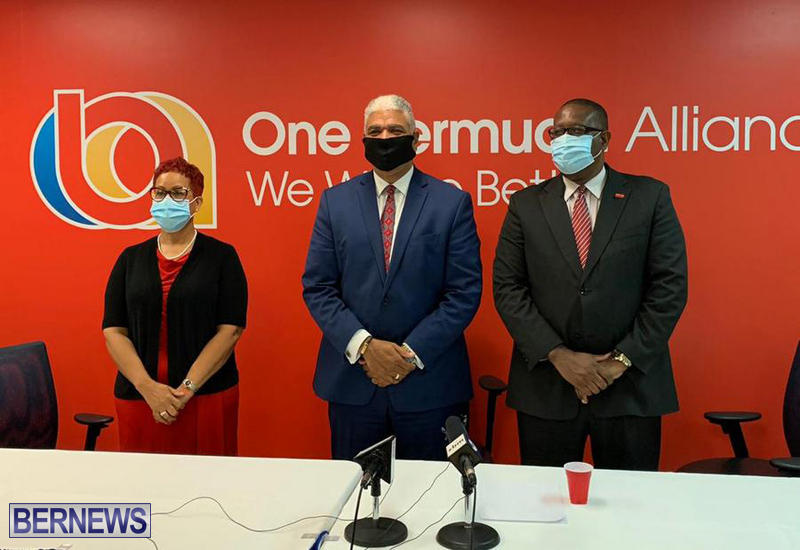 OBA Leader Craig Cannonier said, "I am delighted to say that Robin will be the One Bermuda Alliance candidate in Constituency 7 and Marcus in Constituency 19. They are two fine candidates and represent the future of the Party.
"Last month I introduced Vic Ball to you who is replacing Trevor Moniz. Robin will replace Sylvan Richards and Marcus is replacing Jeanne Atherden."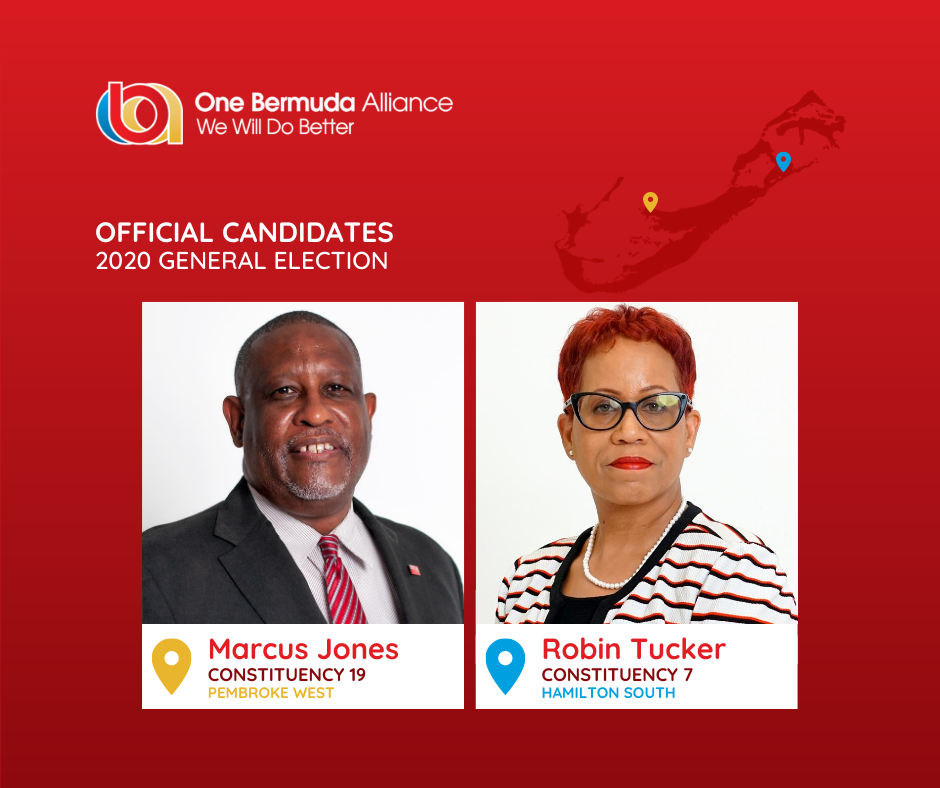 Constituency 7 Hamilton South is currently held by the OBA's Sylvan Richards, and since the one seat system started in 2003, the OBA or UBP have won the seat in all four General Elections, with an average of 55.85% of the vote. The PLP have already announced that Anthony Richardson will be their candidate in the area.
Constituency #19 Pembroke West is currently held by the OBA's Jeanne Atherden and has also been won by the OBA or UBP every General Election since the one seat system started in 2003.
Update 11.50am: OBA Leader Craig Cannonier's remarks:
Good morning Bermuda,

Good morning members of the media,

You will see, sitting either side of me are Robin Tucker and Marcus Jones.

I am delighted to say that Robin will be the One Bermuda Alliance candidate in constituency 7 and Marcus in constituency 19.

They are two fine candidates and represent the future of the Party.

I know they will serve their country with passion, but also humility.

Last month I introduced Vic Ball to you who is replacing Trevor Moniz.

Robin will replace Sylvan Richards and Marcus is replacing Jeanne Atherden.

Sylvan was the first and only candidate to have stood for the Bermuda Democratic Alliance and won his seat under the banner of the OBA.

He has been a cabinet minister and shadow minister. I thank Sylvan for his service and for standing with me through this political journey.

Jean Atherden has served Spanish Point very well during her time in politics and has been an Opposition leader, minister and shadow minister. I thank Jeanne for her service.

I am enthused by the calibre of the people stepping forward as candidates who want to take up the mantle from my senior colleagues. It is truly a new dawn for the OBA.

Soon the OBA will be announcing some exciting policies, but I feel it is important to introduce the Bermudians who will be responsible for implementing those plans.

In that regard, and I am looking forward to rolling out some new faces who have accepted our invitation to run in this election.

When the One Bermuda Alliance became Government in 2012, we were faced with a crisis.

We inherited out of control Government spending and an economy that was in bad shape.

In four short years we turned it around. We got one billion dollars in investment in Bermuda.

Yes, one billion dollars.

New hotels provided hundreds of jobs for Bermudians.

The America's Cup – one of the world's most iconic sporting events – injected $320 million into the economy.

It provided jobs and new business for hundreds of Bermudians in a range of areas.

The airport has employed hundreds of Bermudians jobs throughout its construction.

It will continue to provide jobs for Bermudians when it opens.

We reduced payroll tax for the less well-off and increased them for the rich.

We got on top of Government spending.

We are the right choice.

Bermuda. We are a few weeks away from making a crucial decision about which team is best suited to steer this country away from economic disaster.

The Premier has promised to re-engineer the economy. He has talked of taking an 'unorthodox' approach.

These are just soundbites with no substance.

Before Covid we asked where the economic plan was and today, we are still asking what the plan is to stimulate the economy, to provide jobs for Bermudians and hope for the future.

Bermuda, we are the right choice.

Over the last three years, we have seen promises made and promises broken.

The Premier promised investment in training and Bermudian-based blockchain companies worth twenty-five million dollars.

He promised fintech would create 120 jobs. In more than two years, that has not happened.

The Premier promised to lower the cost of living and introduce a living wage which was agreed in a bi-partisan joint select committee – in other words by the Burt Administration and the OBA.

But Premier Burt has been unable – or unwilling – to deliver.

Bermuda we will do better.

There were also promises to balance the budget and to achieve a budget surplus.

Those never transpired and, in fact, Premier BURT's Government has borrowed $1bn in the last 12 months.

That's an extra $15,500 for every man, woman and child.

We will do better.

The Premier claims have reduced taxes for working Bermudians to 'their lowest ever levels'.

But what Premier Burt gave on one hand he took from the other. There is nothing brilliant about that – other than a cheap magician's trick. All Bermudians have felt the effects of the sugar tax, the new dividend tax for small Bermudian businesses, the increased land tax and the increased foreign currency purchase tax that put the price of imported goods up – all of us have been detrimentally effected by this administration's failed economic policies.

He has forgotten the increase in Government fees which affect Bermudians and Bermudian businesses

Can you honestly say that you are better off because of Premier Burt's 's policies over the last three years?

Premier Burt wants you to vote for him based on the country's handling of Covid for which he followed World Health Organisation Guidelines– but are you willing to give the Burt administration a further five-year mandate after 3 years of economic failure?

Bermuda we are the right choice.

I now hand over to Robin and Marcus.
Robin Tucker's remarks:
Good morning Bermuda, One Bermuda Alliance colleagues and members of the media.

I am Robin Tucker and I am excited to be the OBA candidate for Hamilton South, Constituency #7.
Some may be wondering, who is Robin Tucker?

I have no political history and prior to joining the OBA and agreeing to represent the OBA in the upcoming General Election, I had no political affiliations.

I am just like many of you, a concerned citizen affected by the decisions of whichever Government is leading the country.

I am a wife, mother and grandmother who is worried about the mounting debt that our children, grandchildren and possibly our great-grandchildren will have to repay.

I am worried about our children receiving quality education and whether they will be adequately prepared to compete for job, locally and overseas.

I am worried that so many Bermudians, even pre-Covid, are out of work and are unable to provide basic necessities for their families.

While I don't live in Constituency #7, I have worked in the area for almost 5 years.

Someone asked me "what do you know about this area?" While I have not met with the constituents, I know we share some common concerns.

We all want a thriving economy and fair-paying jobs. We all want to live in healthy and safe communities.
People with children want them to be educated and prepared for their futures.

How can we do this? We must provide equal support for our educators and parents to ensure that teachers have the skills, professional development opportunities and resources needed to deliver quality education for every child.

We must work to bring about more collaboration between parents and teachers as the health of that relationship can significantly impact a student's long-term success.

I also care deeply about protecting our children.

Educating them is important, but if they are hungry and neglected, we can have the best education system in the world but if our children are not safe and properly taken cared for, we have no hope of having a healthy society.

I end my time today with a promise to Constituency #7, that is to turn my words into action.

My pledge to you is that I will not politicize issues.

I will remember that as a Public Servant I work for you. You do not work for me.

I promise to show my commitment to representing Constituency #7's interests by carrying out my work as a Public Servant with integrity, thoughtfulness and with professionalism.

Lastly, thank you, Craig and the OBA selection committee for giving me this opportunity to be part of the new and revitalized OBA team.
Marcus Jones remarks:
Today marks the culmination of a political journey that began as a teenager, born and raised in Somerset whose only exposure to politics was through the Progressive Labour Party. I did not know anyone who sided with the other party in my neighborhood and like a fanatic follower of English football [Go Man United] we never changed our allegiance, which included our politics.

So it was quite natural for me to jump on that band wagon and espouse the ideals of all the PLP personalities that I had looked up to through my adult years. But I have taught my children, to be critical thinkers, ask questions and don't settle for the status quo. I followed my own advice and after some serious soul searching I realized that I could no longer be a standard bearer for a party who by its political posturing demonstrated that it put black, Bermudian working class people above everyone else. I believe that was necessary for a racially divided 1960 Bermuda, where persons within my community had been disenfranchised from the political and economic process. But with the strides that have been made, a predominantly black political party that has been in power for almost 20 years, black business ownership that would be the envy of our brothers and sisters in the US and the percentage of highly educated black Bermudians that reside on our island, the victim mentality that the establishment was keeping us back and the reference that the sins of slavery defined us was too much for me to bear.

I wanted to be a part of an alliance of community minded, fiscally responsible and forward thinking people, who have sincere concerns for the hardships of its residents and believed in advocating for the vulnerable and disadvantaged. A party that is inclusive, embracing Bermuda's diversity of people, provides opportunity for everyone to succeed. A party that puts all Bermudians first, not just a certain sector of the community based on ethnicity, class or economic status.

So that "Come to Jesus" moment led me to the One Bermuda Alliance. The list of values that I have mentioned is what this party aspires to be. This party has not always reflected the ideals of its mandate outlined in its name and enshrined in its constitution, which is to strive to create an environment both in perception and reality, a One Bermuda. That is reflected in our theme for this election, We Will Do Better which demonstrates humility in admitting past shortcomings and a commitment to improve on our performance as parliamentarians both individually and as a party.

This brings me to the fine people in Pembroke West, who I am soliciting for support to be the representative of Constituency #19. On the door step, you have told me about the poor conditions of Spanish Point Road and the need for some major clean-up of old discarded boats and the like just off of the Spanish Point Boat Club. You have impressed upon me the need for a future economic plan for a post COVID19 Bermuda, a public education system that provides equal quality access to every boy and girl and the removal of divisive political rhetoric that is common place in this arena.

As the OBA's proposed candidate I commit to addressing these concerns of yours and by God's help I know I will make a difference in Pembroke West and Bermuda as a whole.

Read More About