[Updating] The PLP is holding a press conference this morning [Aug 26] where they are expected to announce additional candidate[s] for the upcoming 2020 General Election, which will be held on October 1st, 2020. We will have additional coverage later on and in the meantime the live video is below.
Update: The PLP announced that Senator Anthony Richardson will run in Constituency #7 Hamilton South and Owen Darrell will run in Constituency #8 Smith's South.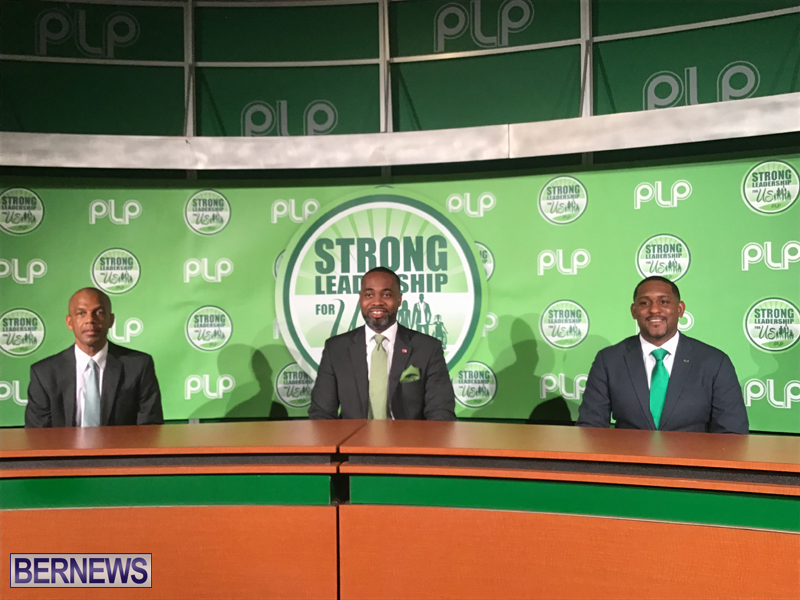 Live video replay:
Update 12.50pm: Premier David Burt's remarks:
Good morning,

I'm incredibly excited to introduce our candidates for Constituency #7, Hamilton South and Constituency #8, Smith's South.

This election is about leadership and which leader and team Bermudians prefer to lead our country through these tough times. We are offering a team from all walks of life. We have executives, entrepreneurs, lawyers, accountants and finance professionals among our ranks, but, we also have tradesmen and women, union organizers, taxi drivers and hospitality workers. The leadership that we offer is connected to the community and has a heart for the people.

I think it's important that we judge leaders by their records in office. And, fortunately, Bermudians have had the opportunity to see both myself and the opposition leader perform as Premier of Bermuda. Bermudians remember what happened during their tenure. During our tenure, we made sure and steady progress on our platform. We reduced taxes for working Bermudians to their lowest levels ever. We offered tax incentives for new entrepreneurs creating jobs for Bermudians. We cleaned up the mould in our schools and fully funded education. We reduced the Bermudian unemployment rate from 8.2% under the OBA to 4.4% before the pandemic. And, during the pandemic, we dramatically expanded unemployment benefits and allowed Bermudians to access monies from their pensions to see them through.

Now, we've entered the new normal, the virus is under control and we're slowly and surely reopening our economy. Our Work from Bermuda programme is already showing success, bringing new capital into the economy. Hotels are reopening. And, Bermudians are slowly and surely getting back to work. We are making progress.

Today I am proud and excited to present two more candidates of the PLP Team.

I'm incredibly excited to introduce Senator Anthony Richardson, our candidate for Constituency #7 Hamilton South. Anthony came incredibly close to winning Hamilton South in the last election. He has been a consistent presence in his constituency and I know that he'll be out in the community with physically distanced canvassing to finish the job this time. Anthony….

Thank you Anthony.

I'm also incredibly excited to introduce Owen Darrell, our candidate for Constituency #8, Smith's South. Owen has served ably in my office as Chief of Staff. He is someone who knows how government works and will be a fierce advocate for the people of Smith's South in the House of Assembly. If anyone knows Owen, they know he brings energy to everything he does! Owen…
Senator Anthony Richardson's remarks:
Good Morning Mr. Premier, PLP family, members and voters of branch #7 – Hamilton South, Members of the Media and especially my immediate family and others who would have been here, but for Covid 19.

I was once asked 'what is the purpose of living if you can't help uplift your community?' It follows that today I am pleased to accept the invitation from Bermuda's Leader, the Honourable David Burt, the Hamilton South Branch and by extension the party members of Hamilton South to continue my service to the community as their 2020 General Election candidate. I believe that all of my experiences to date have prepared me for the next step of representing the voters of Constituency #7 in the House of Assembly.

There is perhaps a lot to say but I will limit my comments today and categorize them as Leadership, Investment and Commitment.

Under the strong and steady leadership of David Burt and our team, it has been both a pleasure and a significant learning opportunity to serve with the fabulous 5 – your very effective and capable team of Government Senators under the more than capable Senate Leader the Hon Kathy Lightbourne Simmons, Attorney General and Minister of Legal Affairs!! Our party offers strong leadership in the Senate and the House!

I initially served as a Senator from 2017 and then as a Junior Minister since 2019 for the 3 portfolios of Labour, Community Affairs and Sports, Home Affairs and Education. Whilst there were many highlights, I am appreciative about the discussions and legislation that resulted in Mary Prince Day, changes to make the Planning process more efficient, the recent passage of the Special Development Order for Riddells Bay that will return significant portions of land for use by 'everyday Bermudians' and the ability to highlight the successes of the Public Education system, with particular emphasis on the Dual Enrolment Program. I look forward to the reopening of schools for the next school year when new Covid 19 protocols will become the norm and continuing the process to phase out middle schools.

I also reflect positively on my role as the initial chair of the revitalized Cost of Living Commission. In that role, I was able to work directly with one of the larger grocery store chains on the introduction of consistently lower prices on selected everyday items. We still have more work to do when it comes to reducing prices in Bermuda, but, we're making progress to increase transparency, combat price fixing and ultimately reduce the cost of living.

My comments about investment are a direct contradiction to my introspective personality because everything was done with the intention of being quietly helpful. – what is the purpose of living if you can't help uplift your community. But I accept that voters want to know what their representatives are doing on their behalf. I therefore offer the following:

My biggest joy from investing more than $10,000 working with and on behalf of Branch and voters in Hamilton South occurred during the height of the Covid 19 pandemic when commercial flights were suspended. Based on the insistence of the Premier that no Bermudians should be stranded abroad, I was able to assist students in my private capacity to return home by sponsoring the cost of their airfare. In another instance, a student had to urgently return to the US. I will never forget the expressions of joy from their guardians after being reunited with their loved ones!! We also ensured that the cost of ice for the basic requirement of keeping the Covid samples cold in the east was kept to minimum by providing hundreds of pounds of ice, free of charge to the Government.

Within Constituency #7, I was able to assist in funding the cost of making the roof of the club water tight and with regular food distributions – in a discreet manner and sponsoring the jet ski rides for the annual DHF fund day organized by Barry Gibbons. There is also one additional service be offered to assist seniors that will be announced in the near future.

My commitment to Bermuda, the community and the party is self evident. I have been professionally qualified as an Accountant for almost 30 years. During that time, I served in Public roles as Accountant General, Board Chair and Finance Chair of the Bermuda Hospitals Board, CEO of the Bermuda Health Council and CFO of the Bermuda Land Development Company.

For the PLP, I have been a lifetime member since the 1980s when I returned from University and joined Progressive Youth. I fondly remember the special attention afforded young people by former Party Leader Mr. Freddie Wade and the regular meetings at Mr. Roosevelt Brown's house in Friswell's Hill. Since that time I served in various roles within the party including Treasurer, Deputy Chair, Branch Chair and 3 time candidate in 2011, 2012 and 2017.

I reiterate one of my earlier comments. The idea of self promotion is contrary to my introspective personality. But I get it. You want to know 'what have I done for you lately.' My response – I have been working for you with Branch #7 quietly but effectively behind the scenes!

What am I asking from the voters in constituency #7, Hamilton South? Allow me to be part of the effective and dynamic TEAM PLP. As we move forward and continue to address Covid 19 and rebuilding the economy, I have the training, experience and commitment to play a valuable part. Please – come out and vote. Each vote counts. In 2017 the difference was 21 votes! If 12 people had voted differently, I would have been able to serve you even more effectively since 2017.

If you voted for me in 2017, please do so again. If you were one of the 12 that could have made the difference, I ask for your support. Register. Turn out to vote at the advance poll or on Election Day. In a phrase – we are in it to win it.

At the end of the day, this election is about leadership. And, it's a choice between who we want to see us through this crisis – David Burt or Craig Cannonier. I ask the people of Hamilton South to ask which leaders they want to lead our country through the economic recovery in a way that puts Bermudians first.

It's time to go big or go home. I choose to go BIG. Think Big. And, Deliver Big Results for the people of Hamilton South.

Thank you.
Owen Darrell's remarks:
Thank You Mr Premier,

To The Party Executive, Parliamentary Caucus, Central Committee and Entire Membership base….It is a privilege to be given this opportunity.

As someone who has been in public service for more than 20years, I am grateful for the opportunity to continue my service to my fellow Bermudians and run as the PLP Candidate in Smith's South…a Constituency that essentially represents the "Greatest Hits" of my life…as we say in Bermuda: "I was born there".

Obviously I was born in King Edward, but I grew up in the neighbourhoods of Constituencies 7 and 8. I attended Harrington Sound School; Harrington Hundreds is my corner shop; my Father's shop is on Devils Hole hill; and I still live on Knapton Hill today.

For me and the other lucky bies, John Smith's Bay is "the beach"; Devil's Hole dock is "the springboard"; Cleveland County is "the team"; and Spittal Pond is "Mother Nature".

For us, swimming is not about Horseshoe, diving is not about Admiralty House, and of course…Bailey's Bay know nothing about cricket. When you are from Smiths Parish, it's about "Our Area", "Our Neighbourhood" …so if you know, you know.

And all of that makes me extremely proud to offer my energy and ability to the people of Smith's South, residents of Constituency 8.

Prior to getting involved with political service I was a teacher in the public-school system; a calling that I loved for 15years. If you have empathy and care, teaching is a calling, not a job; there is nothing better than seeing your former students excel.

And after seeing hundreds, if not thousands of bright Bermudian students graduate from the education system, I want to continue my service to them, and all students by helping the PLP build a Future Bermuda that their promise and dedication deserves.

Bermuda used to create a good standard of living for everyone who had a decent education; but the rise of Two Bermudas, the recent failure to invest in the public school system, and the renewed focus on racial equality, lets us know that there is a lot of work to be done; work that quite frankly the OBA is not able to address.

To the voters of C8, some of you already know me and my family; my Mother was an educator for 36 years, and my father is a self-employed electrical fitter. Other voters will get to know me over the next few weeks, and until that time, I want you to know that my team and I are committed to providing you with effective representation in Government.

For the past three years I have worked as the Chief of Staff for the Premier's Office. In this capacity I have seen the awesome highs and the extreme lows. I have seen what happens when things go well, and I have seen what happens when things fall apart. I want to be part of the PLP Team that works to ensure that we have many more highs, and fewer lows.

At the end of the day, this election is about leadership. And, I've seen first hand the leadership that our Premier and the PLP team has provided. I'm proud to have played a small role. As we look at this election, Bermudians have to make a decision about who we want to continue seeing us through – David Burt or Craig Cannonier. For me, the choice is clear.

As I wrap up, I would like to thank my family who are supporting me, the Premier for his confidence in me, and the well-wishers who inspire me. If given the chance to represent Constituency 8, I will ensure Residents get the Government support and service they deserve.

Read More About