[Updated] Emergency personnel responded to Front Street in Hamilton this afternoon, with a search launched after a man fell overboard.
A police spokesperson said, "At around 5.30 this afternoon, a 31-year-old male fell of the number one dock on Front Street and reportedly struck his head on the back of the vessel Zara. He disappeared under the water, and several individuals entered the water and attempted to locate him.
"A member of the Coast Guard borrowed scuba equipment and entered the water and eventually found him, brought him to the surface and attempts to resuscitate him were started. An awaiting ambulance transported him to KEMH."
The police said they will provide further information as able.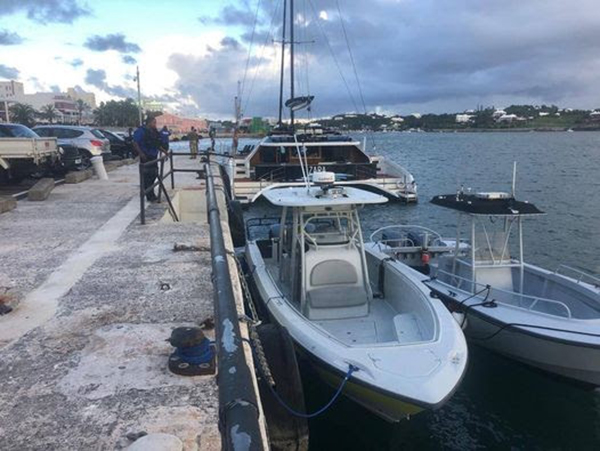 Update 9.10pm: The police have confirmed that the 31-year-old man has died.
A police spokesperson said, "At around 5:30pm, today, Monday, 7th September, police received a report that a male who had disembarked the pleasure boat "Zara" had fallen off the Number One Dock on Front Street in the City of Hamilton, where the vessel was moored.
"He reportedly struck his head on the vessel's stern as he fell, before disappearing under water. A search was immediately commenced with private divers and members from the Coast Guard.
"The male, a thirty-one-year-old guest worker, was subsequently pulled from the water in an unresponsive state and CPR was commenced.
"He was transported by a waiting ambulance to the King Edward VII Memorial Hospital, where he was pronounced dead a short time later.
"No further information will be provided at this time.
"The Bermuda Police Service is asking anyone who may have witnessed the incident or who may have any information about it, to please call 211 or, the main police number, 295-0011."
Read More About