Raleigh Bermuda recently celebrated the graduation of 13 young Bermudians who completed the 2019 Venturers' Programme.
A spokesperson said, "Raleigh is the only organization on the island that works continuously with young people ages 17–24-years-old by providing them with the survival and life skills to become confident, productive members of our community and to successfully manage the transition to independence and adulthood.
"Over the years, the programme has evolved to provide increased and individualized support, but the underlying mission is still the same: create a safe, positive space for young Bermudians to be challenged and reach for higher heights. Currently, Raleigh Bermuda has over 172 alumni between the ages of 18-35 years old.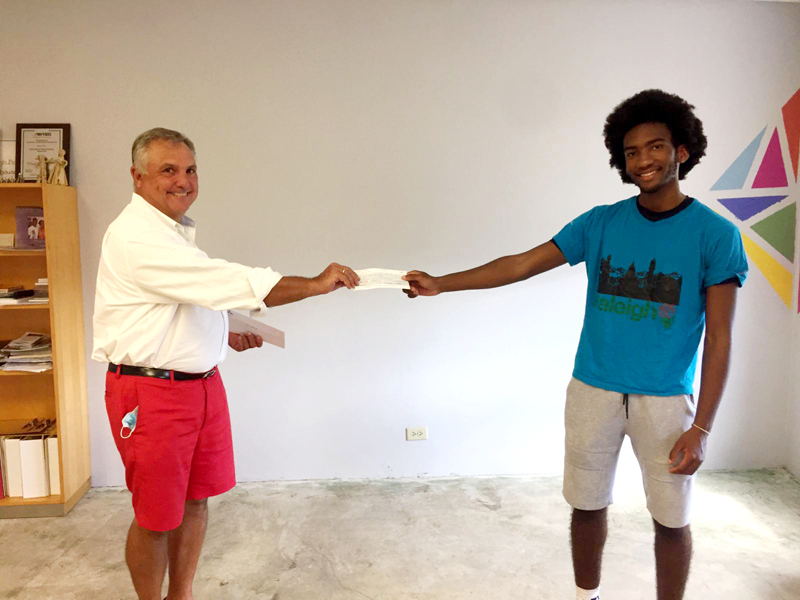 "On October 8, 2020, Raleigh Bermuda celebrated the graduation of 13 young Bermudians, aged 17-24-years-old, who completed the 2019 Venturers Programme. Participants completed a year-long personal development programme, which included local training camps, skills development workshops, and a 10-week overseas expedition.
"Raleigh Bermuda was able to send 13 of our young people to Nepal and Tanzania in 2019 thanks to generous donations from donors, partners, and community members. Thank you to our Programme Coordinator Keri Pacheco and Project Managers who played a key role in mentoring our young people, and thank you to our Chair Tasha Jones and our board members for the continued support of our young people.
"Congratulations to the following Venturers who received awards:
"Michael J. Spurling Award for the Raleigh Champion $1000 [funded by Michael J. Spurling MBE].
"Recipient: Eric Jr. Wallace, 18-years-old.
"The Michael J. Spurling Award for the Raleigh Champion is presented to the participant who is an engaged, active volunteer and Raleigh advocate, chosen by the Executive Director."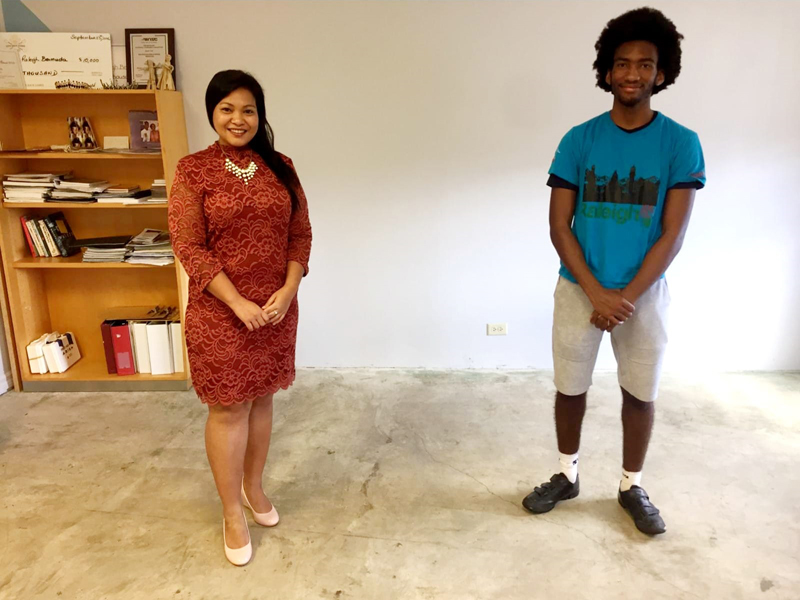 Michael J. Spurling, Founder of Raleigh Bermuda, said, "What a thrill it is to see Raleigh going from strength to strength after 16 years of investing in our young people and to meet past Venturers such as Eric Wallace, who not only made a success of his involvement in Raleigh's one year programme in 2019, but continues to participate in bringing new ideas to Bermuda and to the organisation.
"It was always my goal to see our past Venturers assume a significant role in Raleigh and to serve as a peer group in the community to challenge their fellow Bermudians to seek a life with sustainable and consistent values.
"It is very reassuring to see Raleigh's past Venturers speaking out in regular discussion groups on issues that pervade and challenge our community and which need to be addressed head on. Raleigh has helped many of these young people identify their sense of self worth whilst helping them to develop their values and discover what they can do for their community.
"Eric is clearly one of these young men. Well done."
Dany Pen, Raleigh Executive Director, said, "It gives me great pleasure to select Eric Jr. Wallace for the Raleigh Champion award. During the quarantine phases of Covid-19, Eric stepped forth to volunteer and assist with helping our 2020 Venturers' Group transition to an online platform for their training.
"Furthermore, during the crisis, he created mask strap extenders and provided them to the Bermuda Police Service. His community service amplifies Raleigh's core values and we are so proud to select him as the recipient for this award. Congratulations Eric."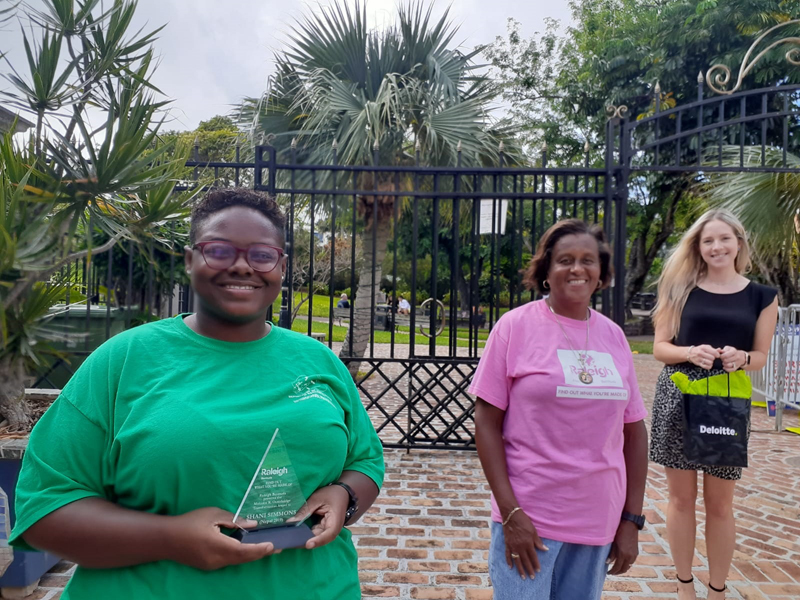 The spokesperson said, "Eric Jr. Wallace was also honored with the Raleigh Global Citizen Award."
Mr. Wallace said, "Being a global citizen is a glorified way to say think outside the box. Once you realize you live on planet earth rather than just living in your country, you have taken a step in the right direction to calling yourself a global citizen.
"But knowing that, we are still divided into countries that define who we are. And that is a natural thing to do, thrive in numbers. But some countries are not thriving and this where becoming a global citizen can come into the picture.
"Countries may have detrimental effects on other countries, some may be wasteful, some may be power hungry, some even may be on the brink of an economic crisis. So, becoming a better global citizen is looking at all of these and seeing how we can change our ways for not just ourselves but for everyone.
"Global warming is a great example on the big picture. We all are affected by this and some more than others. But not seeing it in your country doesn't mean it doesn't exist. And that goes for a lot of the world issues today.
"Many people still believe that it is out of their control to fix these issues. But being a better global citizen is educating and acting on our words rather than keep them unaware of the world around us."
The spokesperson said, "Malcolm K. Outerbridge Transformation Award $500 [funded by Deloitte Bermuda].
"Recipient: Shani Simmons, 23-years-old.
"The Malcolm K. Outerbridge Transformation Award is presented to the participant who is deemed by their peers to have had the greatest transformation."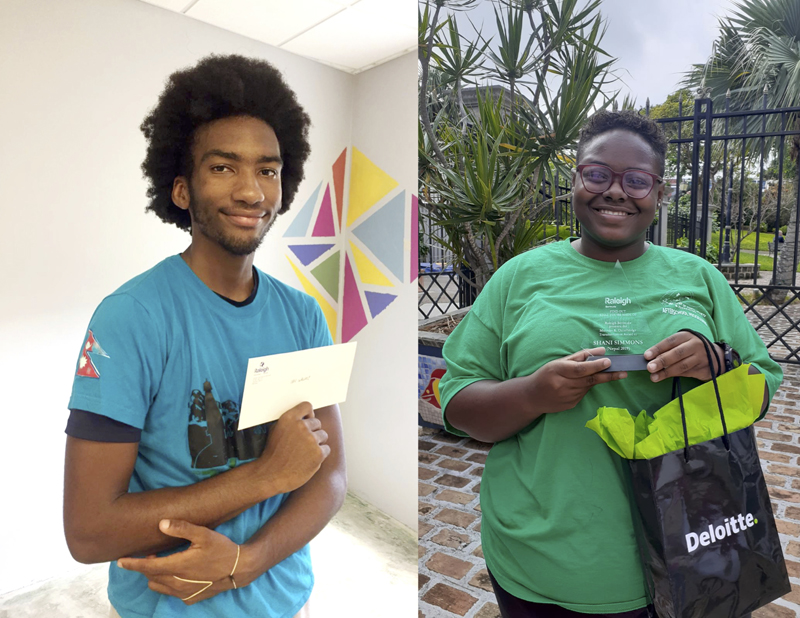 Kelly Gilmour, Manager and Co-Chair of the Corporate Social Responsibility Committee at Deloitte Bermuda, said, "Deloitte is committed to positively contributing to the communities where we live and work throughout the year. The Venturers at Raleigh were asked to vote for an individual who they believed had the most transformational experience during their time at Raleigh.
"Shani Simmons was voted for unanimously by her peers and for that reason, I am pleased to present Shani with Raleigh's Malcom K Outerbridge Transformation Award on behalf of Deloitte Bermuda."
Kaywell Outerbridge, Alumni Parent and Board Member, said, "My son, the late, Malcolm K Outerbridge, was an amazing young man, a visionary who was showing great promise. Making it his mission to show those who needed help, an organization called Raleigh Bermuda challenges you in realizing your true potential.
"Malcolm's life changing experience with Raleigh Bermuda showed him that, and after a 10 week expedition in Borneo, Sabah, Malaysia in June- September 2011, he returned home completely transformed. If you have the opportunity to get involved with Raleigh Bermuda, don't wait, the alumnus are an incredible group of people.
"The Raleigh Bermuda 'Transformation' awardee for 2020 is being presented to Shani Simmons and I'm very proud of how positive and focused she has become. Congrats lady."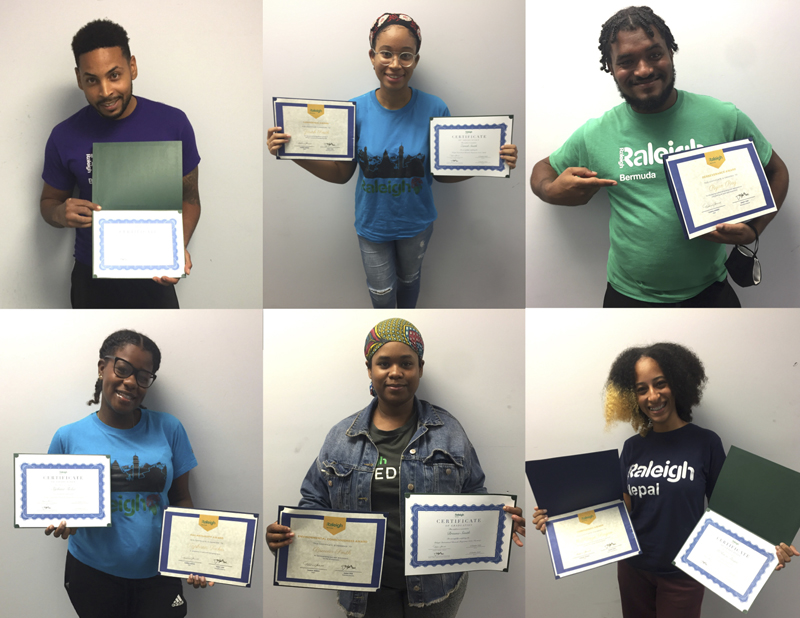 2019 Graduate Awards
Aj Armstrong: Team Work Award
K'Tare Collins: Comradery Award
Jahkera Tucker: Heart Award
Malaysia Pitt-Clarke: Moral Compass Award f
Elisha Thomas: Motivator Award
Breuna Smith: Environmental Consciousness Award
Ryan Ray: Perseverance Award
Tajshana Tucker: Philanthropic Award
McKenzie Furqan: Compassion Award
Shani Simmons: Resilience Award & Malcolm Outerbridge Transformation Award
Sean Smith: Strong Willed Award
Zariah Smith: Confidence Award
Eric Wallace: Global Citizen Award & Michael Spurling Award for the Raleigh Champion
Read More About