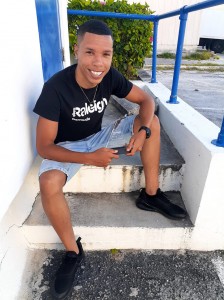 Justin Cann has been named Raleigh Bermuda's Volunteer Of The Year.
A spokesperson said, "Raleigh Bermuda is proud to recognize young Bermudian Justin Cann as Raleigh's Volunteer of the Year.
"Justin Cann has been involved with Raleigh Bermuda since 2012 as a Venturer and subsequently assumed the position of Project Manager in 2013.
"His involvement with Raleigh has played a significant role in being a Big Brother, life coach and mentor to many other young Bermudians. Through his leadership as a Project Manager, he assisted in the launch of the 'I Am Brave: Youth Against Violence' programme alongside Project Manager Ashanti Stovell in 2020.
"In the past year, he has helped to mentor 32 high school students in the Brave programme and he continues to also support our Venturers and Alumni programme."
Justin Cann said, "I believe we are all designed with a purpose and through Raleigh I'm able to live out my purpose uplifting and giving back to those in my community and the future leaders of tomorrow.
"To be honored with this award is a blessing; with all that is going on in this world, it feels good to know that good deeds are being seen and heard, especially by an organization you believe so highly in."
Dany Pen, Raleigh Executive Director, said, "Justin embodies the spirit of what it means to really be the change you wish to see in the world. Thank you Justin, for your selfless and ongoing volunteer leadership. The Raleigh board, staff and alumni family deeply appreciate you."
For more information about the Raleigh Alumni Programme, please email info@raleigh.bm or call 333-5678.
Read More About