[Updated] The United States CDC has changed Bermuda's country classification from 'Alert Level 2: Moderate Risk' to 'No Travel Health Notice: Covid-19 Risk is Very Low,' the U.S. Consulate announced today.
This is, in effect, the best ranking the CDC can give a jurisdiction as their system uses 4-tiers; high risk, moderate, Level low risk, and then they have a 'No Travel Health Notice, Very Low Risk' tier, which Bermuda is now classified as.
A U.S. Consulate spokesperson said, "Today, the United States Centers for Disease Control and Prevention [CDC] announced Bermuda has been removed from its Level 2 Travel Health Advisory List.
"The CDC has changed Bermuda's country classification from 'Alert Level 2: Moderate Risk' to 'No Travel Health Notice: COVID-19 Risk is Very Low.'
Screenshot from the CDC website showing the 'Covid-19 Risk is Very Low' jurisdictions: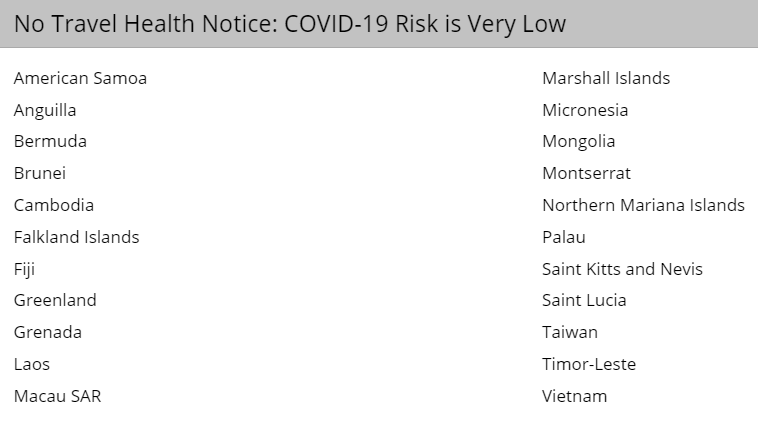 U.S. Consul General to Bermuda Lee Rizzuto said, "The U.S Consulate has been heavily engaged on this issue, advocating for the island's safety and highlighting protocols implemented by the Government of Bermuda to minimize the spread of COVID-19. The extensive protocols and testing regime continue to make the island safe for travelers and residents.
"The Government of Bermuda is doing an incredible job managing the island's safety, and we're happy to announce the CDC's adjustment to the country classification in light of Bermuda's low risk assessment."
"The removal from the Travel Health Advisory List is beneficial to the island as the Government, Tourism and International Business sectors seek to attract more visitors to the island," says Consul General Rizzuto.
A spokesperson added, "All U.S. citizens are advised to read country specific Travel Advisories and U.S. Embassy and Consulate COVID-19 pages for updates on the impact of the virus worldwide. We continue to recommend U.S. citizens exercise caution when traveling abroad due to the unpredictable nature of the pandemic. Visit the CDC's website for more information.
"U.S. citizens are encouraged to stay informed and follow updates on Travel.state.gov and to enroll in the Smart Traveler Enrollment Program [STEP] to receive timely Alerts about evolving health and safety conditions in their planned destinations. Official guidance for visitors can be found on the Government of Bermuda's website."
Update 4.03pm: "We welcome this very positive assessment by the CDC, which underscores Bermuda's robust health and safety record on managing the pandemic over the past eight months," said BTA Interim CEO Glenn Jones.
"Bermuda is one of the safest places in the world right now, thanks to diligent testing and contact-tracing protocols. Surveys found half our visitors chose Bermuda for that reason and an overwhelming 94% feel safe or very safe here. We welcome all travellers to visit our island safely and responsibly."

As the island and world deals with the Covid-19 pandemic, we are doing our best to provide timely and accurate information, and you can find more information on the links below.
Read More About