The United States CDC has now upgraded Bermuda to 'Level 2′, saying there is a 'moderate level of Covid-19 in Bermuda."
Minister of Health Kim Wilson said, "Covid-19 cases are down in Bermuda, thanks in part to our aggressive testing and vaccine programme. As well, the United States Centres for Disease Control today upgraded Bermuda's Covid-19 risk rating.
"Bermuda is now classed as Level 2, moderate, up from Level 4, very high in a travel advisory on the organisation's website. However, we must continue to be vigilant to avoid any additional outbreaks."
Screenshot from the CDC website as of today: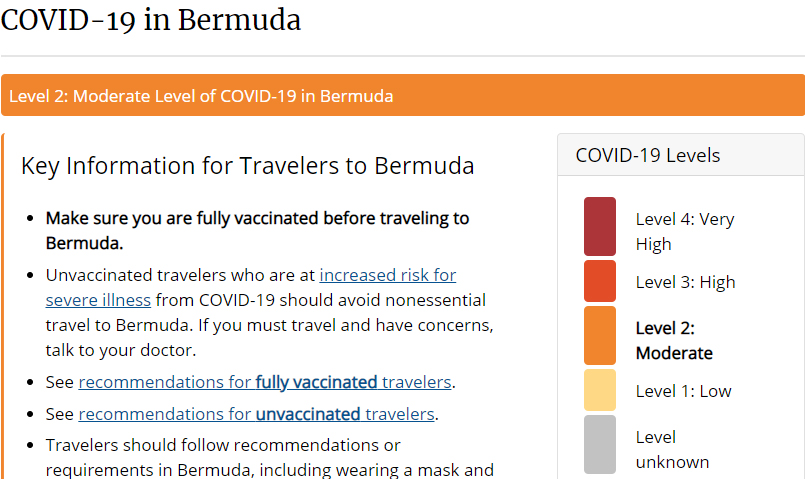 In October 2020, the CDC changed Bermuda's country classification from 'Alert Level 2: Moderate Risk' to 'No Travel Health Notice: Covid-19 Risk is Very Low.' That ranking was, in effect, the best ranking the CDC can give a jurisdiction, however after cases increased locally late last year, the CDC moved Bermuda to their highest level ""Level 4: Very High Level of Covid-19 in Bermuda" in December 2020.
On March 1st they improved Bermuda's classification to "Level 3: High Level of Covid-19 in Bermuda," on March 15th the CDC moved us to "Level 2: Moderate Level of Covid-19 in Bermuda," and in early April they moved us back to Level 4.
In summary there are four levels, we were at the best level in October, then moved to the 4th [as in worst] level in December 2020, then moved to the 3rd level on March 1st, the 2nd level on March 15th, on April 5th they moved us back to Level 4, and as of today, we are classified as Level 2.

You can find more information on the links below and also on our dedicated website BermudaCovid.com, which is the most comprehensive resource and historic record available of Bermuda's handling of the pandemic.
Read More About