The 2021 Bermuda cruise ship schedule — which is subject to change as it is a "fluid situation" — has been released, with the current schedule showing the first visit planned for April, and 122 contract cruise ship visits and 57 'occasional callers' for the year.
Cruises have been suspended for most the year due to the Covid-19 pandemic, and looking back at Bernews cruise ship article section, the last coverage we have of a cruise ship arriving was back in February 2020, with cruise suspensions starting in March 2020.
Statistics from the recently released BTA tourism stats showing zero cruise arrivals in the third quarter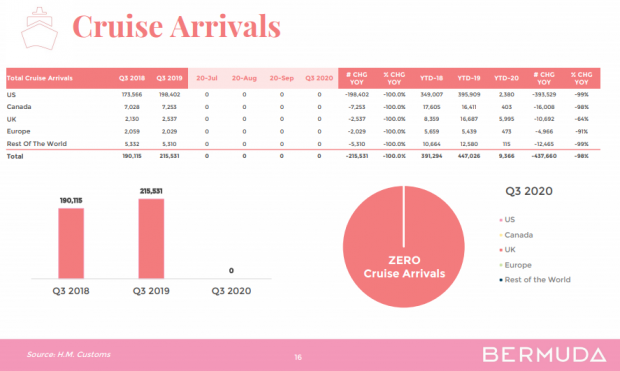 Speaking at a press conference earlier today, Minister of Transport Lawrence Scott said, "We are looking to reintroduce cruise ships in April of 2021, but once again that is a very fluid situation.
"We have to make sure the CDC gives approval, that the Healthy Sail Panel gives approval, and that we get approval from the Ministry of Health here in Bermuda to be able to resume acceptance of cruise ships."
Brief extract of the Minister speaking about cruises at today's press conference
According to the schedule, the five contract callers include Summit with 12 visits, Empress of the Seas with 12 visits, Norwegian Gem with 27 visits, Enchantment of the Seas with 23 visits, Freedom of the Seas with 21 visits, and Norwegian Joy with 27 visits.
The 2021 cruise season is scheduled to get underway with the arrival of the Carnival Pride in April 7, however as the Minister notes above it is a "very fluid situation" and they have to make sure the necessary permissions are in place and the schedule itself notes that it is "subject to change."
The full 2021 Cruise Ship Schedule follows below [PDF here]:

Read More About