[Updated] A cruise from New York to Bermuda — dubbed the "For God & Country Victory" cruise — is being promoted online, with the cruise said to purportedly be "celebrating the re-election of our Commander-in-Chief, President Donald J. Trump."
Donald Trump did not actually win re-election in the U.S Presidential election, however he and some of his supporters have repeatedly claimed that he did citing purported voter fraud.
The website said, "The Patriot Voice is excited to announce the upcoming For God & Country Victory Cruise, setting sail April 17, 2021, for a four-day, four-night nautical adventure with fellow patriots, celebrating the re-election of our Commander-in-Chief, President Donald J. Trump, as well as General Flynn's freedom.
Screenshot from the website: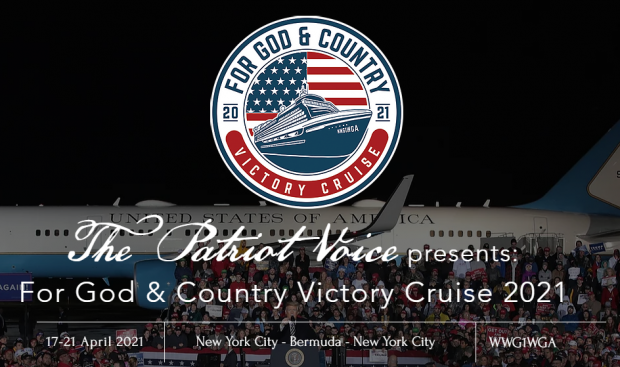 "The beautiful Norwegian Joy will depart New York City on the afternoon of Saturday, April 17, 2021, and the adventure begins! Your trip will include two full days at sea with one full day in between in beautiful Bermuda, with numerous excursions to choose from.
"During the two days at sea, you will have the opportunity to hear from some of your favorite patriots and digital soldiers in both keynote speeches and panel forums. You will also have the opportunity to meet and interact with these people who have both sacrificed and contributed so much for our freedom and liberty.
"Our President and country have been through so much, so what better way to celebrate this new chapter than at sea with your patriot family? We can't wait to see you on board!"
While Bernews normally links to websites we cite in this case we are not as the validity of the website and promo is unclear. In addition to the fact that Mr Trump did not win re-election, the website is not affiliated with the cruise line, it has a "17Anon John' Twitter feed embedded, refers people to a protonmail email, the site credit leads to a Facebook page, and a quick check indicates the website domain was only registered about three weeks ago.
The booking form – which we do not recommend anyone book through — claims the cruise price is $249, which is low for a cruise, and leads to a Paypal payment gateway, which is an unusual way to legitimately book a cruise.
Screenshot of the purported cruise booking form: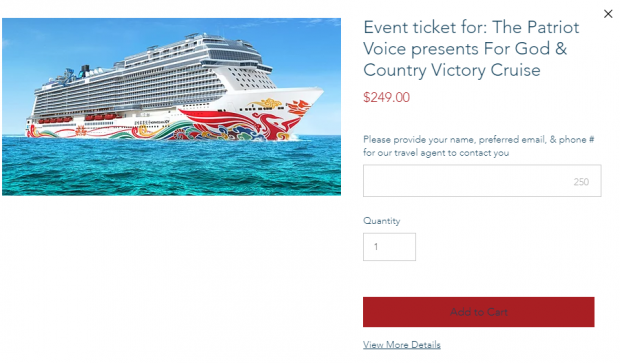 Update 12.07pm: Speaking at a press conference just now, Minister of Transport Lawrence Scott said that "at this point in time we are not aware of any official Trump cruise that is coming here." Video extract below.
Read More About