The record-breaking 2020 Atlantic hurricane season officially ended yesterday, however forecasters note that while the official hurricane season concludes on November 30, storms may continue to develop.
While the island, fortunately, did not take severe hits that resulted in major damage this hurricane season — which saw a record breaking 30 named storms — multiple hurricanes did pass by Bermuda, resulting in high winds, waves and some damage.
Update: The BWS said, "Thus ends the 2020 hurricane season [and not a moment too soon!] Bermuda saw no less than five tropical storms and hurricanes that warranted Watches or Warnings to be issued for the local area, threatening Bermuda with combinations of damaging winds, storm surge and battering wave action.
"They were Post-tropical Storm Arthur, TS Edouard, Hurricane Paulette, Hurricane Teddy and Hurricane Epsilon. Fortunately, there has been no serious injury or loss of life reported. These storms have clearly increased in frequency since the beginning of the century. That is likely due to the increase in upper ocean temperatures around Bermuda, and also to changes in the steering flow that drive hurricanes near and through our region.
"There is scientific support for the notions that the hurricane regime in the Atlantic has changed in the context of a warming world, and that we can expect more hurricane activity to affect Bermuda in the future due to climate change. In addition, because of the well-documented rise in sea level, we can expect storm surge and ocean related hazards to increase gradually over time."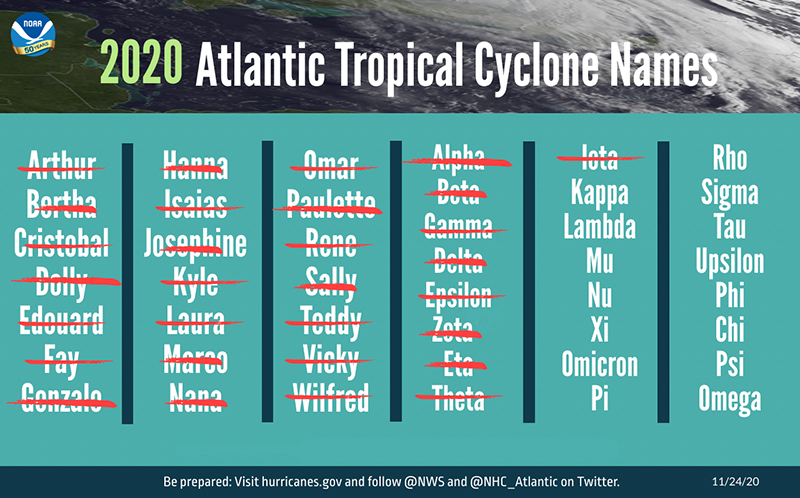 The U.S. National Oceanic & Atmospheric Administration [NOAA] said, "The extremely active 2020 Atlantic hurricane season is drawing to a close with a record-breaking 30 named storms and 12 landfalling storms in the continental United States. While the official hurricane season concludes on November 30, tropical storms may continue to develop past that day.
"NOAA's seasonal hurricane outlooks accurately predicted a high likelihood of an above-normal season with a strong possibility of it being extremely active.
"In total, the 2020 season produced 30 named storms [top winds of 39 mph or greater], of which 13 became hurricanes [top winds of 74 mph or greater], including six major hurricanes [top winds of 111 mph or greater]. This is the most storms on record, surpassing the 28 from 2005, and the second-highest number of hurricanes on record.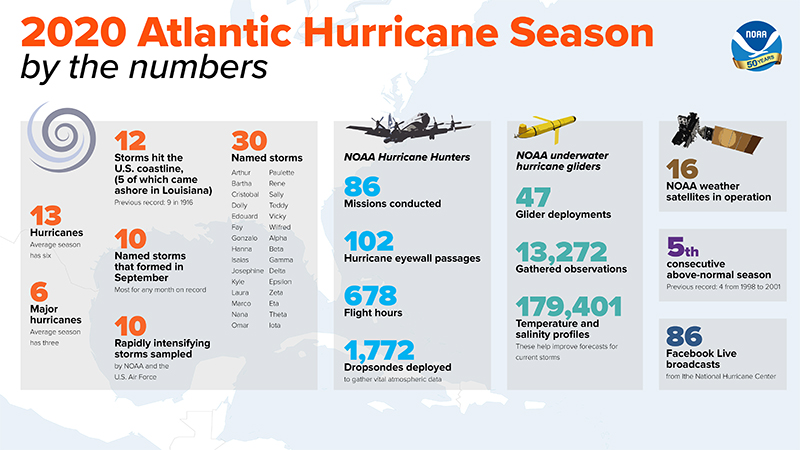 "The 2020 season got off to an early and rapid pace with a record nine named storms from May through July, and then quickly exhausted the 21-name Atlantic list when Tropical Storm Wilfred formed on September 18. For only the second time in history, the Greek alphabet was used for the remainder of the season, extending through the 9th name in the list, Iota.
Waves crashing as Hurricane Teddy approaches Bermuda on September 21st
"This is the fifth consecutive year with an above-normal Atlantic hurricane season, with 18 above-normal seasons out of the past 26. This increased hurricane activity is attributed to the warm phase of the Atlantic Multi-Decadal Oscillation [AMO] — which began in 1995 — and has favored more, stronger, and longer-lasting storms since that time.
"Such active eras for Atlantic hurricanes have historically lasted about 25 to 40 years. An average season has 12 named storms, six hurricanes, and three major hurricanes.
Weather as Hurricane Teddy approaches Bermuda on September 20
"This historic hurricane season saw record water levels in several locations, including the Gulf Coast where Hurricane Sally brought the highest observed water levels since Hurricane Katrina in 2005 to Pensacola, Florida. NOAA's National Ocean Service stations recorded this data using the Coastal Inundation Dashboard, a tool to observe real-time water levels during a storm.
"This season may officially end on Nov. 30, but it is still possible for additional storms to develop. Stay vigilant and make sure your family is Weather-Ready. The 2021 hurricane season will officially begin on June 1 and NOAA's Climate Prediction Center will issue its initial seasonal outlook in May."
Before & after Hurricane Paulette passed by Bermuda on September 13/14

Read More About