U.S. Consul General Lee Rizzuto presented Premier David Burt with a Cup Match portrait which was created by American artist 'Rob the Original,' with the U.S. Consul saying he received the portrait earlier this month from the artist who lives in Texas and wanted to officially present it to the Premier.
A spokesperson said, "U.S. Consul General Lee Rizzuto presented Hon. Premier David Burt with a special portrait created by American artist 'Rob the Original' this summer, to commemorate the Cup Match Holiday.
"The official presentation took place at the Cabinet Office, where U.S. Consul General Rizzuto recognized the importance of the holiday and his interest in highlighting its historic significance paired with Bermuda's vibrant culture through art.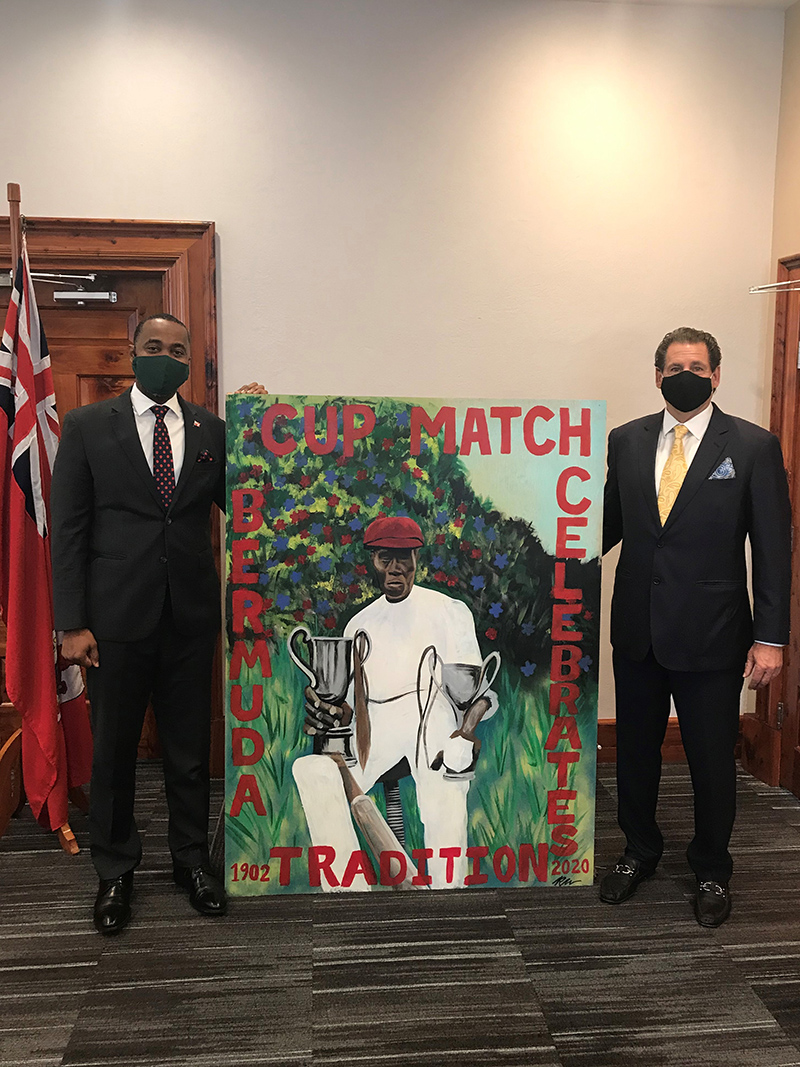 "Inspired by the rich culture and historic significance surrounding Bermuda's Cup Match Holiday, Consul General Rizzuto contacted world-renowned artist and friend Roberto Ferrel, known as 'Rob the Original', to create an art piece to mark the occasion – keeping the lively spirit of the holiday going through a difficult period.
"While filming live on his Instagram page – which has 1.3 million followers – Rob depicted a stunning image of John [Hodder] Simmons, known for his instrumental efforts in helping Somerset win the Cup in 1902.
4 hour live replay from 'Rob the Original's Instagram of him doing the Cup Match painting:
"When I first arrived in July, Bermuda and the rest of the world faced challenges following the outbreak of Covid-19. I was impressed with the rigorous testing regime and safety protocols, which made my transition very manageable during that time. I was eager to get acquainted with the island, meet new people, and learn more about Bermuda's rich culture and unique ties to the United States," says Consul General Rizzuto.
"It didn't take long for me to learn what wearing the right or wrong colors meant and why there was such disappointment about the cancellation of Cup Match and surrounding activities over the long weekend. Most importantly, I quickly learned about the history behind the holiday; Emancipation Day – a celebration of the freeing of slaves on August 1, 1834; and newly established Mary Prince Day – commemorating an iconic Bermuda hero who shared her experience of being enslaved which helped progress the anti-slavery movement."
"As we lean into the holiday season, there are many challenges that we continue to face during the global pandemic. I wish to thank the Government of Bermuda for their impressive efforts in managing safety protocols for residents and visitors. I received the portrait earlier this month from the artist who lives in Texas and wanted to officially present it to Hon. Premier David Burt before the Christmas Holiday."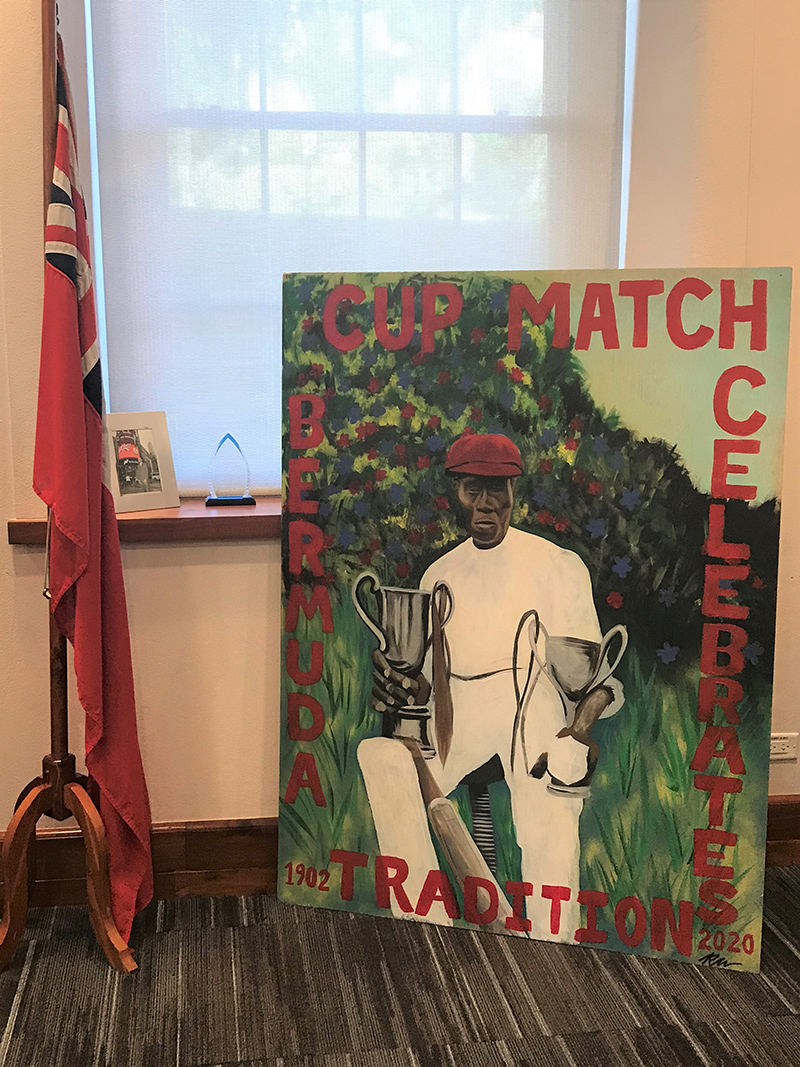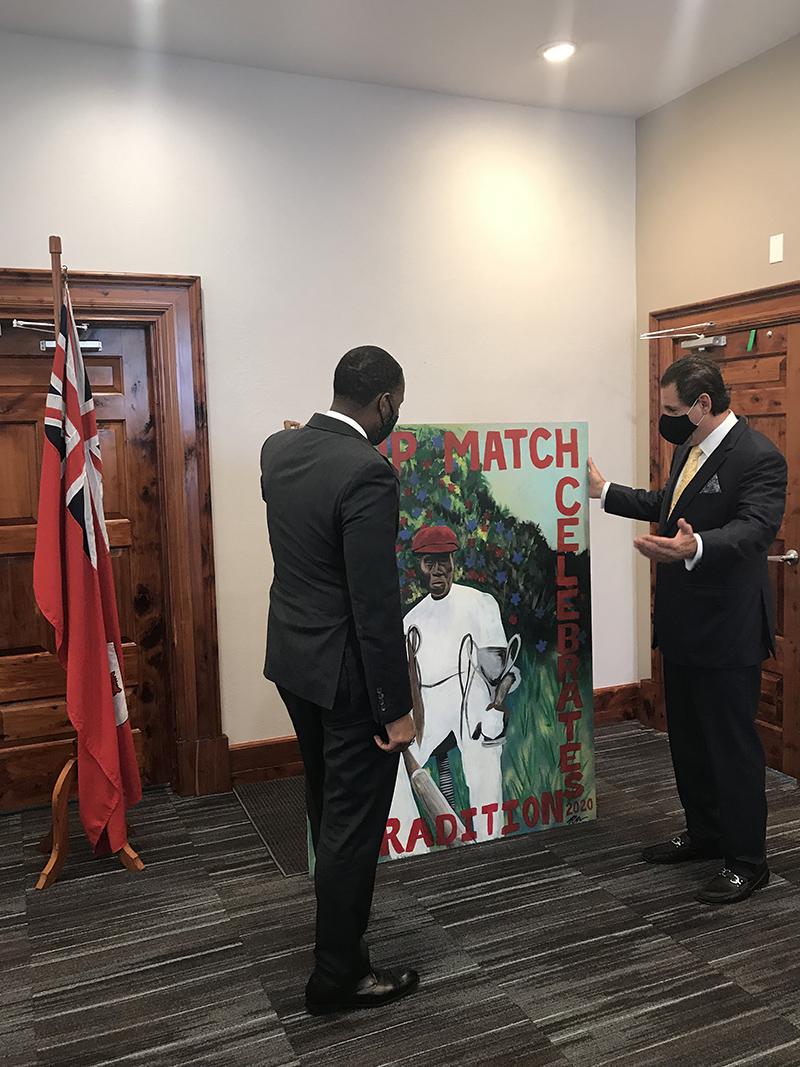 Read More About