Monica Kelly has been called to the Bermuda Bar, and said she is grateful for the support she had over the years and "hopeful that I will be able to contribute significantly to the legal profession in Bermuda."
A spokesperson said, "Appleby is delighted to announce that Monica Kelly [née Spencer] has been called to the Bermuda Bar. The ceremony took place before Puisne Judge Larry Mussenden.
"Monica's academic journey first began at the Bermuda Institute, where she served as Prefect and Senior Class President. In 2015, she attended Oakwood University where she served as Miss United Negro College Fund, Senior Class Vice President and obtained a Bachelor of Arts degree.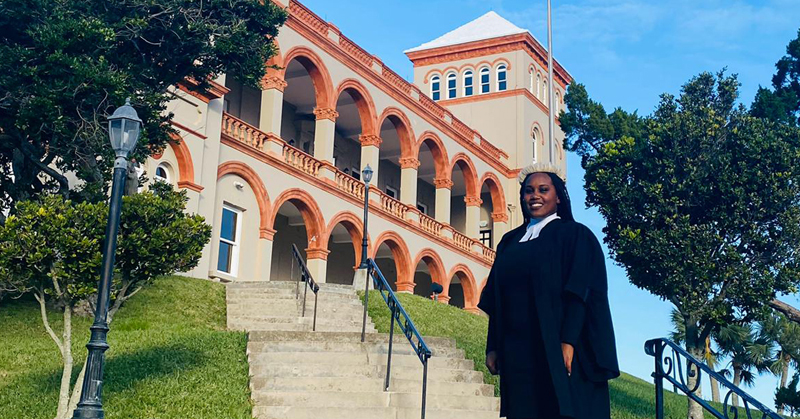 "Thereafter, Monica attended the University of Kent, where she obtained her Bachelor of Laws in 2017. After receiving Appleby's Legal Education Award in 2018, she went on to attend the University of Law in London, passed the qualifying examinations in 2019 and obtained both a postgraduate diploma and a Masters in Legal Practice.
"Monica undertook her pupillage with Appleby from October 2019 to October 2020. Her first seat was in the Dispute Resolution team under the mentorship of Partner Steven White. As of October 2020, Monica is employed as a second-year Trainee at Appleby. Monica is presently in her third seat, in the Regulatory team, under the mentorship of Partner Sally Penrose."
Partner Sally Penrose said, "throughout her pupillage, Monica has shown herself to be bright, diligent and highly capable. These qualities, together with her calm and considered approach, will serve her well throughout her career. We are very proud of her achievements to date and we wish her every success in the future."
The company added, "Outside of work, Monica enjoys attending the Hamilton Seventh Day Adventist Church, where she is a member, spending time with family and friends, travelling, baking and watching documentaries. Of the many skills Monica possesses, she is most known for writing, being an accomplished singer, and a Royal School of Music Grade 5 flutist.
MP Wayne Caines, president of BELCO's parent company, Ascendant and Chairman of the Bermuda Tourism Authority, was also in attendance.
He said, "Monica is the perfect embodiment of grace and hard work. She will bring to these courts integrity, honour, a sense of fairness, a sense of justice, understanding the little man on the street and the needs of the corporate, community and the boardroom. I know she will be a credit to this noble profession."
John Wasty, Head of Dispute Resolution commented, "Monica is a young woman of conviction, sincerity and no little warmth and spirit. In my dealings with her I sense she grasps that being of service is a fundamental aspect of being a lawyer."
Mr. Wasty added, "In my experience, young lawyers do not always fully appreciate this honourable profession in the sense of both understanding it and fully enjoying it until they comprehend that important fact. It is encouraging to me that Monica already comprehends this so well, at such an early stage, of what I'm certain will be her long, fulfilling and successful career in law."
Ms Kelly said, "I feel blessed to have finally reached a moment in my life that I have dreamt of. I feel grateful for the support I've had over the years and for the family and friends that were able to make it to my Call. I am hopeful that I will be able to contribute significantly to the legal profession in Bermuda."

Read More About