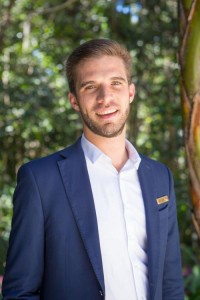 The St. Regis Bermuda Resort — which they said is "anticipated to open in Spring 2021″ — announced the appointment of Jan Vanhaelewyn as General Manager.
A spokesperson said, "The St. Regis Bermuda Resort, anticipated to open in Spring 2021, is proud to announce the appointment of Jan Vanhaelewyn as General Manager.
"Jan joins the resort with over 12 years of luxury hospitality experience, boasting expertise in both hotel and food and beverage management. A tenured industry veteran, he will be responsible for all aspects of operations at this premier destination in what will be a new state for luxury travel.
"Jan's hospitality career with Marriott International began in 2008 serving as Resident Manager of two of the most unique The Luxury Collection Hotels in Mexico: Hacienda San Jose, as well as Hacienda Temozon, located in the Peninsula of the Yucatan.
"Thereafter, he moved over to Spain at Le Meridien RA Beach Resort & Spa, before returning to Mexico to open The Westin Guadalajara as the Food & Beverage Director. Short after, he joined the pre-opening team of the W Bogota, in Colombia, where he was promoted to Director of Operations and successfully led the hotel during the General Manager transition.
"In 2017, Jan's expertise brought him to The St. Regis Bahia Beach in Puerto Rico, where months after starting as Hotel Manager, the hotel was forced to close as a result of Hurricane Maria. Jan led the team through a successful closure, renovation, and reopening of this beautiful flagship resort in December 2018. Most recently, he served as General Manager of The Ocean Club, A Luxury Collection Resort in Dominican Republic."
"We are delighted to welcome Jan Vanhaelewyn as General Manager of The St. Regis Bermuda Resort. His extensive knowledge and expertise align with the unparalleled excellence of the St. Regis brand, makes him an asset for the debut of this exceptional resort," said Alex Fiz, Area Vice President for the Caribbean and Managing Director All-Inclusive.
Commenting on his appointment, Mr. Vanhaelewyn said: "I am delighted to be granted the opportunity to serve as the General Manager for this exclusive resort and bring the Live Exquisite premise to the St. Regis guests in this world-class destination of Bermuda.
"I look forward to leading a talented team and aiming to work together to find care and pleasure in the most minute detail, creating an atmosphere of great subtlety and refinement within this unique property, and aspiring to an ideal that transcends the ordinary for all guests, partners and associates in every way. In what undoubtedly will be a new time for travel, I promise to make every day at The St. Regis Bermuda a bespoke experience."

Read More About