The One Bermuda Alliance commended the owners of Hotel Co and the St Regis Bermuda Hotel and Residence for "their continued belief in Bermuda."
A spokesperson said, "The Leader of the Opposition, the Hon. N. Cole Simons, J.P., M.P., is today commending the owners of Hotel Co and St Regis Bermuda Hotel and Residence, Laura and Miguel Purroy, for their continued belief in Bermuda, despite the increasing global and local tourism challenges, and the uncertainty going forward with gaming in Bermuda.
Shadow Tourism Minister Craig Cannonier, Director of Hotelco Bermuda Holding Miguel Purroy, Opposition Leader Cole Simons, OBA Senator Marcus Jones, Shadow Legal Affairs Minister Scott Pearman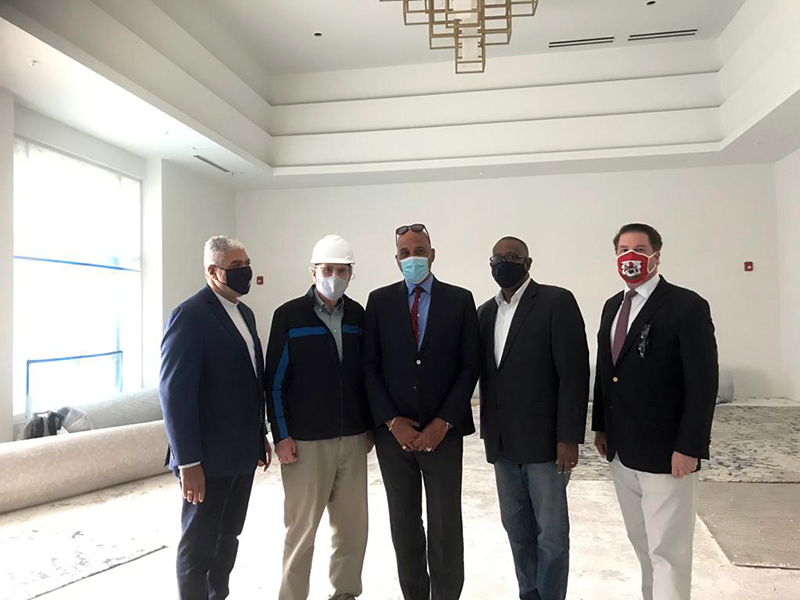 Mr. Simons commented: "With the current economic challenges as a backdrop, their commitment to Bermuda and their passion for St. George's has been unwavering and must be recognized."
"The multi-million-dollar development currently has 203 workers at the site, 60% of which are Bermudian. To further support the town of St. George's, 36 properties have been rented for their employees in the area during the construction of the resort.
"The hotel has 120 five-star hotel rooms and 15 suites with butler services and other amenities which are available and can be enjoyed by the guests. The beauty of this project is that the owners intend to complete the hotel phase of the development plan before the completion of the Residences. The resort will also boast a world-class restaurant, casino and super-deluxe meeting rooms and other fine amenities.
"What is most exciting for us, is the fact that the initial planning and the development was crafted and agreed upon on the OBA's watch. This further demonstrates, how the One Bermuda Alliance government worked with international investors to bring a world-class hotel to fruition for Bermuda and her tourism industry."

Read More About