[Written by Year 12 student Xavier Ramsay]
The Food and Nutrition class is arguably one of the most beloved subjects at Warwick Academy. Over the years this class has brought much joy to students at the school as it provides a unique, practical style of learning that they may not be able to experience in other more structured classes.
To commemorate some of the past teachers behind this amazing class, Warwick Academy has created this cookbook and dedicated it to Mrs. Elizabeth "Betty" Kempe, Mrs. Sheila Gray, and Ms. Anne Coakley. The cookbook consists of past recipes from the Food and Nutrition class as well as other family recipes which have been donated.
The first Food and Nutrition/Home Economics teacher was Mrs. Elizabeth Kempe, who started working at Warwick Academy in 1965. Mrs. Kempe was a pioneer for Home Economics in Bermudian education, as she was part of the inauguration of the class in 1965, and coincidentally had started the Home Economics class at Prospect Secondary school before arriving at Warwick Academy.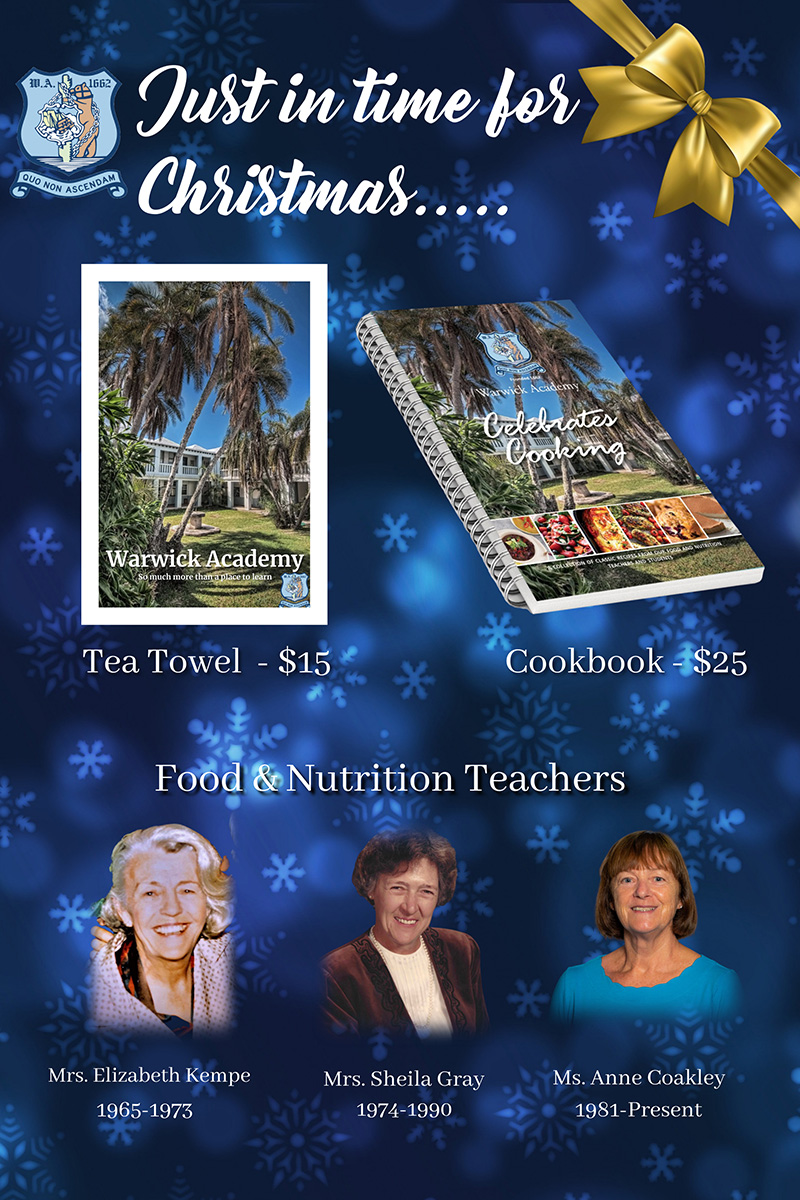 Mrs. Kempe's children, Jay Kempe and Jennifer Morrison, described their mother as a very "practical" and "fair" women who cared deeply about "her girls". In the early years she taught a girls only class. Mrs. Gray was also one of a few teachers who taught both white and black students as Warwick Academy had become integrated 2 years before her arrival. She held all of her students to the same standard and created the foundation for the Food and Nutrition class that exists today. Mrs. Kempe worked at Warwick Academy for 8 years, leaving in 1973. She passed away in 2014 at the age of 91.
Mrs. Sheila Gray took over as the new Food and Nutrition teacher in 1974. She helped to break gender barriers with the help of Paul Sofianos, a student at the time, to encourage the intermixing of boys and girls between the Food and Nutrition class and the Design and Technology class. She was described as an "extremely generous" and "kind" woman by her son, Donald Gray, and a woman who was always in "perpetual motion" due to her continuous assistance helping the people around her. According to her daughter, Elspeth Weisberg, Mrs. Gray was a woman who felt extremely connected to Warwick Academy as if the teachers were a part of her family and that "her social life and the fabric of her life was the teaching staff" during and after her time at Warwick ended.
When asked about how their mother would react to the new cookbook which is being dedicated to her and two other teachers, Mrs. Wisberg and Mr. Gray stated that she would have been "thrilled" but would have also been "very taken aback" and "quizzically flattered". I believe this sums up Mrs. Gray's character; a very selfless person whose actions were based on generosity, not expecting anything in return. She worked at the school until 1990 at the age of 61. She sadly passed away in February, 2020 at the age of 91.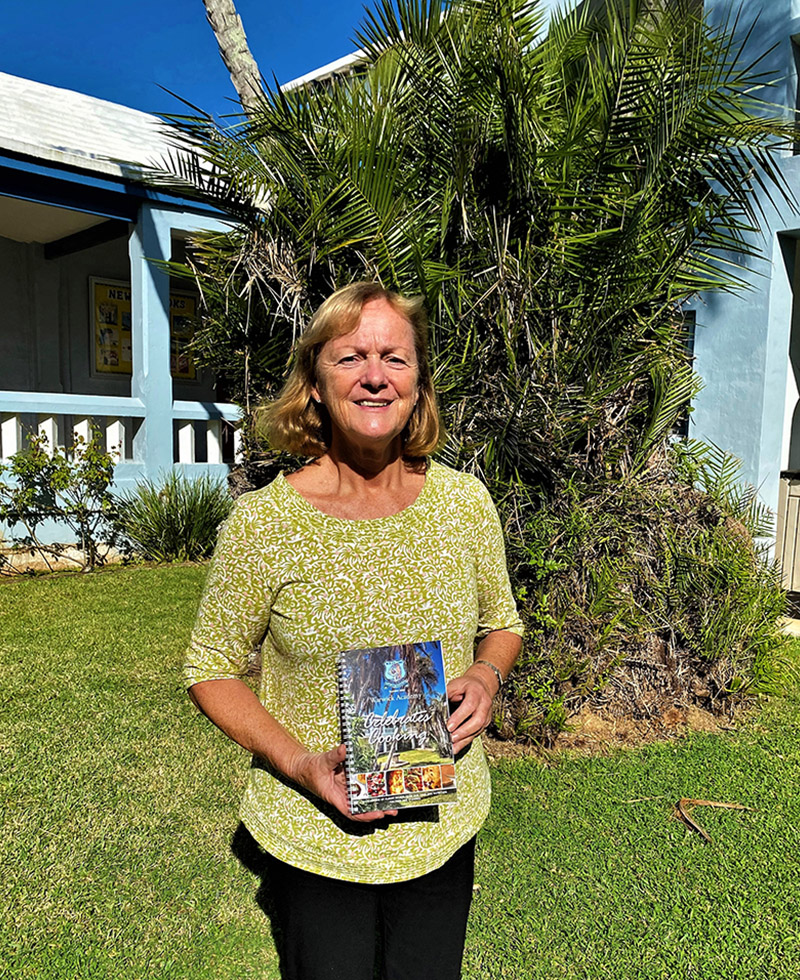 Lastly, Ms. Anne Coakley arrived at Warwick Academy in September 1981 after transferring from St. George's Secondary School. Ms. Coakley first taught in the needlework class for 8 years alongside Mrs. Gray, who was still the Home Economics/Food and Nutrition teacher at the time. Some of her favourite memories of the school are when she gets to see past students graduate, particularly the students "who have struggled", because she "knows their struggles and wants them to achieve their best". This allows her to celebrate "the progress they have made".
When asked about the new cookbook, Ms. Coakley expressed that she was happy to see it created before she leaves, because she understands the impact that the class has had on students.
She described the repeated experience of former students asking for recipes from the class or expressing their joy that they still have their recipes. She has had a tremendous impact on Warwick Academy. Mr. Ralph Woods, Head of Sixth Form at Warwick Academy and long-time colleague of Ms. Coakley shared this quote with me about her: "Ms. Coakley has a lot in common with Teddy Roosevelt. She will be warmly thought of as being kind and cuddly by generations of students [some of whom wouldn't dare to be seen with a teddy bear], but she also is the embodiment of the phrase "walk softly and carry a big stick".
These three teachers have had such a huge impact on Warwick Academy. They will always be remembered for their devotion and work ethic they brought to their job as well as the amazing attitude expressed to make the Food and Nutrition class such a wonderful place.
Orders can be made here.

Read More About
Category: All, Entertainment, News