In recognition of the 5th Annual National Day of Racial Healing, Citizens Uprooting Racism In Bermuda [CURB] will be holding a free community webinar entitled "Healing Through Reparation: Bermuda's Way Forward" on Tuesday [Jan 19].
A spokesperson said, "The webinar will feature a 30-minute condensed version of the presentation CURB gave to the Institute for Restorative Practices World Conference in Detroit [2018], which focuses on the anti-racism charity's Truth and Reconciliation Community Conversations [TRCC's]. The webinar will be followed by comments and reflections from TRCC Lead Facilitators followed by a Q&A.
"The National Day of Racial Healing is a day to recognize the collective and inter- generational experience of race-based trauma, and the essential role truth-telling and healing has in racial justice and equity efforts.
"Since 2017 CURB's Truth & Reconciliation Community Conversations have been the organisation's response to Bermuda's need for collective healing due to the island's legacy of anti-black racism, and the intergenerational trauma experienced over two hundred and eighteen years of enslavement, one-hundred and thirty-seven years of post- emancipation racial segregation, and subsequent years of economic violence, oppression and marginalization.
"Profound trauma was experienced that shaped the Bermudian experience, which has been transmitted through generations and now requires reparative attention that has truth- telling and reconciliation as their foundation. Bermuda Truth & Reconciliation Community Conversations have received international interest and are considered innovative and cutting-edge by leading thinkers in the racial justice and equity field.
"Interested persons can register here. Registration will be open until the webinar begins."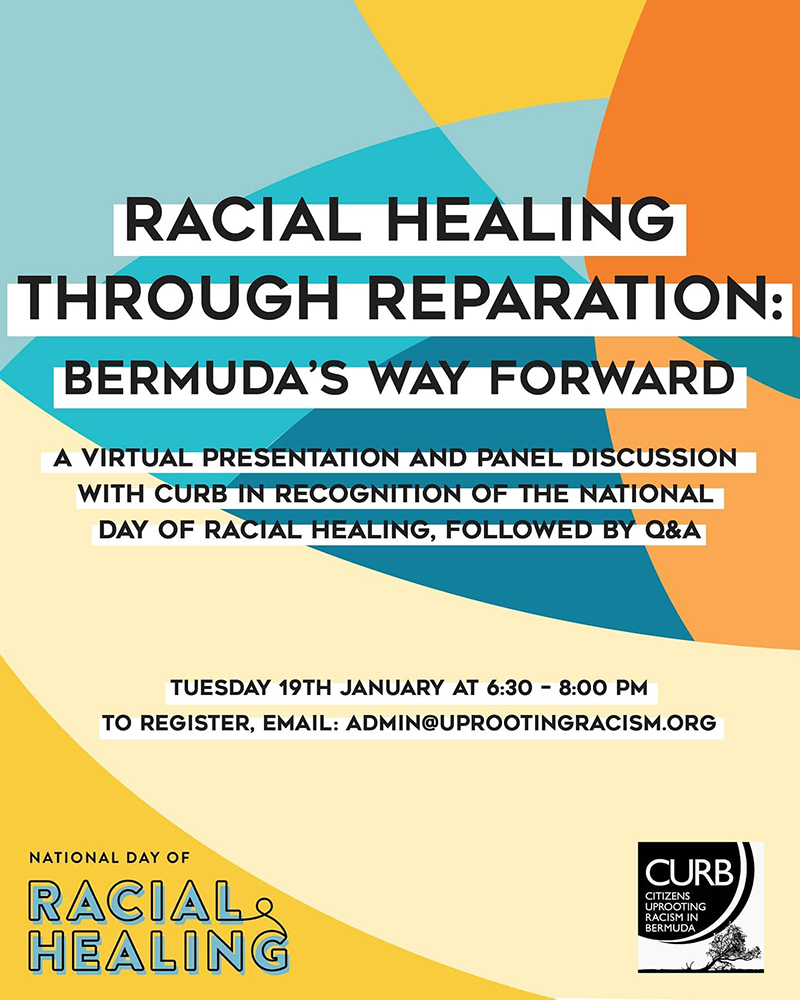 Read More About
Category: All