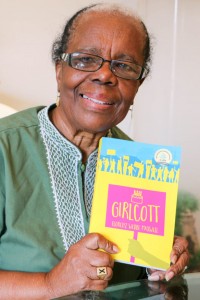 The Minister of Youth, Culture and Sports Dr Ernest Peets is today highlighting the success of award-winning Bermudian author Mrs. Florenz Webbe Maxwell.
Minister Peets said, "On behalf of this Government, I called Mrs. Maxwell to extend heartfelt congratulations on the continued success of her book Girlcott."
"Not only did Girlcott receive a Burt Award in 2016, it has now been featured as a 'must read book' in O Magazine. US Media Mogul and Philanthropist Oprah Winfrey recently highlighted the book in a listing of the best classic and contemporary books about Caribbean culture."
As explained on the back cover of Girlcott, "This book is a coming-of-age story about a young girl who learns about segregation and racism through the boycott. In this startling debut, Florenz Webbe-Maxwell takes a little known fact about Caribbean history and weaves an engaging tale that speaks eloquently to the contemporary experience.
"Girlcott takes you beyond the image of Bermuda as a piece of paradise and charts a narrative of resistance, hope and the importance of fighting for change."
In closing Minister Peets said, "Mrs. Maxwell continues to enrich our community, from her first book published by the Department of Community and Cultural Affairs, The Spirit Baby and Other Bermudian Folktales, in 2008 to Girlcott.
"I commended Mrs. Maxwell on the hardwork, passion, time and dedication she puts into writing as it tells a story of our culture in a way that holds meaning to our community."
"As we begin this new year, I wished Mrs. Maxwell continued growth as a tradition bearer who has contributed immensely to Bermudian culture. I thanked her for her community contributions as they have enlightened, entertained, and uplifted us by providing hope and inspiration."

Read More About
Category: All, Entertainment, News