The Bermuda Tourism Authority [BTA] has partnered with MarketPlace to hold a virtual cooking class on Wednesday, February 10, with Chef Eric Adjepong to teach a dish of coconut curry lobster and coconut rice while sharing his Bermuda travel stories from 2019 and 2020.
A spokesperson said, "In a sign of the times, a celebrity chef-led, Bermuda-inspired virtual cooking class is planned for the final stretch of the four-weeklong Bermuda Restaurant Weeks.
Glenn Jones, BTA's Interim CEO joins Vernon Hassell, The MarketPlace's VP of Purchasing & Procurement, to examine an in-store banner marking the 2021 Restaurant Weeks partnership.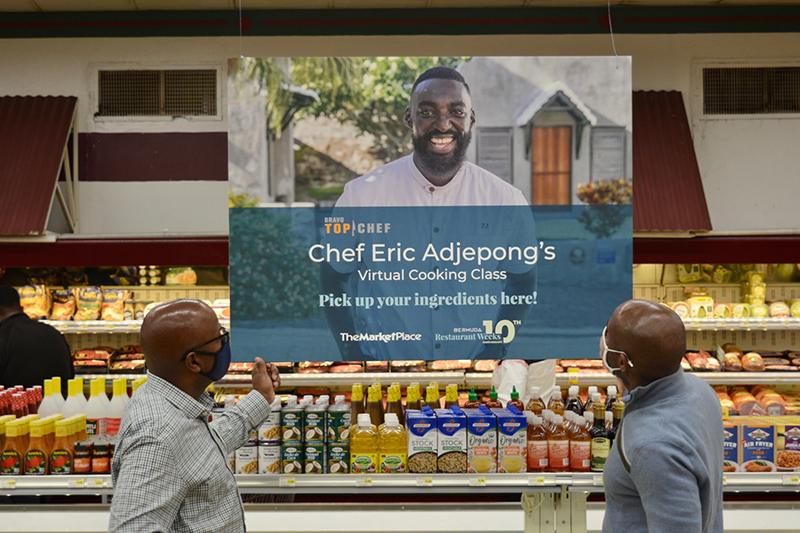 "Perfectly timed for Bermuda lobster season, Chef Eric Adjepong of Bravo's Top Chef fame will teach a dish of coconut curry lobster and coconut rice while sharing his Bermuda travel stories from 2019 and 2020.
"The February 10th event is for sale on Ptix and ticketholders participating from Bermuda are encouraged to pick up the recipe's ingredients from The MarketPlace, where there's a special in-store display at the Hamilton, Heron Bay and Shelly Bay stores.
"Bermuda Tourism Authority [BTA] and The MarketPlace are collaborating to ensure participation in the class is frictionless for participants."
"The virtual event is open to all, inside and outside of Bermuda. The BTA has made special efforts to promote the class to Work from Bermuda residents, likely experiencing their first Bermuda lobster season.
"Additionally, travel journalists in the U.S. will receive a care package of Chef Eric's recipe and ingredients by mail and will have access to a dedicated question and answer period with the chef and BTA interim CEO Glenn Jones ahead of the cooking class.
"Ticket buying for the cooking class will close Monday, February 8, allowing time for the recipe to be distributed and participants to purchase the ingredients.
"Buying ingredients from The MarketPlace is not required, but the grocery chain has conveniently gathered all the ingredients—including lobster tail— and displayed them in the same general area of their three busiest stores, one each in the east, central and west parts of the island. Purchasing locally harvested lobster is a key option for ticket buyers, which aligns well with this year's Restaurant Weeks harvest heroes theme."
"Chef Eric made such a connection to the culture and community here in Bermuda during his visits; he's become an advocate for the island in his travels. Albeit not in person, I'm glad Chef Eric is able to carve out time in his schedule to be with us for the 10th anniversary of Restaurant Weeks," said Mr Jones, who has responsibility for experience development at the BTA.
"Over the past year, preparing meals at home has become very popular with our customers. We're pleased to work with Bermuda Tourism Authority and Chef Eric Adjepong to lean into this trend and make cooking at home a little more adventurous, entertaining and Bermuda-inspired," said Vernon Hassell, The MarketPlace VP of Purchasing & Procurement.
"Bermuda Restaurant Weeks is one of my favourite food and cultural gatherings anywhere in the world," said Chef Eric Adjepong. "I'm always impressed by the country's bountiful agriculture. Pair that with some of Bermuda's amazing culinary talent, and this festival is just too good for me to miss!"

Read More About
Category: All, Entertainment