[Written by Vejay Steede]
There's a phenomenon developing in the East. Borne of the passion of young entrepreneur Kris Furbert, The Bermuda Pie Company is aiming to become an essential Bermudian eatery. Located on the grounds of Wellington Oval, home of the St. George's Cricket Club, the modest structure nestled on the West corner of the northern bleachers is quickly becoming the go to spot for the most absolutely mouth-watering burgers on the island.
Already famous for outstanding traditional Bermudian pies, Mr. Furbert has put his considerable culinary cleverness into building the very best burger a local foodie can get within these shores. By George, he's succeeded too, and, dare I say it: the post-Dororthy's dearth of world class made-to-order burgers has come to a glorious, gorgeous end.
Drawing comparisons to the celebrated Five Guys burger on social media, the decadent creations are morsels of pure delight, positively guaranteed to sate even the most discerning burger craving. These burgers, just like the pies before them, are made with love; a love of cooking, a love of food, and a love of feeding people something amazing. The love can be tasted in every bite, and it can also be heard with sparkling clarity when listening to Mr. Furbert tell his story.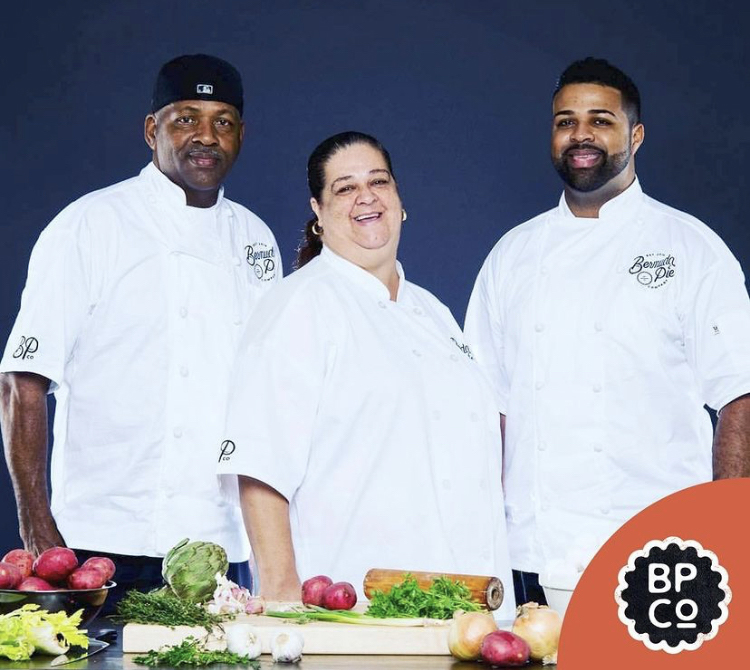 "I grew up cooking, it's in my blood. My mother and father are both great cooks. My siblings and I used to help them with food prep late at night at my mother's cafeteria at Clearwater Middle School. Before then, we helped with the food prep on Saturday nights for Sunday breakfast at Angeline's which is now known as Mama Angie's and is owned by my uncle. Back then it was owned and operated by my grandparents from Monday to Saturday and my household operated it on Sundays."
Mr. Furbert's family, therefore, is a St. George's culinary institution, and he has every intention to continue the tradition of excellence deep into the 21st century. He continues his story here:
"Fast forward to 2008 when I was in my late teens: in an attempt to earn extra money, I started baking and taught myself how to decorate. The popularity of my cakes grew quite quickly; so much so that a gentleman offered to help me start my own bakery. I laughed at the idea, thinking to myself that I couldn't make a living from baking. Almost a decade later I started my own restaurant. As a teenager I didn't recognize that cooking was my gift. It took 10 years, living in 4 different countries and working in four different jobs to understand that my purpose was to bring people joy through my cooking.
"Towards the end of my bachelor's degree in Spain, I had written three business plans. Of the three I chose to go with Bermuda Pie Company because it was the business I was most familiar with. Also, I felt I would be doing Bermuda a disservice if I didn't share my father's recipes with Bermuda's people. I realized my gift, and it's one that I love sharing with hundreds of people across the island of Bermuda every day."
Having realized that he was born to bring joy to people with his cooking, Mr. Furbert trained himself in preparation for the jump that he knew would be necessary to bring the Bermuda Pie Company to life: "In order to make Bermuda Pie Company a reality, I had to quit my job, where I worked in an audit firm. I had no savings and many hurdles ahead of me, but after quitting there was no turning back. No safe place to hide in or to fall back on if things didn't work out. Failure was no longer an option.
"When I first started in 2018, I had just finished renovating the building I'm currently utilizing, which is located on the St. George's Cricket Club grounds. During the construction I found out that my Great Grandmother, the one from whom Mama Angie's restaurant takes its name, was born in that very building and she and her siblings grew up there." How's that for synergy?!
"The project itself took over a year to complete and I rented a kitchen in a church to make pies in until I could move into my own space. I worked 20 plus hours a day, seven days a week. I didn't get days off, not even holidays; there was always something to be done. I woke up early in the morning to bake pies and deliver them. In the afternoon, after I had finished deliveries, I would purchase all the raw materials I needed to make food for the next day and head back to the kitchen where I stayed up most of the night making stews and pastry and putting the pies together before baking them. I often fell ill and was always exhausted.
"My friends never saw me and I remember many nights working in the kitchen and falling asleep standing up. I often thought of giving up. Two things stopped me from quitting: the first was my strong vision for what Bermuda Pie Company would one day become. I remember reciting my affirmations daily, sometimes having to shout them in order to make myself believe that what I was doing was worth it. The second was the constant reminders from my customers of how much they loved my pies. There were days I would deliver pies to grocery stores and customers would spot me from a distance and rush over to take the pies off the tray before I could stack them in the warmer. They would let me know how much they loved the pies as they took two or three or as many pies as they could carry away with them.
"I also received many positive reviews online. I was very grateful for each one. I'm thankful for my customers and the constant reminders they gave me. Reminding me why I'm doing what I'm doing and to stay my course. They didn't know it at the time, but they helped me through the tough years. If we ever had a conversation during one of my deliveries, or you called me to let me know how much you enjoyed the food, or even made a positive review or post online about my pies or other food items, I sincerely thank you for that."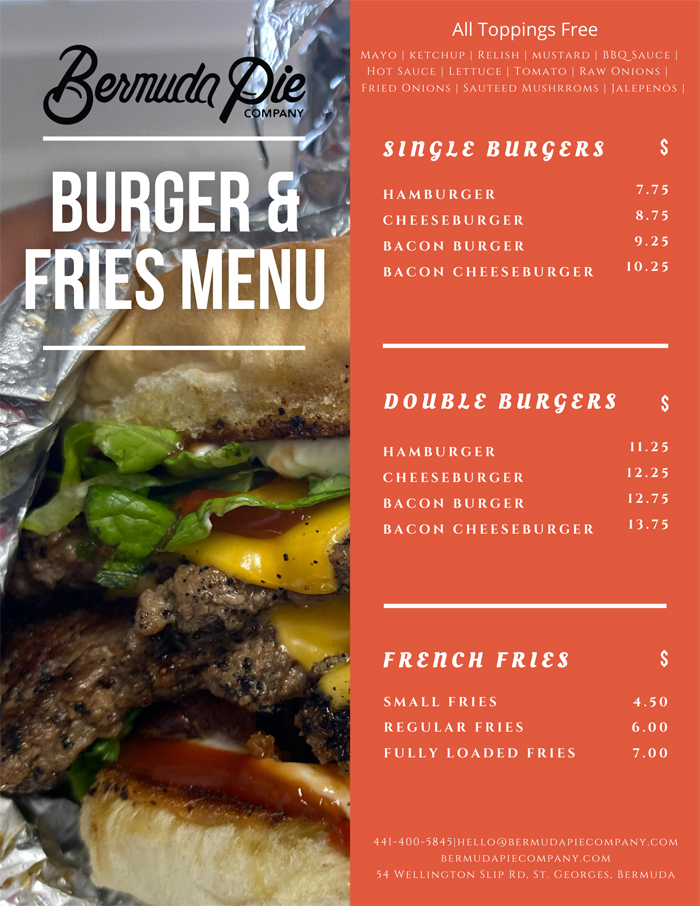 The customer service at Bermuda Pie Company is next level impressive, and Mr. Furbert describes his philosophy on customer service here:
"Success leaves clues. At Bermuda Pie Company, we're always looking to improve our food and our processes. I have spent countless hours studying the best in the industry. I've taken what I believe to be the best qualities from select international businesses, whether it's their processes, the science behind some of their menu items or their customer service and I've added my own touch to make Bermuda Pie Company into what it is and what it is becoming. I don't see Bermuda Pie Company Ltd. as a mom and pop shop; I never have. I've always thought of Bermuda Pie Company as a household name that everyone in Bermuda knew and loved. I have also always believed it to be a large international company that transcended the borders of Bermuda to reach the US and the UK. If I believe that that's what it is it's only a matter of time until the company embodies my vision of it. In order for Bermuda Pie Company to realize that vision, serving good food isn't enough. We have to provide great customer service, which I like to call 'customer delight.' I strive to always 'over-delight' my customers by giving them more than they expect and surprising them from time to time. For example, I might throw in a free sample of local fish if during our conversation at the window I noticed they were curious about it. I've also been known to add a few treats to customers' orders that I know they like, or even throw in a free drink they've never tried before or just as a thank you for their patronage.
"If it's bad weather outside I don't mind braving the cold or the rain and taking the order to the customer's vehicle if it saves them from getting wet. We're also known for returning missed calls. If a customer happened to call while we were on another call or if we were a bit busy, you can expect that we'll call back as soon as practical to see how we might be able to assist you. On occasion I have made food deliveries to customers who were unable to make it to the shop. If I know I can make the customer feel good by going above and beyond, I will. It might not be your typical approach to local customer service but, again, we're not your typical restaurant.
"We have customers who travel from Hamilton to St. Georges every day during their lunch break to purchase food from our restaurant. It may be because they love the food, or they appreciate the service they receive. I like to think it's a mix of both. People come from as far as Somerset every week to visit us."
"One of the reasons I started the business was to bring people closer through food. I have endeavored to provide good quality food and service to my customers. If I don't like the food, I don't serve it. I encourage my customers to let me know if they are dissatisfied with the service or food they receive from myself or my staff. It's useful feedback. We can't grow or do better if we don't know there's a problem. Our goal is to retain lifelong customers. Being presented with a problem is a great opportunity to turn that negative experience into a positive one and retain a customer's loyalty and trust in our brand. There have been several times I've been contacted by a customer who was dissatisfied and I was happy to remake their order. There have been times where I've had my driver or I have personally delivered food to customers who lived as far away as Somerset."
With the skill of a culinary sorcerer and the mindset of a big business mover, there's truly no limit to where this world-renowned-eatery-in-waiting will go. And about those burgers, Mr. Furbert closes with: "A week doesn't go by where I don't have a customer who lets me know that they think our burgers are the best on the island. Words customers use to describe our burgers are … 'WELL,' 'That burger was crazy,' and 'I don't know what you did to that burger, but it was A-MAZ-ING!' Our burgers are hand rolled and ground in house using our special blend of three cuts of beef. Not only are our burgers very juicy, but they are larger than most other restaurants and can be made in under two minutes. Our burgers have been likened to the once popular Dorothy's burgers. I welcome you to come and try them so that you can judge for yourself."
Do yourself a favor: get to know a Bermuda Pie Company burger very, very soon!
You can get in touch with Mr. Furbert online at: www.bermudapiecompany.com. You can also find Bermuda Pie Company on Instagram or Facebook. He can also be reached on 400-5845 or by email at hello@bermudapiecompany.com
You can pick up one of his delicious pies at the restaurant located at the St. George's Cricket Club as well as some of the largest grocery stores across the island, including:
All Marketplace stores, including A1 and Modern Mart
Lindo's Market in Devonshire
Lindo's Family Foods in Warwick
Belvin's Devonshire
Belvin's Flatts
Belvin's Bailey's Bay
De Island Shack
M. Soares and Sons
People's Pharmacy
Harrington Hundreds

Read More About
Category: All, Business, Entertainment, News