The Japan SailGP Team has announced their team for SailGP Season 2, which is set to kick off in Bermuda this weekend.
The SailGP website said, "The Japan SailGP Team has supercharged its team for SailGP Season 2, announcing the headline signings of Italian sailor and eight-time world champion Francesco Bruni and Great Britain's Chris Draper, who take on the roles of flight controller and wing trimmer respectively.
"Having narrowly missed out on the championship title in the inaugural season, team CEO and helm Nathan Outteridge has bolstered his team ahead of the SailGP Season 2 opener this weekend in Bermuda, April 24-25, which also includes the all-star Japanese line-up of Leo Takahashi, Tim Morishima and Yuki Kasatani, who were part of the successful team that were runner-up in Season 1.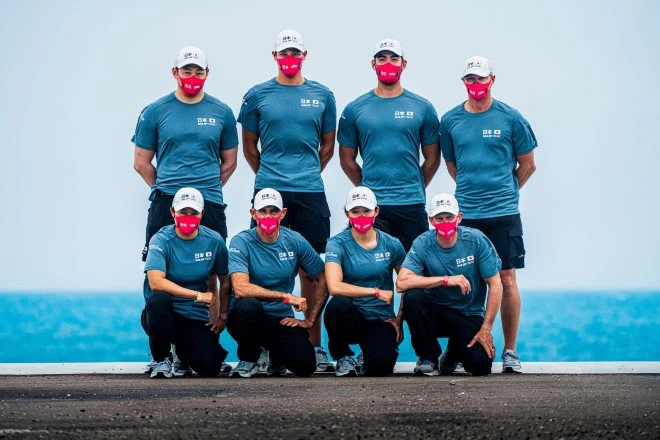 "Bruni joins the Japan team fresh from the 36th America's Cup where he was co-helm of Luna Rossa, alongside now rival and helm of the U.S. SailGP Team Jimmy Spithill. Previously he competed alongside Outteridge at the 35th America's Cup in Bermuda and made a formidable pairing which they hope will put them in a strong position when they line-up against the other world-class teams at the Bermuda Sail Grand Prix presented by Hamilton Princess.
Bruni said: "SailGP is a fantastic event and I am looking forward to getting to Bermuda, meeting the team and learning my new role. I watched all of Season 1 and was impressed with the racing and am very much looking forward to being back on foiling catamarans again."
"Olympic bronze medalist Draper is no stranger to SailGP having served as wing trimmer for the Great Britain SailGP Team in Season 1. Draper adds to the team a wealth of experience in foiling boats having competed in two previous America's Cups plus brings insight from one of his new team's main competitors.
Draper said: "I've been lucky enough to sail with some incredible teams during my career and joining the Japan team is the culmination of that. I am immensely proud to race with the team and continue at the highest level in our sport. This is a going to be epic and we're all supercharged and ready for it!"
"World-class female sailors Wakako Kajimoto and Sena Takano complete the team for SailGP Season 2 and will join the Japan team during different stages of the season, with former Japanese national champion and London 2012 Olympian Kajimoto racing in Bermuda, Italy and the UK. And, former Junior World Champion and Rio 2016 Olympian, Takano participating in Denmark, France and Spain. One of the two will then be selected for the final events of the season.
Outteridge said: "I am really excited for the season ahead and to bring Francesco and Chris into the team – both sailors that I have the utmost respect for and that will bring huge passion and experience to the team. They will both really complement the existing talent we have in Leo, Tim and Yuki plus our new female signings Wakako and Sena. Season 2 is going to be fantastic – what more could you wish for as sailors – competing against the sport's best athletes in identical, supercharged boats and at iconic cities around the globe. The competition is going to be fierce but as runner-up in Season 1, our new signings show that we certainly mean business this year."
"The Japan team will reunite in Bermuda this week for a week of training ahead of the opening event of the Season on April 24-25."

Read More About