[Updated] The Bermuda Police Service [BPS] is holding a press conference this afternoon [April 7] to provide an update on last night's fatal shooting. We will have additional coverage later on and in the meantime the live video is below.
Update: The police have identified the murder victim as 37-year-old Jordan Outerbridge, a father and husband who worked at Link Bermuda. The police provided the image below.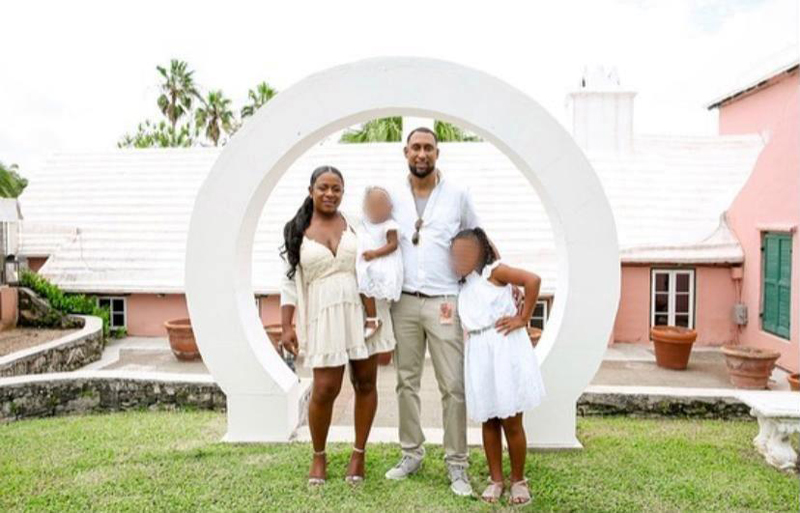 Update: The live broadcast has concluded and the 12-minute replay is below
Update 1.13pm: Detective Superintendent Nicholas Pedro said, "Around 10:34 p.m. on Tuesday 6th April, 2021, Police & first responders attended the Railway Trail off Tribe Road #2, Warwick, following multiple reports of gun shots.
"On arrival, Police found a 37-year-old male, we can now identify as Mr. Jordan Outerbridge, having suffered multiple gun-shot wounds to his body.
"Resuscitation efforts by Police & Emergency Medical Technicians were unsuccessful, and Mr. Outerbridge was declared dead at hospital.
"Mr. Outerbridge leaves behind his loving wife, and a one-year-old son. He worked gainfully with LINK Bermuda.
"We have learned that Mr. Outerbridge was attending a regularly scheduled card game at a residence at the location.
"Mr. Outerbridge was first to leave the house, and was shot by a gunman, who jumped on the back of a waiting motorcycle.
"The gunman wore a blue coloured jacket with a hood, his accomplice wore black clothing, and both were on a dark coloured "CLICK" motorcycle.
"We have opened a Major Incident Room investigation, staffed by Detectives from the Serious Crime Unit. We are urgently seeking to speak with witnesses or persons who may know anything about the murder of Mr. Outerbridge.
"Shortly after this incident being reported to Police, 911 received calls about a serious motorcycle collision on Middle Road, Warwick, near the entrance with Belmont. Two motorcycles had collided head-on, with both riders having sustained serious injuries. On arrival at the hospital, one of the riders a 44-year-old male was found to have suffered gunshot wounds to his torso.
"Detectives are examining the possibility that the two matters are linked, given the proximity, timing, and circumstances of both.
"We are grateful to those persons who spoke with us at the scene, and since that time, but we still urgently need to speak with other persons who can assist.
"The Bermuda Police Service has mobilized significant resources to provide visible uniform reassurance in the area, and to investigate the murder of Mr. Outerbridge, as well as the shooting of the second man.
"As we have often stated, we rely on the public to help us solve crimes and bring offenders to justice.
"The Serious Crime Unit investigation is being headed by Detective Sergeant Jason Smith and he can be contacted on 717-0864 or, 295-0011.
"The family of Mr. Outerbridge is being supported by a trained Family Liaison Officer.
"Again, if you have any information, as insignificant as you might think it is, please make contact the Serious Crime Unit directly on 247-1739 or, call the Confidential Crime Stoppers hotline on, 800-TIPS [8477].
"As always, if you know something, say something."
Update 8.49pm: MP Michael Dunkley said, "Our deepest sympathy to the Outerbridge family and their friends. One can only imagine how painful and difficult it is for the family to lose a loving father and husband and for the Ord Road community to mourn the loss of a well liked and respected man.
"The One Bermuda Alliance urges anyone with any information that could assist the Bermuda Police Service to contact them or reach out to Crime Stoppers, which is confidential, on 804-8477.
"All too often horrific and very tragic murders have sadly ruined the lives of family, and their friends, throughout our community. The pain is deep and it never wanes. We must do all we can to bring the perpetrators to justice and stem the tide of tragedy. We must speak and help!
"May the Lord provide the Outerbridge family comfort and strength during this difficult time. Let us all remember them in our prayers."
Read More About