Focus Counselling Services [FCS] has appointed Danielle Frith as Executive Director and promoted Karla Trott from Addictions Counsellor to Programs Manager.
A spokesperson said, "Focus Counselling Services is excited to announce the appointment of Mrs. Danielle Frith to the post of Executive Director. FCS has been an essential service provider in Bermuda for 20 years, with the last three years under the leadership of Mr. Leslie Grant in the Executive Director position.
"During his administration, the organisation provided much-needed counselling services, and FCS strengthened its position as a pillar in the community.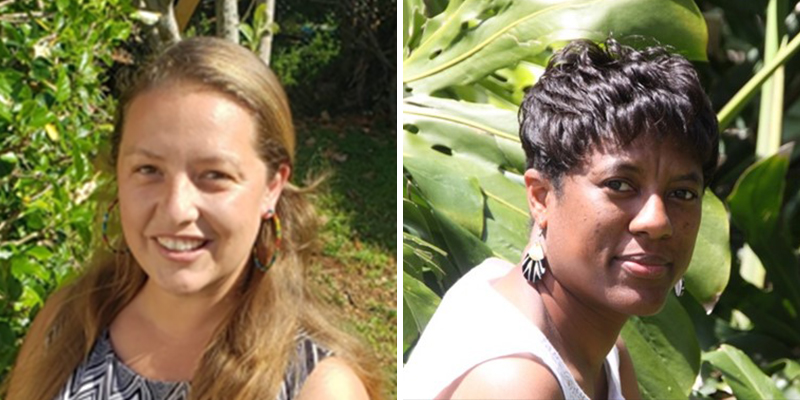 "Upon his departure, FCS welcomes Mrs. Frith to their team. She has been in the nonprofit field in various leadership roles since 2008. In 2016, Mrs. Frith received her Master's in Social Work from Boston College focusing on macrosystems and nonprofit management. She moved to Bermuda in January 2019 and has spent her time getting to know the local community and sector.
"Previously, she was the Executive Director of West Roxbury Main Streets in Boston, Massachusetts. Since moving to Bermuda, Mrs. Frith has worked with the Inter-Agency Committee for Children & Families [IAC] and volunteered with the ACEs subcommittee at Family Centre. She is currently advancing her nonprofit management education locally through the Introduction to Nonprofit Management certification program provided by the partnership of IAC and Bermuda Community Foundation.
"In addition, Mrs. Frith is a member of the Nonprofit Alliance of Bermuda, where nonprofit leaders work collectively to improve the impact of nonprofits and champion their value in the community. She is excited to join the Focus Counselling Services team and is hoping to build on Mr. Grant's legacy.
"Mr. Grant had the ability to pivot the organisation to meet the needs of our community through a difficult pandemic. FCS was able to provide over 6,500 meals in 2020 and reach 35 therapeutic clients. As Mr. Grant has taken on the Clinical Manager role at Turning Point Substance Abuse Programme, he will stay close to the organisation through his role on the board."
Mr. Grant said, "I am grateful for the opportunity to have served Focus Counselling Services and its clients; it has been an invaluable experience. I am excited to help Focus continue its work in our community, as a member of its Board of Directors."
The spokesperson said, "While Mr. Grant's departure is hard as he has been a great staple to FCS, it is also a great opportunity to welcome a new perspective and new leadership through Mrs. Danielle Frith, MSW. Mrs. Frith brings with her knowledge of nonprofit leadership through previous experience in the United States and in Bermuda."
Mrs. Frith said, "As a new member of the Focus Counselling Services team, I am excited for multiple opportunities and areas of growth for the organisation. Focus has needed to pivot during COVID-19, this pivot has taught us about the organisation. We are taking time in the next few months to best understand these areas and strategic plan for the future."
The spokesperson said, "Ms. Karla Trott [ICADC] has been promoted from Addictions Counsellor to Programs Manager. Ms. Trott has been an essential part of the FCS team's success during the difficulties of the pandemic. She is an Internationally Certified Alcohol and Drug Counsellor [ICADC] and is registered with the Bermuda Council for Allied Health Professions.
"Ms. Trott has been directly involved in the substance abuse treatment field for the past seven years providing individual counselling, group counselling, life skills and is a member of the Drug Treatment and DUI Courts team. She is also a Board Member/Treasurer for the Bermuda Counsellors Association and a PSFA Responder for the Bermuda Red Cross.
"Ms. Trott has proved herself and her ability in working with clients, training counselling staff, and leading our collaboration."
Ms. Trott said, "I am excited for the opportunity to enhance already existing programs, initiate new programs especially for women and continue to network with other agencies to transform our community. This will take a collaborative effort, and I am up for the challenge."
The spokesperson said, "Danielle Frith, Karla Trott, and the FSC Board will work together to lay new groundwork for FCS' future success by promoting the vital work of providing for the whole individual through times of crisis in substance abuse and recovery.
"Focus Counselling Services is pleased to present their new team and is looking forward to the next few months of development and growth. Individuals interested in supporting Focus Counselling Services and the critical work they do for essential and therapeutic services, should consider making a donation or volunteering by going to Focus.bm.
"For more information, contact the FCS office on 296-2196 or via email dfrith@focus.bm."

Read More About