A walk-a-thon to raise money for charity will be staged at Saltus thanks to the efforts of a group of students who came up with the idea, planned it and pitched it to judges.
Year 8 students took part in a study on diabetes in Bermuda led by Humanities Teacher, Briley Habib who had completed a professional development course to design a project.
From that the students formed groups to come up with ideas to raise awareness of diabetes and ways to fundraising for the Bermuda Diabetes Association.
Each group gave a presentation to their fellow students and the walk-a-thon was chosen as the best idea.
The winning team: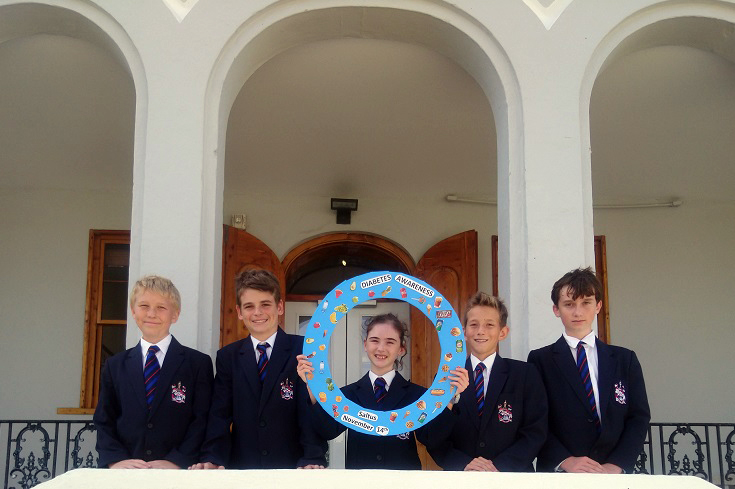 The event will take place on World Diabetes Day, on Thursday [Nov 14] with fellow students, teachers and parents joining in the walk-a-thon with the Year 8 students to raise funds for this worthy cause.
Ms Habib said: "Over four weeks students learnt about the social, economic and environmental causes and consequences of Type 2 Diabetes in order for them to come up with an event for World Diabetes Day.
"This was an excellent example of student voice and choice whilst learning real life skills. Students honed their public speaking skills, budget skills and have planned a whole event.
"They have sent out letters, worked with people to construct a signup sheet and are designing all advertising."
The winning team comprised of Sam Alfrey, Grace Rothwell, Dimitri Gontcharov, Matthew Davidson and Tomas Mello and they will have overall responsibility for the event.
The remainder of Year 8 students will have designated jobs such as advertising, liaising with sponsors, music and social media content.
Ms Habib added: "All Saltus students are invited to attend and the idea is that students walk in teams or individuals to complete the greatest number of laps of the field during the lunch period.
"Everyone who is walking will wear blue and the day will also be a grub day costing $2 with funds being donated to the diabetes association."
The judging panel was Ms Habib, Sara McKittrick, the Education Officer at the Diabetes Association, and Lindsey Manderson, who is the Saltus School Nurse.

Read More About