Dr Michael Ashton and Dr Meliseanna Gibbons have been selected as recipients of the 2021 Saltus Alumni of the Year Award.
A spokesperson said, "The Advancement Department at Saltus is thrilled to announce that Dr. Michael Ashton '91, and Dr. Meliseanna Gibbons '06 have been selected as the recipients of the 2021 Saltus Alumni of the Year Award.
"The Alumni of the Year Award is the highest honour bestowed upon alumni of Saltus and recognises an alum who has distinguished themselves throughout their time at Saltus and beyond. Both Michael and Meliseanna have made outstanding contributions to their communities through their tireless efforts as medical professionals on the frontlines during this pandemic."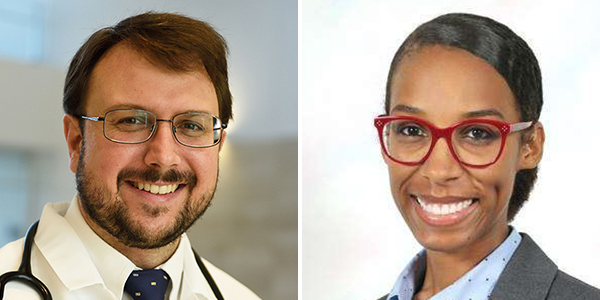 Director of Advancement, Denise McAdoo, said, "Dr. Ashton and Dr. Gibbons have each made significant contributions to their communities and the world, throughout their personal lives and their careers and Saltus is delighted to honour them with this distinguished award."
The spokesperson said, "Dr. Michael Ashton was appointed the Bermuda Hospital Board's Chief of Medicine in March 2016. He also serves as the Chairman of the BHB Pharmacy and Therapeutics Committee. His role includes working closely with the directors of each medical specialty including: Cardiology, Endocrinology, Neurology, Oncology and the Hospitalist programme.
"Dr. Ashton joined BHB in November 2011 as an Infectious Diseases Specialist and Hospital Epidemiologist and is ABIM Board Certified in Internal Medicine and Infectious Diseases.
"Bermuda born, Dr. Ashton continued a family tradition of attending Saltus Grammar School. He fondly recalls volunteering as a librarian and working as a lab assistant in the chemistry lab.
"He enjoyed science, music, track and cross-country when at Saltus. Dr. Ashton completed a Bachelor of Science and Pre-Med at McGill University, and Medical School at the University of Vermont. He sought further training in Primary Care and Internal Medicine as an Intern and Resident at Yale New Haven Hospital in Connecticut.
"He then completed Fellowship training in Infectious Diseases and Hospital Epidemiology at Yale New Haven Hospital. He takes care of patients with all types of infections and has been an advisor for COVID-19 management in the hospital and community. Dr. Ashton is a keen advocate for students in Bermuda gaining experience and opportunities in the healthcare professions.
"Dr. Meliseanna Gibbons is currently in her third and final year of Internal Medicine residency training at Wyckoff Heights Medical Center in Brooklyn NY. She has worked on the front lines at one of the COVID-19 epicenters since the pandemic reached the United States in March 2020. After graduating in June 2021, she will go on to work as an outpatient internist in Delaware.
"She graduated from Grenada's St. George's University Medical School in January 2018 and prior to that graduated from La Sierra University, Riverside California with a Bachelor of Science in Pre-Med Psychobiology and a minor in music. During her time in college, she volunteered her services during a four-month medical mission trip to Pucalpa, a city in the Amazon Basin of Peru.
"Bermuda born, Dr. Gibbons graduated from Saltus Grammar School in 2006 as Head Girl and fondly remembers her visits to Cavendish, being a part of the drama club, astronomy club, and concert band. While in Bermuda, she enjoyed many extracurricular activities including Ballet at the Somerset School of Dance, completing her Gold level from the Duke of Edinburgh Award Scheme, and being a member of the Bermuda National Youth Jazz Ensemble.
"Dr. Gibbons also attended the Bermuda Institute for middle school and briefly in grade school.
"As a child, she and her family travelled as missionaries to Cameroon Central Africa for five and a half years during which time she learned French. Dr. Gibbons is dedicated to providing effective and holistic clinical care to underserved populations."

Read More About