The 2022 Saltus Grammar School graduation took place on Thursday, June 2 under a tent on the school field.
A spokesperson said, "On the evening on Thursday, 2nd June 2022, students, families, friends, members of the Saltus Board of Trustees, school faculty and special guests gathered under a tent on the school field to celebrate the Saltus graduating class of 2022.
"The tent was buzzing with excitement and delight as families and their invited guests sat in their seats and watched the 53 graduating seniors walk down the aisle. Board Chair, Gil Tucker, began by acknowledging that this was the final graduation ceremony for our Head, Deryn Lavell."
Board Chair Tucker said, "Deryn has done an outstanding job for us; she has seen us through some tough times, and we are going to miss her. I would definitely be remiss if I didn't recognise that this is the last ceremony, in an official capacity, for Jon Beard. The Class of 2022, you have the honour of going out of the school with the great Mr. Jon Beard and you will be forever locked together with that."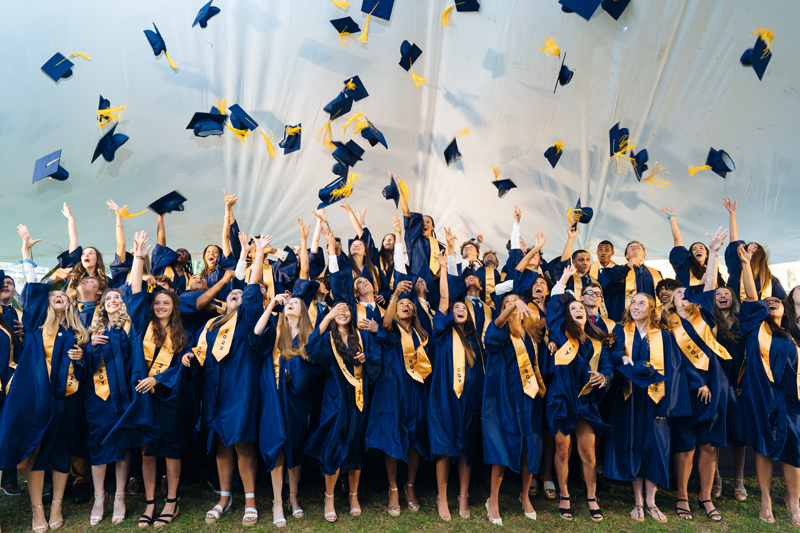 Mr. Tucker addressed the graduates by saying, "Follow your dreams; do not let the fears or concerns of the former generations hold you back. At Saltus, we taught you, as we have learned together how to have confidence in approaching problems, how to be a lifelong learner. Those are the things that are going to serve you well as you continue on with your journey from here.
"Approach with a critical mind when you are conquering the world and taking us to new heights and becoming leaders wherever you are, in Bermuda or abroad, remember that you should look at things with a critical mind; have a healthy sense of suspicion. I wish you every success in the future, on the next stage of your journey – you will always be Saltus family."
Head of School, Deryn Lavell, said, "Each of you have contributed to this day of celebration and I want to thank you for everything you have done for our graduates. Today is a day of celebration and an opportunity for me to say, 'thank you'. You have done so much to contribute to this day.
"The journey from childhood to this moment is an individual one with many bumps, highs and lows. But here we are together, and we can be so proud of these young adults, our graduates. The world is in a difficult place at the moment, and I know you are well equipped because you are critical thinkers, adaptable and flexible learners. Most importantly each of you have developed personal integrity and you understand the importance of empathy and inclusion. The world needs you and you are ready for the world."
Director of Senior School, James Anthony, said, "I thank the parents and guardians of the 53 graduates for putting their faith in Saltus to provide a quality education for their children. It is wonderful to see that 27 of those students have come all the way through the school.
"Look around you and acknowledge the deep friendships that you have cultivated in your time at Saltus…the friendships and bonds you have as a group will last a lifetime. These are the people you can rely on and it's only possible to get so far in life without the support, help and guidance of those closest to you."
The spokesperson said, "After the presentation of awards, Saltus' 2021-2022 Head Prefects took the stage to address their fellow graduates and families."
Head Prefect, Vincent Darrell, said, "During my time here, I have come to realise that the facilities are not what is most outstanding about this school, it is the people who make it run daily. Faculty, I assure you that you have succeeded in making our life at Saltus a one-of-a-kind experience.
"With the wisdom, knowledge and opportunities provided to us by our guardians and faculty, we wholeheartedly thank them."
Head Prefect, Alyssa De Silva, said, "Each and every one of you have made a significant contribution to the school, and I cannot envision the 2022 class without you all. To the students who have been here since the beginning, I congratulate you on your commitment to the Saltus community. And to everyone who has joined somewhere in between, I congratulate you for the bravery to start anew.
"Think of all the things we were able to accomplish and learn. And I hope this reminds you that new things aren't necessarily a bad thing. There is so much left for us to do, so I wish you all good luck. To the class of 2022, thank you for everything and congratulations."
The spokesperson said, "Subject prizes were received by Lucas Adderley [Accounting]; Jorga Pearman [Art]; Alison Burns [Biology, Chemistry, Economics, English Literature, History, and Physics]; Kyle Cash [Chemistry Research]; Clark Jeffrey [Computer Science, Mathematics and Performing Arts]; Alexander Zuill [Design Technology and Media Studies]; Alexis Lodge [English Language]; Cassandra Mello [Entrepreneurial Studies]; Christopher Skinner [Entrepreneurial Studies]; Raphael Rudolf [French]; Hailey Young [Human Geography and Photography]; Emily Cabral [Oceanography and Sports Science]; Samuel Webel [Performing Arts]; Cassidy Davis [Physical Geography]; Gabriela Furr [Physical Geography]; Alyssa De Silva [Psychology]; Kathleen Stevenson [Psychology]; Aria Turchiario [Sociology]; Steven Manderson [Sociology]; Massassi Maxwell-Smith [Spanish]; Thomas Davidson [World Issues].
"The 2022 Saltus graduate named as valedictorian was Alison Burns, who has been with Saltus from Foundation Year. Alison will be attending North Carolina State University.
"Special thanks to Alex Masters '01, Lara Smith [LDS Multimedia], James Doughty '04, Bermuda Rentals and Great Sound, as well as the Saltus team, for a successful graduation."

Read More About
Category: All