The 2021 Saltus graduation took place on Thursday [June 17] under a tent on the school field.
A spokesperson said, "On the evening of Thursday, June 17, students, families, friends, members of the Saltus Board of Trustees, and school faculty gathered under a tent on the school field to celebrate the Saltus graduating class of 2021.
"Everyone in attendance was grateful for the opportunity to honour our students in person and to celebrate their resilience shown throughout the final two years of their high school career.
"The event was a Safe Key event, which received Government permission prior to the event. The Director of Senior School and Deputy Head [Student Life] worked diligently with a team from many facets of the school to ensure that the graduation could take place.
"Multiple scenarios that changed frequently culminated in the best case scenario, which was a true celebration despite the torrential rain.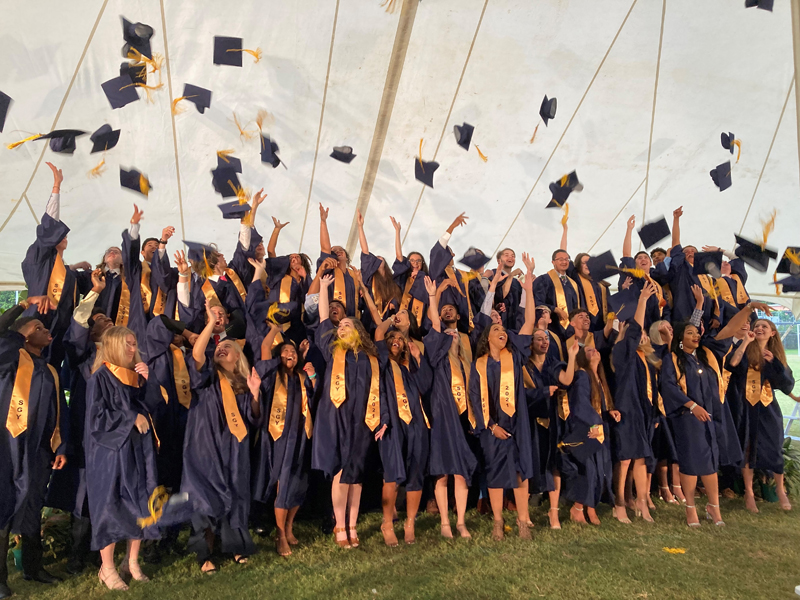 "The tent hummed with excitement and joy as families and their invited guests sat in their seats and watched the graduating class of 2021 walk down the aisle. Graduates were addressed by Kelly Francis, member of the Board of Trustees."
Ms Kelly said, "I watched in awe at how well these students have navigated through what is literally the most bizarre period in recent history.
"The fact that, as students, you continued to show up, to sign on, and to excel is just remarkable. Each of you are to be commended and the impressive list of college and university acceptances shows how hard you all have worked."
Head of School Deryn Lavell said, "Like so many, including their own families, the students have made an important choice during their time at Saltus.
"It might not feel like it now, but one day you will look back on this period with pride. You will have stories to tell your own children. Stories about a global storm that froze the world in place just as you were about to take off in your own lives and how you found beauty in the humanity of people helping people; how you became more confident in your own ability to persist and pursue your dreams.
"You will tell them that the friends you made then, the ones you still have, share a bond forged in steel, because through a crisis you just need your friends more than ever and that kind of bond never breaks.
"I have a feeling that this experience will help you always adapt quickly to change and put you in a position where innovation and flexibility will be second nature."
Director of Senior School James Anthony said, "It is particularly special to have the live streaming capabilities to allow friends and family in Bermuda and abroad to enjoy this event."
"Climb the mountain not to plant your flag, but to embrace the challenge, enjoy the air and behold the view. Climb it so you can see the world, not so the world can see you.
"It has been an absolute pleasure seeing you grow and start to climb the mountain and I wish you all the best for the exciting ascent now facing you. Please be sure to wave at all of us here at Saltus when you reach the summit."
The spokesperson said, "After the presentation of awards, Saltus' 2020-21 Head Prefects took the stage to address their peers and families. Yiwone Darrell expressed his thanks and appreciation to Teachers and Advisors, the Facilities teams and parents, stating that without a support system the graduating class would not have had the year they had."
Mr. Darrell said, "We have so many sources of support and strength that have gotten us to this point. While saying thank you is great, I think my Aunt would say 'actions speak louder than words.' The best way for us to show our gratitude to these great individuals is to follow our dreams, don't give in when things get difficult and keep them in mind."
Head Prefect Koa Godchild said, "Good things come to those who wait, but better things come to those who go out and get it. This ceremony marks the end of a chapter in our book, but it also signifies the beginning of another one, a new one.
"As we leave here today and venture off on whatever path we choose, never forget the memories and experiences that have shaped us into the diligent, ambitious, and genuine people we have become. Class of 2021, I am forever grateful, and I cannot wait to see everything we can accomplish. Let's conquer the world."
The spokesperson said, "Subject prizes were received by Jasmine Colmet [Accounting]; Shannon Mello [Art]; Brett Baumgartner [Biology]; Kathleen Brown [Biology, English Literature, Mathematics and Philosophy & Ethics]; Liam Walker [Chemistry, Computer Science and Psychology]; John Norsworthy [Design Technology]; Kian Mooney [Design Technology]; Ywione Darrell [Economic, French, History and Philosophy & Ethics]; Gabriella Medeiros [English Language]; Sanna Vogler [English Language and Honors Computing]; Azarea Mouchette [Entrepreneurial Studies]; Lucie Gariepy [French]; Kara Dallas [Human Geography, Oceanography, Psychology and Sports Science]; William Mayall [Human Geography]; Zachary Correia [Media Studies]; Cameron Lucas [Photography]; Andrew Manuel [Physical Geography]; Travis Corday [Physics, Sociology and World Issues] and Kiara McCulloch [Spanish].
"The 2021 Saltus graduate named as valedictorian was Kathleen Brown, who has been with Saltus from Foundation Year. Kathleen will be attending McGill University.
"Special thanks to Alex Masters '01, Lara Smith [LDS Multimedia], Bermuda Rentals, and Great Sound, as well as the Saltus team for a successful graduation."

Read More About
Category: All