Soldiers from the Royal Bermuda's Regiment's Coast Guard will be "out on the water in force" over the holiday weekend.
Captain Jeff Patterson, the officer commanding the RBR Coast Guard, said full-time members would be reinforced with Reserve soldiers and members of the Bermuda Police Service.
Capt. Patterson added: "There will be about 30 RBR Coast Guard soldiers and police officers on patrol on all waterways – day and night."
An RBR Coast Guard boat on patrol at a previous event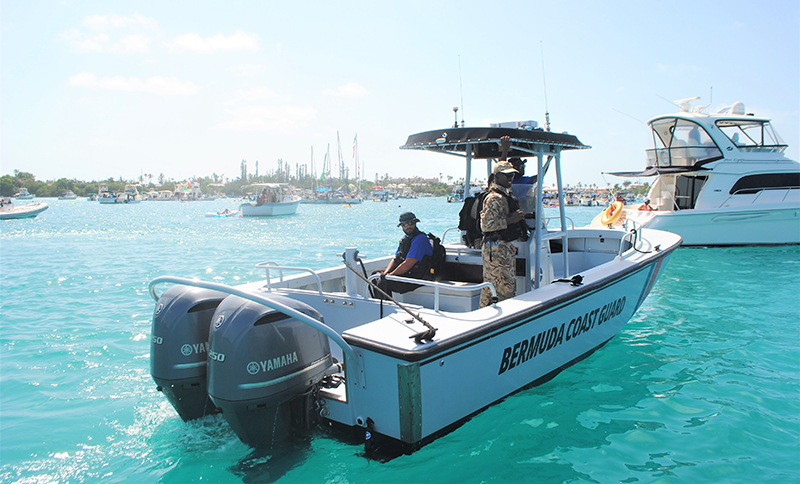 He said that, although May 24 is the traditional start to summer, National Heroes Day had marked the start of a significant increase of activity on the water in recent years.
Capt. Patterson added: "It will be great to see lots of people taking advantage of our beautiful marine environment, but they must do so safely and with respect for other boat users and consideration for people who live on islands."
Lieutenant Colonel Ben Beasley, the Commanding Officer of the RBR, said he hoped boaters would avoid risks that would mean the need for Coast Guard intervention.
Col Beasley added: "Far to often, we respond to preventable injuries or conduct rescues for people who could have avoided a situation that caused distress.
RBR Coast Guard personnel check in with a colleague on a jetski over last Cup Match.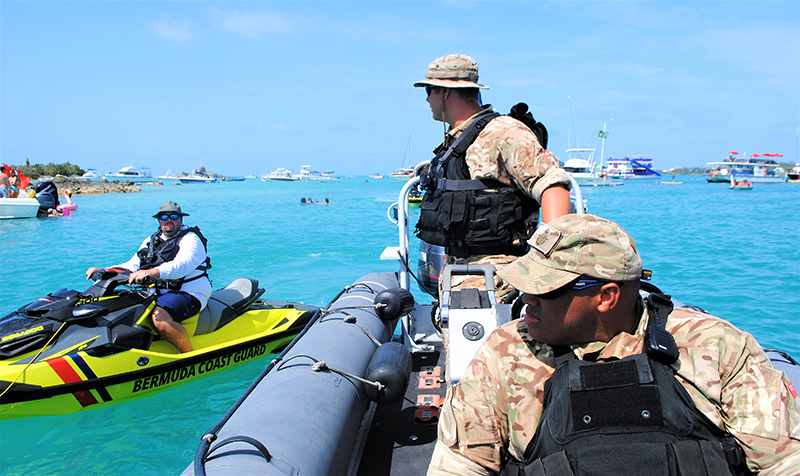 "It only takes a second for a silly mistake to turn into a serious incident."
Col Beasley said that the Coast Guard carried out regular safety checks on boats and there had been a "marked improvement" over the last year.
Capt Patterson added: "The RBR Coast Guard is not out to spoil people's enjoyment of our beautiful marine environment, but we have a responsibility to make sure the water is safe for everyone and to help prevent incidents.
"We take our duty very seriously and we will not hesitate to crack down on anyone who puts themselves or others at risk."
Assistant Commissioner of Police Martin Weekes said: "On the water, the BPS will be providing extra resources to support and work alongside the Coast Guard to bolster their marine policing response this holiday weekend and to monitor Covid compliance as well as to deter anti-social behaviour on the water."
He added the public could use the police non-emergency 211 number for Covid-19 queries or to report breaches of regulations or use the online portal at the BPS website.
The RBR Coast Guard can be contacted at 294-0610 or through the Bermuda Maritime Operations Centre on VHF radio, which will dispatch soldiers if needed.

Read More About