Three time Bermuda Open Champion Kim Swan recently began competing at the US Senior Open Championship.
A spokesperson said, "Monday June 14th marks the return to fairways for three time Bermuda Open Champion Kim Swan. Swan will be competing at Argyle Country Club, Silver Springs, Maryland, USA in US Senior Open Championship.
"The Maryland site, with 120 competitors, is the final qualifying competition for this years US Senior Open at Omaha Country Club, Nebraska."
Kim Swan said, "2021 is a monumental time period for Bermuda and for me personally, which marks my 50th year as a golfer and the 50th year of the opening of Port Royal Golf Course.
"I am committed to play this game to the best of my ability, and in doing so, pay tribute to all the people that influenced my life through golf and the glorious spirit of public golf.
Kim Swan in the 1970s and now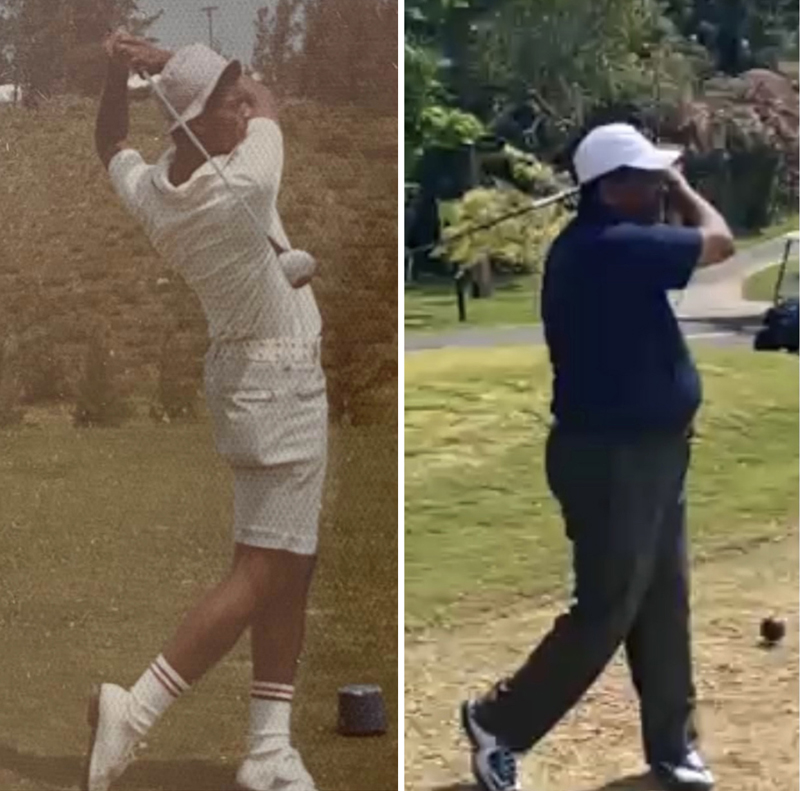 "I have come to appreciate that we in Bermuda have been richly blessed with the revelations unearthed by Dr. Jeffrey Sammons, Professor of History at New York University. The impending book on the life of Louis Rafael 'Kid' Corbin dating back to his first journey for golf in 1923 on board the SS Victoria and his earlier origins in golf now 100 years ago in St. George's.
"Hence, I committed myself to a weight loss regime and rededicated myself to practicing and playing the game of golf.
"This week of June is also the 43rd anniversary week of my first of three Bermuda Open victories in 1978, the 50th anniversary of Wilfred Ralph Fray's historic golf triumph as Low Pro in the 1971 Bermuda Open before his untimely tragic death, the 50th anniversary year of Walter King historic rise to golf prominence and the 50th anniversary of Frank Rabain qualifying for the British Open at Royal Birkdale.
"In addition, it's the 70th anniversary of Louis Rafael 'Kid' Corbin's death and the 70th anniversary year of Ocean View Golf Club opening the public golf course. It's the 50th anniversary of getting to know the legendary Rogers Outerbrdge.
"But most importantly, it's the 50th anniversary of the late Glen Simmons and I becoming the students of the legendary Herman 'Tucci' Bascome and the start of an epic life associated with golf.
"I am cognizant of the shoulders I stand on and feel that by dedicating the balance of my life to practicing my craft, polishing my talents and getting myself in the best physical condition possible, is the best way to pay homage to the forgotten era of Bermuda's golf history.
"My return to golf will represent the first tournament round for the final competitive chapter of my life as a golfer."
The spokesperson said, "The USGA has released the number of qualifying spots available for U. S. Senior Open qualifying at the Argyle CC on Monday, June 14. There are 120 players at the site which has been allocated three qualifying spots plus two alternate spots."

Read More About