The Bermuda Public Services Union [BPSU] hosted their 29th Annual Education Awards Ceremony which saw the BPSU Education Committee present twelve recipients with awards.
A spokesperson said, "At the presentation, President Bro. Armell Thomas highlighted the important role the community plays in supporting the further development of its citizens. Acknowledging the support he personally received throughout his studies, the President encouraged this year's recipients to continue this trend by finding ways to give back to others once they have completed their education.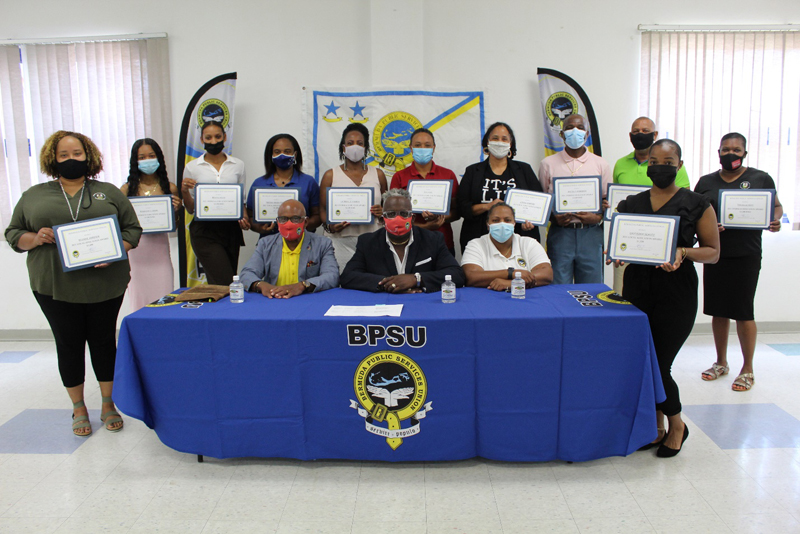 "BPSU Education Committee Chair Bro. Kevin Grant emphasised the Union's ongoing commitment to providing financial support to both its members and their dependents for furthering their education. Reflecting this commitment, the Union has granted over $710,000 to students since the inception of this initiative in 1993.
"The BPSU was honoured to gift six awards of $1,500 for local/online education and six awards of $3,500 for overseas education to the following:
Local Recipients
Kinika Bowers – Palmer, LIU Post [online]
Tricha Cross-Pitcher – Robert Kennedy College [online]
Tiffany S. Durham – Southern New Hampshire University [online]
Sloane Johnson – Southern New Hampshire University [online]
Davondra Sealey – Purdue University Global [online]
Najah-Rae Watson – Bermuda College
Overseas Recipients
Justus C. Anderson – Dalhouse University
Jathniel Z. O'Mara – Seneca College
Keshenzae C. Simons – Aveda Institute Atlanta
Toschella Trott – Aveda Institute Atlanta
Zene Wade – Georgia State University
Mikayla Wilson – Southern New Hampshire University
"The BPSU congratulates all recipients and wish them much success in their future."

Read More About