Trinidad and Tobago, Haiti and Guadeloupe will move onto the Group Stage of the 2021 Concacaf Gold Cup, with Haiti advancing courtesy of their 4-1 win over Bermuda last night.
Concacaf said, "After a thrilling three-day series of Gold Cup Prelims matches in South Florida's DRV PNK Stadium, Tuesday evening's matches concluded the inaugural edition of the event and confirmed Trinidad and Tobago, Haiti and Guadeloupe will move onto the Group Stage of this year's edition of the Concacaf Gold Cup.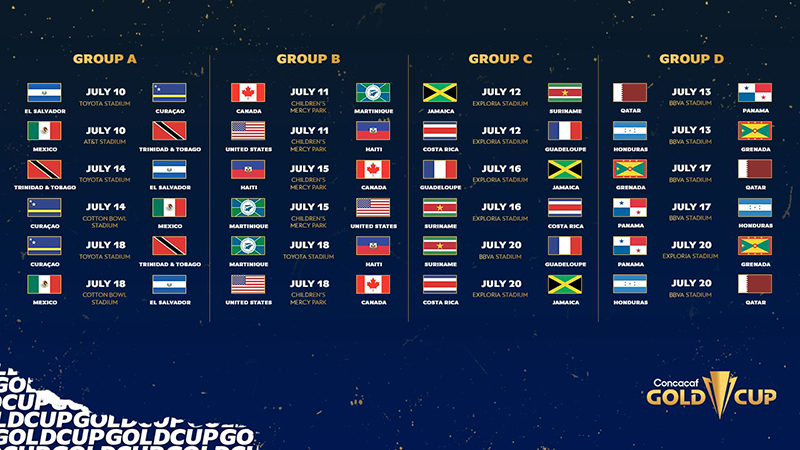 "The Group Stage will be played as follows:
Group A: Mexico, El Salvador, Curaçao and Trinidad and Tobago
Group B: USA, Canada, Martinique and Haiti
Group C: Costa Rica, Jamaica, Suriname and Guadeloupe
Group D: Honduras, Panama, Grenada and Qatar
"The Group Stage of the 2021 Gold Cup will kick off on July 10 and will run through July 20.
"At the end of the Group Stage, the top two teams from each group will advance to the Quarterfinals. State Farm Stadium in Glendale, Arizona, and AT&T Stadium in Arlington, Texas will play host to the Quarterfinal doubleheaders on July 24 and 25, respectively.
"The Semifinals will be played on July 29, in NRG Stadium in Houston, and the brand-new Q2 Stadium in Austin. The venue for each specific semifinal matchup will be confirmed at the conclusion of the Group Stage [each stadium hosting one Semifinal].
"The winners of the two semifinal matches will travel to Las Vegas' Allegiant Stadium to face off in the Final on August 1. To download the competition's schedule, click here.
2021 is Concacaf's 60th anniversary year and the Gold Cup is its flagship men's competition. The first edition was played in 1991 and the 2021 edition will be the 16th Concacaf Gold Cup.
Mexico is the most successful team in Gold Cup history with eight Gold Cup titles, followed by the USA with six and Canada with one. The current Gold Cup champion is Mexico who lifted the Cup in 2019 after defeating the US Men's National Team 1-0 in a hard-fought final at Chicago's Soldier Field.

Read More About