The final 23-player rosters for all the nations — including Bermuda — competing in the Concacaf event  have been submitted ahead of the start of the tournament on July 2, in South Florida.
The organisation said, "The final 23-player rosters for all the nations competing in the 16th edition of the Confederation's flagship men's national teams competition have been submitted ahead of the start of the tournament on July 2, in South Florida.
"The rosters have been selected and submitted by each Member Association and are published as such. In order to be eligible to play in the 2021 Concacaf Gold Cup, all players are subject to and must fully comply with the criteria stipulated in the applicable FIFA player eligibility regulations. To download the final rosters, click on the following links: Prelims, Group A, Group B, Group C and Group D.
Screenshot of Bermuda's team: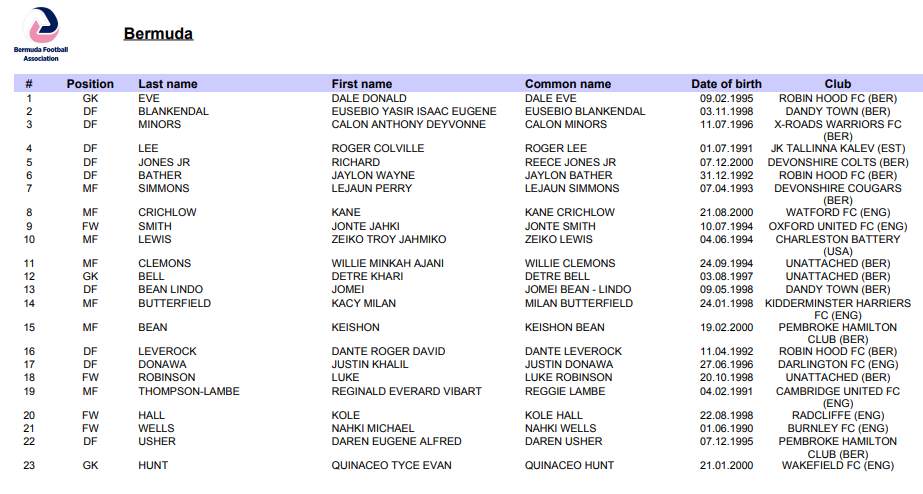 "In accordance with the Competition Regulations, changes to the final rosters will only be allowed in the event of force majeure or injury up until 24 hours before each team's group stage first match. All changes must be approved by Concacaf.
"Prior to the start of the 2021 Gold Cup Group Stage, 12 teams will compete in the Preliminary Round [Prelims] from July 2-6, 2021. These matches will take place at DRV PNK Stadium [Fort Lauderdale, FL] and will determine the final three teams in the Gold Cup Group Stage.
"The Group Stage of the 2021 Gold Cup will kick off on July 10 and will run through July 20.
"At the end of the Group Stage, the top two teams from each group will advance to the Quarterfinals. State Farm Stadium in Glendale, Arizona, and AT&T Stadium in Arlington, Texas will play host to the Quarterfinal doubleheaders on July 24 and 25, respectively.
"The Semifinals will be played on July 29, in NRG Stadium in Houston, and the brand-new Q2 Stadium in Austin. The venue for each specific semifinal matchup will be confirmed at the conclusion of the Group Stage [each stadium hosting one Semifinal].
"The winners of the two semifinal matches will travel to Las Vegas' Allegiant Stadium to face off in the Final on August 1. To download the competition's schedule, click here.
"The 2021 Gold Cup will be broadcast live through the Confederation's partner networks, including Fox Sports [USA-English], Univision [USA-Spanish], OneSoccer [Canada], Televisa [Mexico-Spanish], Futbol de Primera [USA-Spanish Radio], Teletica and Repretel [Costa Rica], Medcom and TVN [Panama], TCS [El Salvador], Televicentro [Honduras], ESPN [Central America], Flow Sports [Caribbean] and other local partners in the Caribbean, Central America and the world.
"2021 is Concacaf's 60th anniversary year and the Gold Cup is its flagship men's competition. The first edition was played in 1991 and the 2021 edition will be the 16th Concacaf Gold Cup. Mexico is the most successful team in Gold Cup history with eight Gold Cup titles, followed by the USA with six and Canada with one. The current Gold Cup champion is Mexico who lifted the Cup in 2019 after defeating the US Men's National Team 1-0 in a hard-fought final at Chicago's Soldier Field."

Read More About