Cup Match In The Square and Cup Match Fever are set to be held on July 29 and July 30 at Ordinance Island and Tobacco Bay, respectively.
A spokesperson said, "The organizers of Cup Match after game festivities are pleased to welcome back patrons after an almost two year absence.
"The ongoing pandemic has seen several key events cancelled in 2020 and 2021. Fortunately, the government has been able to keep the latest strain of the virus in check. This has allowed us to organize a few Cup Match events. These events will look different, but will still be fun-filled.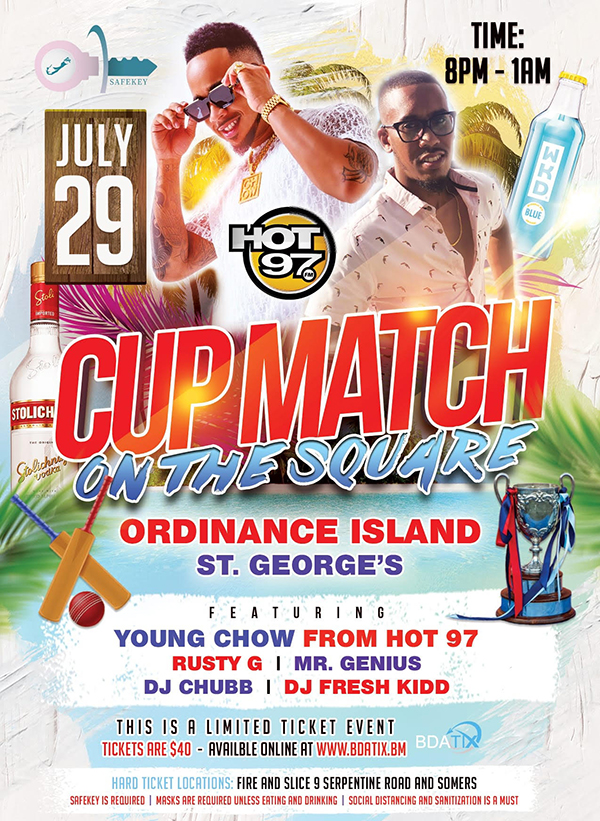 "Cup Match In The Square – A Special Celebration will be held at Ordinance Island on Thursday, July 29 from 8.00pm to 1.00am.
"Music will be provided by DJ Young Chow from Hot 97 FM New York and Bermuda's international DJ, DJ Rusty G. Also featuring DJ Fresh Kidd and Vibe 103 FM's own DJ Chubb.
"Patrons will have a choice to party at Whitehorse or Ordinance Island. Music will be streamed from Ordinance Island and Whitehorse. This will be first time an event such as the has been attempted. Tickets are $40 advance and more at the door. Ticket outlets are at bdatix.bm, Fire n Slice, Whitehorse, and Somers in St Georges.
"The party continue on Friday night, July 30, at Tobacco Bay with Cup Match Fever – The Dancehall Edition. The best in dancehall from the 90s to present will be played by DJ Rusty G, SJ1, YGS, and Prestege. Very limited tickets are available for this exclusive. Party time will be 7.00pm to 1.00am. Tickets are $60 and include two free drinks.
"Thursday's event is a Safekey event. The following protocols will be followed and enforced:
"All ticket holders must have proof of vaccination or negative PCR test 72 hours before Marshalls. Vaccination card and PCR result must be accompanied by valid ID. Results can be displayed on phone.
"Every patron must have a mask on when not eating or drinking. All masks will be provided.
"Health Marshalls will be on hand to answer any questions."

Read More About
Category: All, Entertainment