The Former Cup Match Players & Officials Association [FCMPOA] hosted a luncheon for senior Cup Match players – those above 80 years of age – with eight out of 16 players that fall into the category attending the event.
Speaking during the event, FCMPOA President Dean Minors said, "As President of the Former Cup Match Players and Officials Association, I would like to thank everyone who is present here today, and a very special thanks to Barry Decouto for fully sponsoring this event.
"Just a few words from me on behalf of myself and the association's committee members. We also recognise those other most senior players that were unable to attend today's luncheon, but our desire is that in the future they will be available to join future events.
Back row: John Stovell, St. Clair 'Brinky' Tucker, Gladwyn Trott, Joseph Bailey; front row: Eugene Woods, Sam Paynter, Dennis Wainwright, Eldon Raynor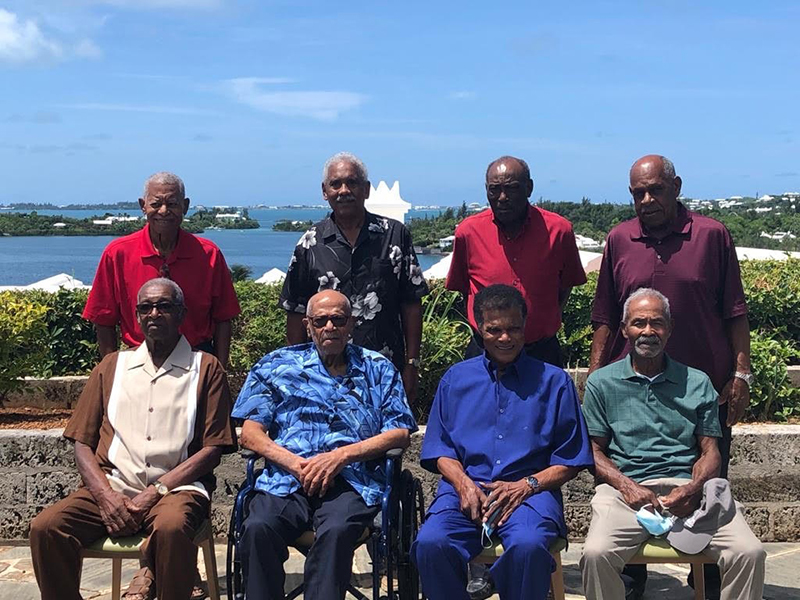 "The committee has been discussing having this luncheon for some time, but Covid restrictions and the risk of Covid prevented this from happening as safety of you all was of paramount importance.
"We have finally been able to hold the function for you, our most senior former players. The purpose: to recognise you – the legacy, the history, the role models of one of the most important and significant holidays in Bermuda.
"As a reminder, the objective of the Former Cup Match Players and Officials Association, which is a registered charity, is to:
Assist former players and officials with health and other needs
Assist upcoming cricketing prospects to further their education
Preserve the legacy of Cup Match
"The association is completely independent of the clubs and we aim to raise funding through annual memberships, banquets and gold tournaments, week of Cup Match, celebrations and other events that the association decides would benefit the beneficiaries of the association, namely yourselves and other former players, officials and younger aspiring cricketers.
"Please enjoy your meal and the comradery with your friends, former rivals, and the representatives of the association.
"Thank you again for attending and we look forward to conversing today and having you join future events in due course.
"Again thanks very much to Barry Decouto, as without him, this event would not have been possible."

Read More About