The United States CDC has now moved Bermuda up to Level 3, which states that there is a "high level of Covid-19 in Bermuda" and "unvaccinated travelers should avoid nonessential travel to Bermuda" and "because of the current situation in Bermuda, all travelers may be at risk for getting and spreading Covid-19 variant."
Screenshot from the page on Bermuda on the CDC website as of today: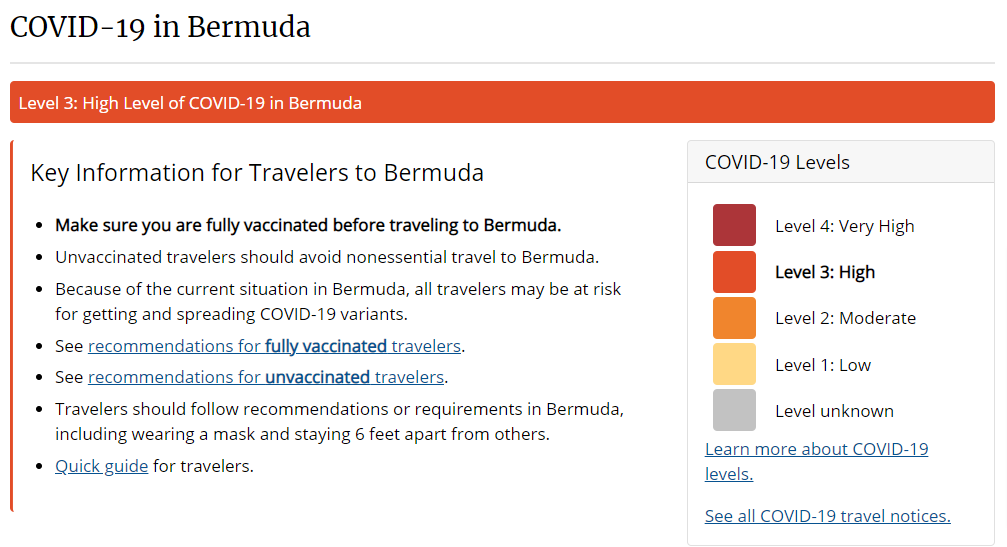 This is the latest change in the always evolving classification system the CDC runs, following after an update earlier this month which saw us move from Level 1 to Level 2. The CDC currently ranks most jurisdictions in the world as either Level 3 or 4.
This comes as the island has increasing positive cases — with 79 new cases announced today — and in releasing the latest test results, a spokesperson noted that "although Bermuda's current country status is listed as 'Sporadic Cases,' data indicates that Bermuda currently meets the criteria for 'Community Transmission."

You can find more information on the links below and also on our dedicated website BermudaCovid.com, which is the most comprehensive resource and historic record available of Bermuda's handling of the pandemic.
Read More About