Minister of Health Kim Wilson is reminding the public that if "they wish to get the Covid-19 vaccine they can visit either the King Edward Memorial Hospital on any Tuesday, Thursday or Saturday or stop by the Washington Mall on August 28."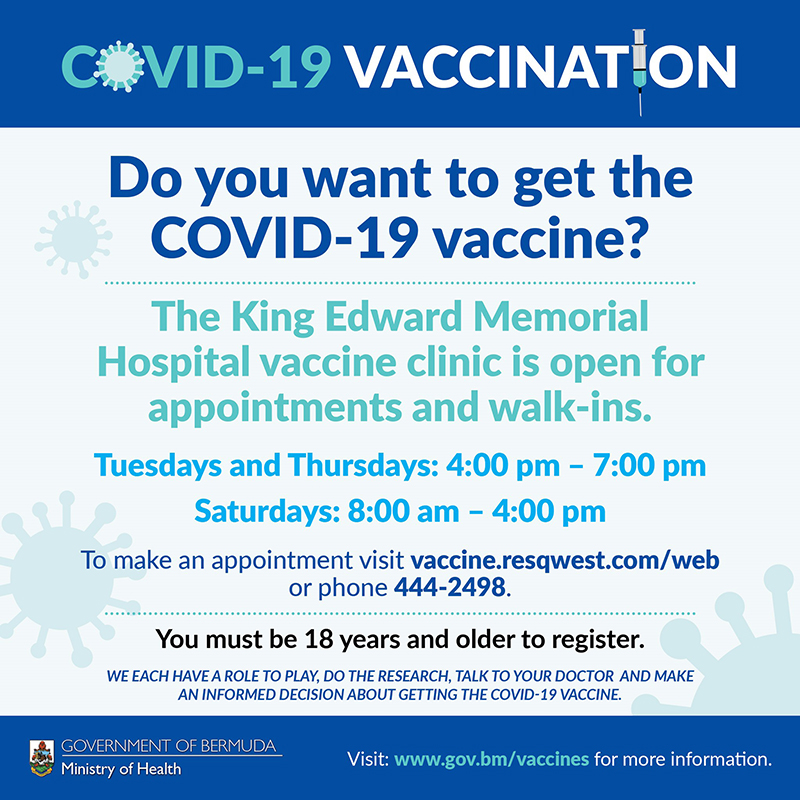 Minister Wilson said, "We've made good progress in vaccinating 75% of our eligible population. Covid-19 vaccines are still readily available for anyone who wants to get immunized. As a reminder, the vaccine clinic at the King Edward Memorial Hospital is open for appointments and walk-ins, Tuesdays and Thursdays from 4.00 pm – 7.00 pm, and Saturdays from 8.00 am-4.00 pm.
"Additionally, you can stop by the Washington Mall on Saturday, August 28, between 10.00 am and 2.00 pm. Medical professionals will be available to answer your questions. You don't need an appointment. Just show up at Washington Mall to either talk to someone or to get the vaccine.
"We must remember that this pandemic is not over and each of us has a role to play in stopping the spread of the coronavirus. Visit www.gov.bm, do the research, talk with your doctor and make an informed decision about getting the Covid-19 vaccine. Follow Public Health guidelines, wear a mask indoors, practice good hand hygiene, maintain physical distance and download the WeHealth Bermuda app."
"The public can visit here or call 444-2498 to make an appointment."

You can find more information on the links below and also on our dedicated website BermudaCovid.com, which is the most comprehensive resource and historic record available of Bermuda's handling of the pandemic.
Read More About