CFA Society Bermuda is offering its financial literacy series in partnership with Bermuda College PACE Program, beginning on September 29.
A spokesperson said, "CFA Society Bermuda is pleased to again offer their financial literacy series this fall, in partnership with Bermuda College PACE Program.
"Described as an introduction to basic money and financial concepts, topics covered will include 'Setting Financial Goals and Budgeting,' 'Income, Expenses and Debt,' and 'Planning for Retirement.'
"Introduced in September 2019, the series continues to attract interest from all parts of the community. Upon completion of the four-week program, participants express increased confidence in their ability to manage day-to-day expenses."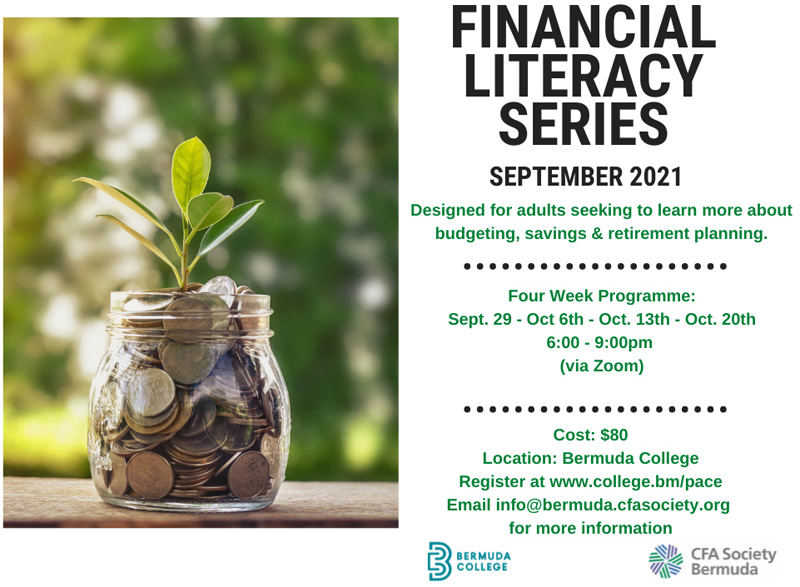 Speaking on behalf of CFA Society Bermuda, Robin Masters, CFA said "We're not surprised by the diverse group of people who attend these classes. Everybody, regardless of their age, education, or financial situation, is looking for ways to become more confident when it comes to their money, because everybody wants to reduce their financial stress.
"Our course combines financial knowledge with ways to increase financial awareness and looks at the impact our behaviours can have on our financial health. We want everyone who attends to come away feeling empowered to make sound financial decisions.
"We see financial literacy as using financial education to accomplish financial capability. In other words, how to put your knowledge into practice so that you can manage and control your money choices."
The spokesperson said, "Classes will be held on Wednesday evenings for four consecutive weeks, beginning September 29, 2021.
"The series will be delivered online using the College's Zoom platform. Course and registration details can be found on the PACE website.
"CFA Society Bermuda is part of the worldwide network of CFA Institute member societies that lead the investment profession globally by promoting the highest standards of ethics, education, and professional excellence.
"For more information about CFA Society Bermuda, visit here or email CFA Society Bermuda at info@bermuda.cfasociety.org ."

Read More About
Category: All