Ignite Bermuda is accepting applications for its next cohort from October 4 to October 15.
A spokesperson said, "Ignite Bermuda is looking for applicants to join their community of 250+ entrepreneurs and community leaders who are eager to accelerate their business, organization or idea to the next level.
"The application portal will be open online from October 4 to October 15, 2021 at www.ignitebermuda.com. After three years of supporting, mentoring and coaching entrepreneurs and community leaders, Ignite is eager to welcome its fifth cohort to begin their Ignite journey in January 2022.
"Although known as an entrepreneurial accelerator, Ignite considers its programme to be more akin to a people accelerator, as they believe that by helping to develop the great people behind the business, it helps to build better businesses and organizations in return. The five-month programme focuses on the individual, building their entrepreneurial mindset, resilience and a community of like-minded people to support them.
Current Cohort 4 Residential Advisors Allison Lacoursiere, Akilah Swan, Dwayne Trott and Jennifer Ward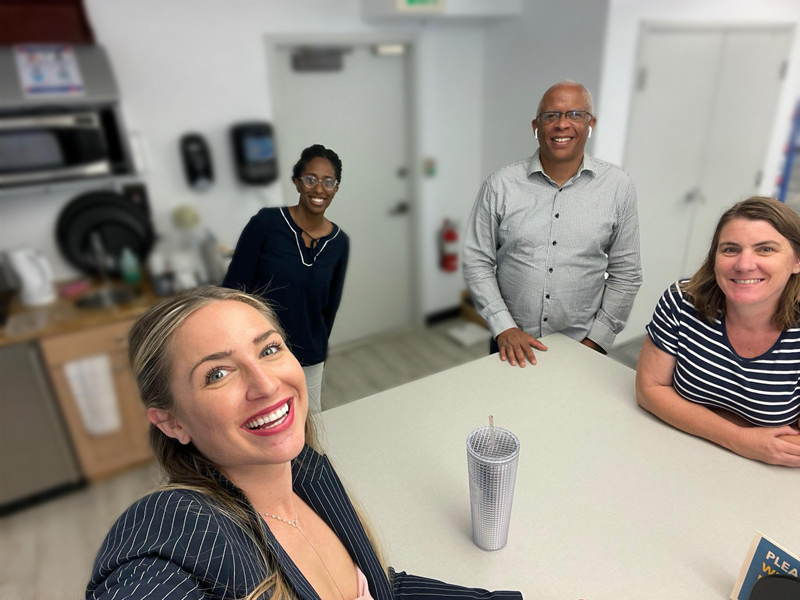 "As part of the Ignite Core Programme, successful cohort applicants not only gain access to the resources and space available at the collaborative Hub in the heart of Hamilton, but also join an ever growing ecosystem of mentors, industry experts, Ignite alumni and coaches.
"An aspect of this ecosystem is Ignite's Residential Advisors, or RAs, who are recent programme graduates. RAs are selected to continue on for the next cycle to support the incoming cohort members as they take part in the Ignite process. Ignite believes that enabling new cohort members to have direct access to individuals who have gone through the programme previously, is an invaluable resource.
"The current RAs for Cohort 4 are Akilah Swan, Allison Lacoursiere, Dwayne Trott and Jennifer Ward; they will be responsible for selecting the next batch of RA's for Cohort 5.
"Ignite asked the current RAs what they felt potential applicants should know."
Ms. Ward, founder of Island Property News, said, "Ignite is not for everyone."
The spokesperson said, "However, she urges anyone who may be considering applying for Ignite to 'just do it."
Ms Ward said, "The fact that you're even thinking about it means something. Be prepared to put the time in to work on yourself and your business – if you are working full time elsewhere you may want to think about that.
"It's important to dedicate time to really focus on what you are doing over the 5-6 months of the programme. Be prepared to be challenged; if you have old habits and mindsets, be prepared to shift them if they aren't working for you anymore."
Mr. Trott, CEO of Clean Energy Storage Solutions, said, "Potential cohort members should expect to meet like-minded individuals who share the same passion to contribute as you do. Expect to be challenged in a way that brings out the best in you, be prepared to be in an environment where you can be vulnerable, not be judged about your fears, and simply be encouraged to be the best that you can be."
Ms. Lacoursiere, founder of Clear Coaching, said, "You will make connections with people on the island that will help you grow your business and yourself. You will have the community, the mindset, the connections, the skills to grow and develop yourself to new levels."
Mr. Trott said, "Ignite strives to turn the red lights green and open doors that may have been previously shut. The Ignite programme will be a life changing experience.
"Young or older, male or female; non-profit or for profit, established business or not; don't let your mindset/fears prevent you from signing up for the programme, they will help you turn dreams into reality."
The spokesperson said, "The application portal will open online from October 4 at www.ignitebermuda.com and must be submitted by 5pm, October 15, 2021.
"For more information regarding Ignite's accelerator programme and Fuel Your Ambition workshop series, please visit their website www.ignitebermuda.com or Instagram and Facebook @ignitebermuda.
"More information about Ignite Bermuda's Accelerator Programme can be found online via www.ignitebermuda.com."
Read More About