[Updated] The Bermuda Weather Service has just issued a 'Tropical Storm Warning' for Bermuda, which is an upgrade from the 'Tropical Storm Watch' issued yesterday.
At 8.30am today [Sept 6], the BWS said, "A Tropical Storm Warning has been issued for Bermuda. Winds, especially in the eastern Marine Area, will reach tropical storm strength as Hurricane Larry passes Bermuda as a category 2 storm on Thursday, 09 Sept. See the latest details at www.weather.bm and see the early morning imagery of Larry below."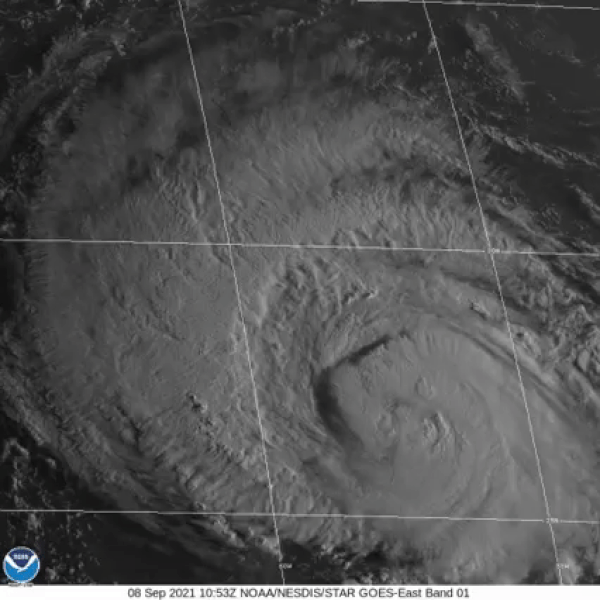 Today's [Sept 8] 6am update from the BWS states the closest point of approach to Bermuda within 72 hours is forecast to be 151 nm to the ENE at 3.00pm on Thursday [Sept 9], with the BWS noting that "this system may move closer to Bermuda after this time period depending upon its track."
The latest forecast from the U.S. National Hurricane Center said, "Larry is moving toward the northwest near 10 mph [17 km/h], and this general motion is expected to continue through today.
"A turn toward the north-northwest and north with an increase in forward speed is forecast on Thursday. A faster northeastward motion is expected by Friday. On the forecast track, the center of Larry should pass east of Bermuda on Thursday.
"Maximum sustained winds are near 115 mph [185 km/h] with higher gusts. Larry is a category 3 hurricane on the Saffir-Simpson Hurricane Wind Scale. Gradual weakening is forecast during the next several days, but Larry is expected to remain a hurricane during that time. Larry is a large hurricane. Hurricane-force winds extend outward up to 70 miles [110 km] from the center and tropical-storm-force winds extend outward up to 185 miles [295 km]."
Graphic courtesy of the NHC: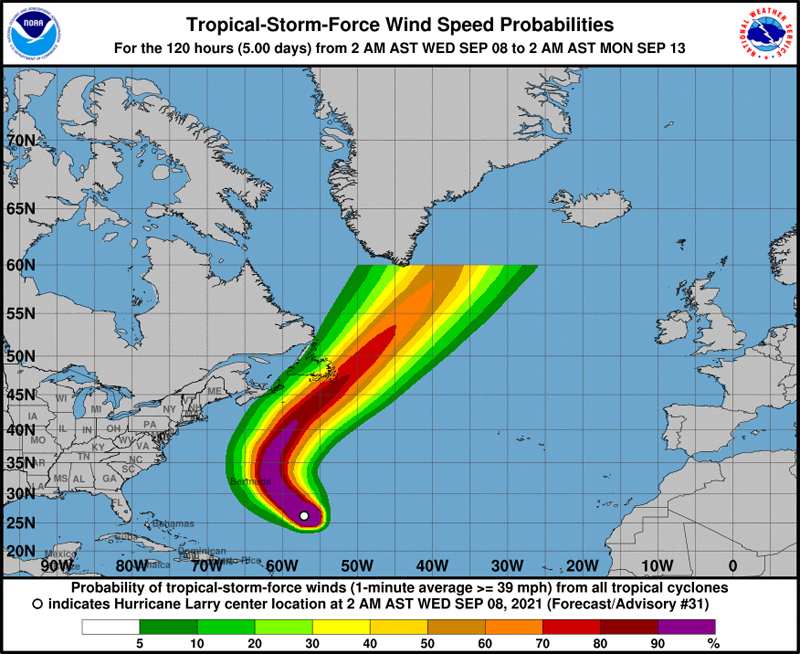 Update 12.15pm: As their 12pm update, the BWS said Hurricane Larry is a "threat to Bermuda" with its closest point of approach to Bermuda within 72 hours forecast to be 168 nm to the ENE at 1.00pm on Thursday [Sept 9], with the BWS noting that "this system may move closer to Bermuda after this time period depending upon its track."
Graphic courtesy of the BWS: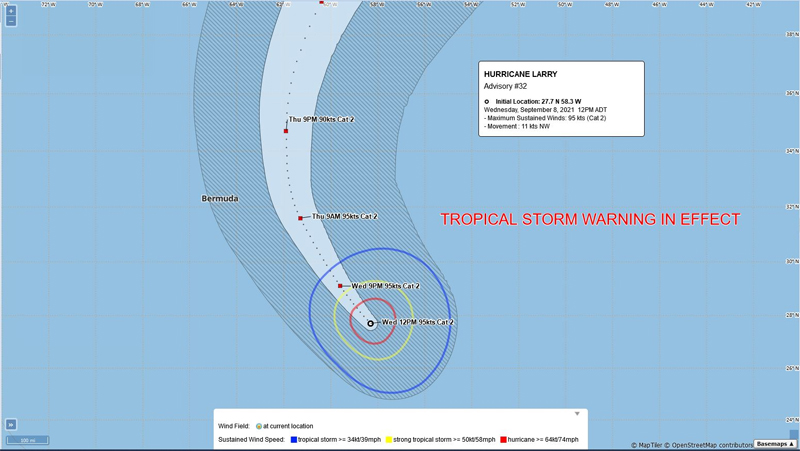 Read More About