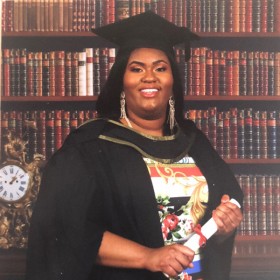 Aspiring Bermudian lawyer Mahogany Bean has become the latest recipient of a training contract with Carey Olsen Bermuda through the firm's pupillage programme.
A spokesperson said, "A former student at The Berkeley Institute, Mahogany has obtained her LLM [Barristers] and was called to the Bar of England and Wales in 2019, having previously studied law with criminology at the University of Birmingham. Most recently, she has been working as a pupil barrister within the Government of Bermuda's Department of Public Prosecutions.
"Mahogany, who was chosen after a competitive selection process, is the second recipient of a training contact with Carey Olsen Bermuda following the launch of its pupillage programme last year.
"The program consists of two years of training, which is divided into four six-month seats providing balanced, practical, hands-on experience in different areas of law. Under the supervision of partners Gavin Woods and Mary Ward, Mahogany will work across the firm's corporate, dispute resolution and litigation, employment, and trusts and private wealth teams gaining invaluable insight into all aspects of offshore law."
Gavin Woods said: "Having launched our pupillage programme last year and witnessed it working so effectively, we are thrilled to announce our second training contract recipient and to congratulate Mahogany on her success. She was up against some very strong candidates but her outstanding academic and personal achievements set her apart."
Mahogany Bean added: "I am honoured to have gained a pupillage with Carey Olsen Bermuda and to be taking the next step in my legal career. The firm is a leader in both the Bermudian and offshore legal marketplace and it is an honour to train under the expert tutelage of its lawyers and partners."

Read More About