The Bermuda Weather Service [BWS] has just issued a 'Tropical Storm Watch', noting that Hurricane Larry is a "potential threat to Bermuda."
Today's [Sept 7] 12pm update from the BWS states the closest point of approach to Bermuda within 72 hours is forecast to be 172 nm to the east at 12pm on Thursday [Sept 9] with the BWS noting that "this system may move closer to Bermuda after this time period depending upon its track."
Their forecast states, "Tropical Storm Watch issued as Larry approaches from the southeast. Nearby showers will lift away to give brief improvement through Wednesday in advance of approaching Hurricane Larry. Expect deteriorating conditions Wednesday night throughout Thursday with strengthening winds and further wet weather. Hazardous swells gradually develop, especially along the South Shore, with dangerous surf and rip currents."
Graphic courtesy of the BWS: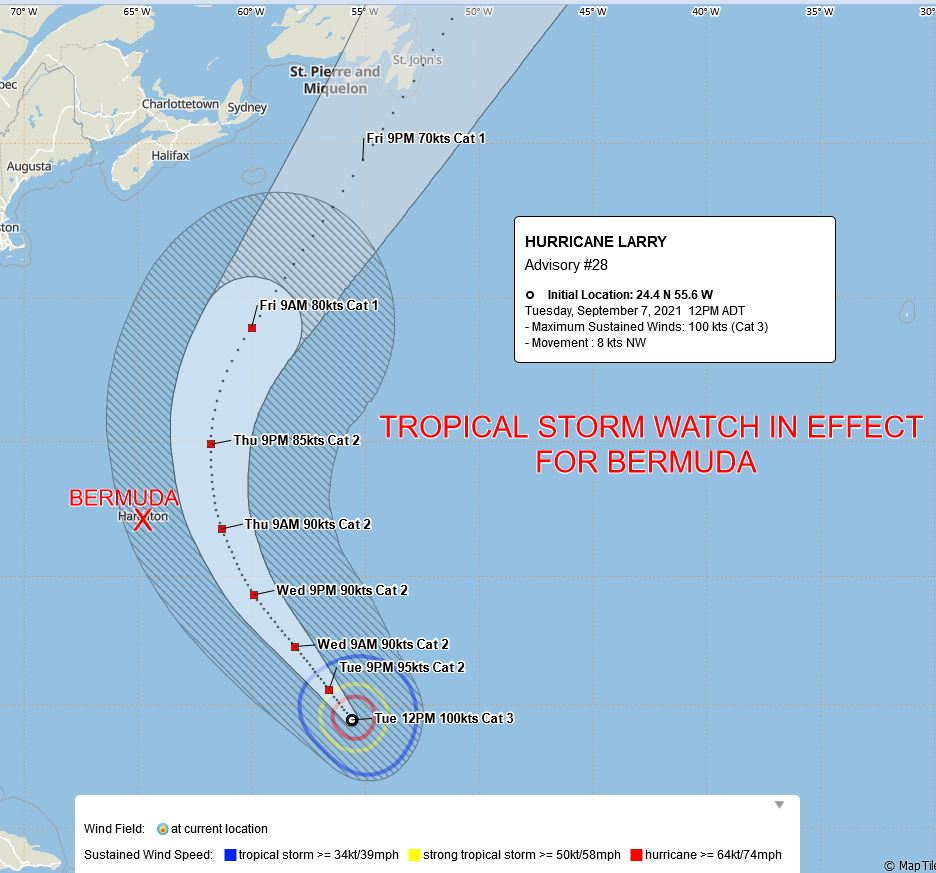 Earlier today, Minister Ming said, "At the moment the Bermuda Weather Service advised that Larry's track is currently looking favourable for Bermuda, with the hurricane predicted to pass well to our east on Thursday. At this stage, we do not anticipate any interruptions of Government services.
"However, from a storm preparation stand point, we should not become complacent. We are advising residents to prepare for possible tropical storm force winds on Thursday and expect increasing swells along the south shore.
"To be clear our public safety message is that there will be dangerous conditions for swimming along south shore beaches. So we are urging the public to use caution and common sense. The EMO will meet again tomorrow morning. We will continue to provide further updates if Hurricane Larry's track changes."
"In the meantime, the Minister encouraged residents to make sure they are storm ready. They should have the necessary supplies and should check their property for loose debris and ensure their shutters are in good working order.

Read More About