[Updated with video] Minister for the Cabinet Office Wayne Furbert delivered remarks today [Oct 8] in acknowledgement of World Post Day tomorrow [Oct 9].
Minister Furbert said, "For the last 18 months, all of Bermuda, like the rest of the world, has had to readjust how we conduct our lives, how we interact with one another, and how we provide services to the people of this country.
Minister Furbert and members of the Bermuda Post Office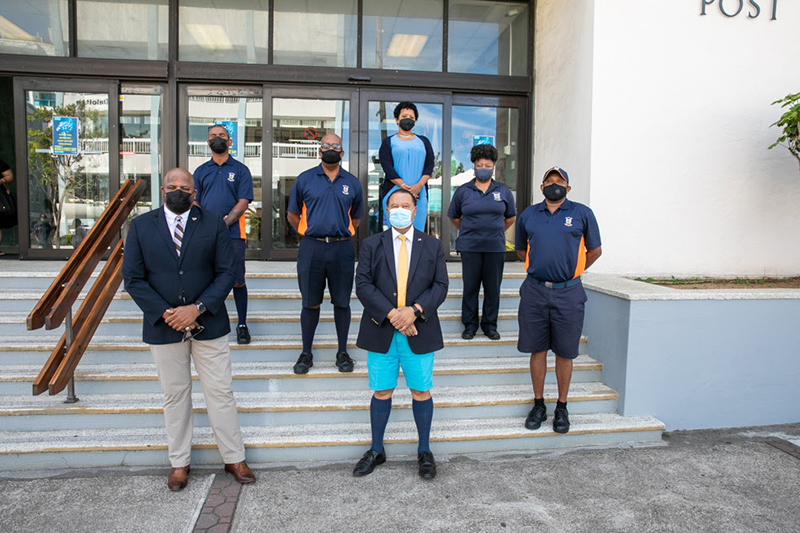 "I am pleased to say that while we were in the throes of a global pandemic, the men and women of the Bermuda Post Office rose to the challenge and continued delivering mail, thus providing Bermuda with the stellar customer service for which it is known.
"This underscores the commitment and passion of our postal workers, and I want to take this opportunity to thank all our staff for their service during this time.
"Tomorrow, October 9, is World Post Day. This year's theme is 'Innovate to Recover.' By way of background, World Post Day was declared in Tokyo, Japan at the Universal Postal Union Congress in 1969.
"Bermuda is one of many countries worldwide who participates annually in World Post Day celebrations.
"This is an opportunity to recognize the contributions of our local post office employees who provide products and services at all of our postal locations around Bermuda.
"World Post Day is also a chance to collectively thank all of our postal workers for their dedication. As you can see, I am joined by the PostMaster General Sam Brangman, and staff members of the Bermuda Post Office. We believe the recognition of World Post Day carries so much more significance than in previous years.
"Not only does this celebration mark the importance of universal mail and postal contributions to society and the global economy, it also highlights that the Bermuda Post Office continued to deliver mail in spite of the challenges and threats posed by Covid 19, especially the important pension checks to our senior citizens, for example.
"Covid-19 not only halted much of the international postal sector for significant periods, it also challenged their business strategies and plans. Against this background, the Bermuda Post Office has creatively developed new ideas, products and services to benefit local residents and businesses.
"As I have outlined in recent statements, the BPO is well on its way to implementing innovative ways to enhance its services. So, on the occasion of World Post Day, we are delighted to join postal services around the globe in celebrating our workers on World Post Day.
"I want to extend my sincere thanks and appreciation to the PMG and all of our postal staff across the island for their contribution and commitment to process and deliver mail and parcels."
Read More About