Concacaf has announced that the Concacaf W Qualifiers will now begin play during the FIFA Women's Window of February 2022.
"The first round of the region's qualifiers to the 2023 FIFA Women's World Cup and 2024 Women's Football Olympic Tournament were originally scheduled to kick off next month, during the FIFA Women's Match Window of November 2021," a statement from the organisation said.
"The scheduling change has been made by Concacaf due to challenges associated with travel into and within certain countries in our region due to the Covid-19 pandemic. The Confederation believes this is in the best interests of the tournament, players and officials.
"These matches are the first stage of Concacaf new women's national teams ecosystem and will be part of a hugely important year of Women's football in our region. In addition to the Concacaf W Qualifiers, 2022 will also include the Concacaf W Championship, the Concacaf Women's U-20 and U-17 competitions and the FIFA U-20 Women's World Cup Costa Rica.
"The schedule for the matches taking place during the FIFA Women's Match Window of April 2022 remains unchanged.
"In total, 30 Concacaf Member Associations will participate Concacaf W Qualifiers [all ranked 3 and below in the FIFA Women's Ranking as of July 2021]. The draw for the competition took place on August 3. The groups are as follows:
Group A: Mexico, Puerto Rico, Suriname, Antigua and Barbuda and Anguilla
Group B: Costa Rica, Guatemala, Saint Kitts and Nevis, US Virgin Islands, and Curacao
Group C: Jamaica, Dominican Republic, Bermuda, Grenada and Cayman Islands
Group D: Panama, El Salvador, Barbados, Belize and Aruba
Group E: Haiti, Cuba, Honduras, Saint Vincent and the Grenadines and British Virgin Islands
Group F: Trinidad & Tobago, Guyana, Nicaragua, Dominica and Turks and Caicos Islands
"After group stage play, where each nation will play two matches at home and two matches away, the top finisher in each of the groups will advance to the Concacaf W Championship, joining the top two ranked Concacaf nations [USA and Canada] who have received a bye straight to the W Championship which takes place in July 2022.
"The new schedule for the Concacaf W Qualifier is as follows [host country appears first]:"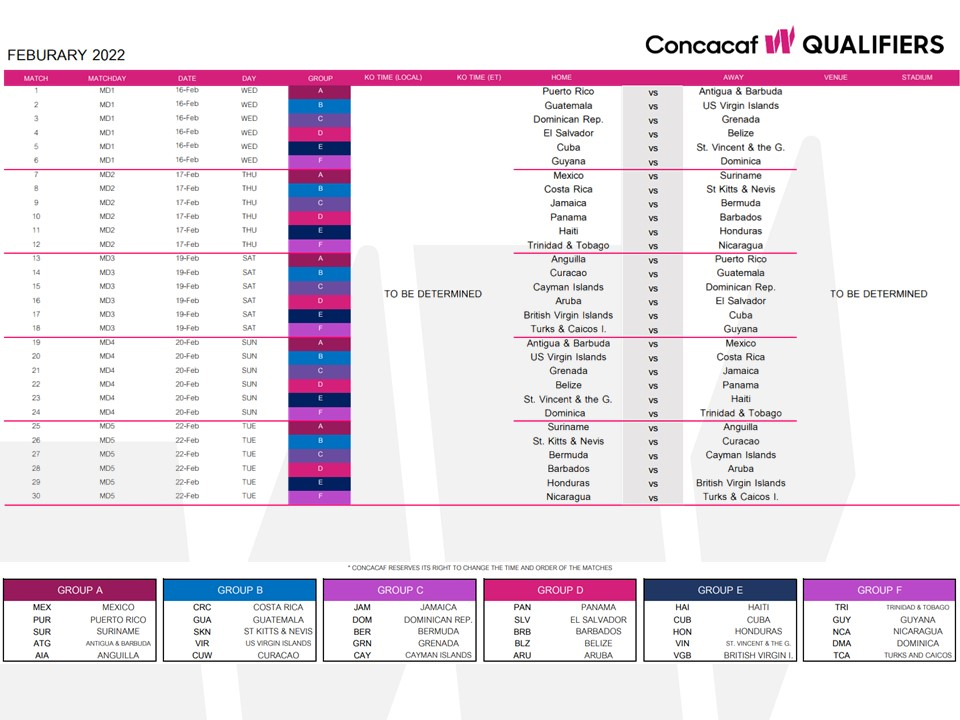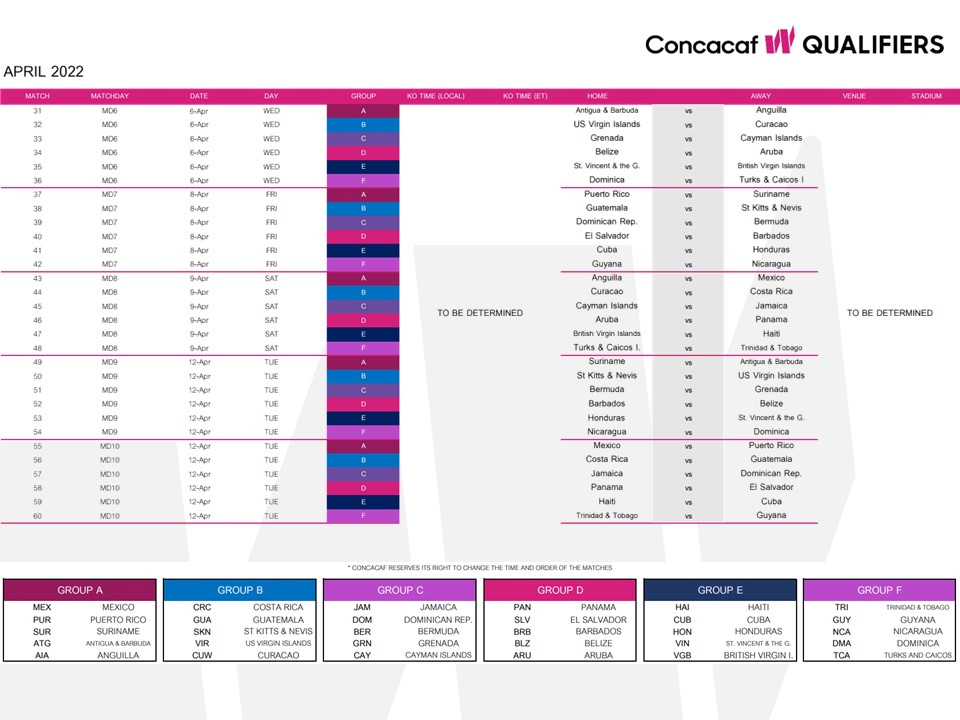 Read More About