The Economic Development Department [EDD] invites members of the public to register, free of charge, to attend the 3rd annual Tech Education Summit, which will be held on Thursday, October 14th.
A spokesperson said, "The Summit will run virtually from 9 am to 5 pm along two tracks: students and professionals. It will be opened by Premier, the Hon. David Burt, JP, MP and the Minister of Education, the Hon. Diallo Rabain, JP, MP, address the audience as well.
"Tech Education Summit speakers have been invited to share their experience in innovative sectors such as Machine Learning, Artificial intelligence, Gaming, Augmented Reality, Fintech, and Low Code/No Code methods."
Premier Burt said: "The Government is committed to supporting and encouraging innovation through technology, while providing opportunities for Bermudians to enhance their skills to build on their knowledge.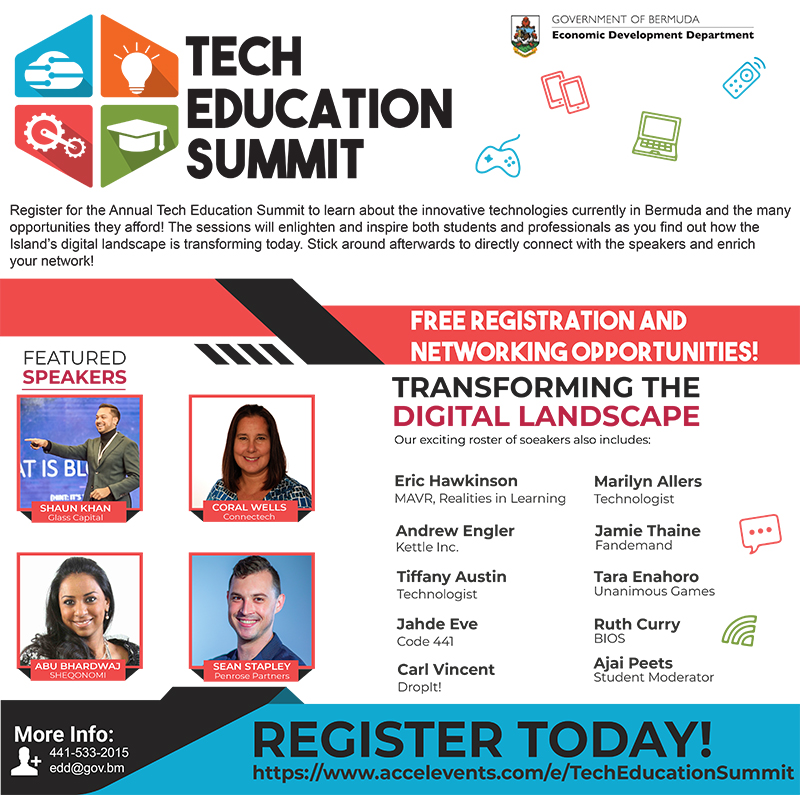 "The Tech Education Summit has lined up a relevant slate of speakers and topics that will shed light on the various innovative ways technology makes a difference in the local and global market. Participants will have opportunities to ask questions and interact with the speakers.
"I would like to thank the Economic Development Department, the guest speakers and all those involved for what will surely be a helpful and informative event for all who attend."
Maryem Biadillah of the Economic Development Department said: "The Tech Education Summit is part of the EDD's education programme which works to provide as much information as possible to those considering IT and relevant tech sectors as part of their career-related decisions. Our objective is to develop and sustain an exceptionally well-skilled employment pipeline for the benefit of not only Bermuda's workforce but also its investors and partners in the various sectors, starting with tech."
To learn more about the 2021 Tech Education Summit or register to attend the event, free of charge, go to https://www.accelevents.com/e/TechEducationSummit.

Read More About
Category: All, News, technology