Dr Andrew Spence will be joining Bernews at 8.00pm this evening [Nov 22] for the latest episode in the Bernews News & Views series, with Dr Spence set to discuss Covid-19, the vaccine and more.
Dr Spence has over 30 years experience and is currently the President of Active Staff at BHB, and his bio on the hospital's website states, "Dr Andrew Spence is a Consultant Anaesthetist with Bermuda Hospitals Board, specialising in Anaesthesia, Intensive Care Medicine and Pain Management.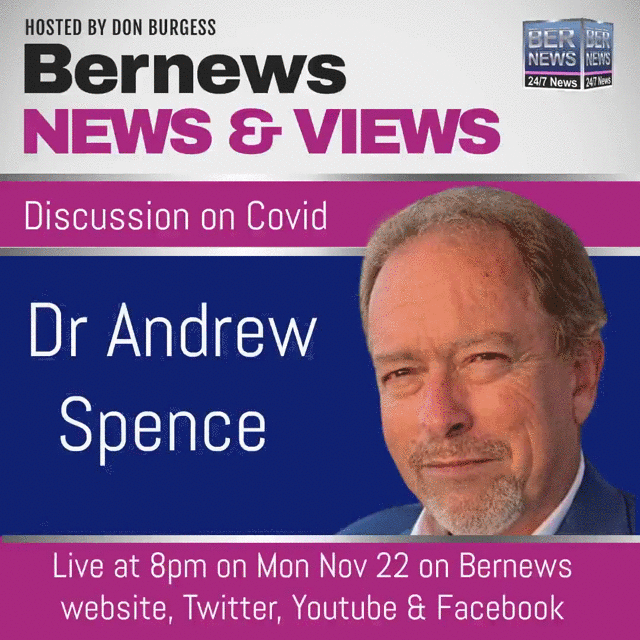 "After obtaining his medical degree from the University of Edinburgh Medical School, he completed his specialty training in Edinburgh and New Zealand and was admitted as a Fellow of the Royal College of Anaesthetists, London in 1986. Dr Spence is accredited by the General Medical Council (UK), New Zealand Medical Council, Bermuda Medical Council Specialist Registration and the UK Specialist Register in Anaesthesia and Intensive Care.
"He spent 15 years as Director of the Intensive Care Unit in Bermuda and a further six years as Chief of Anaesthesia. He is a member of the Association of Anaesthetists of Great Britain and Northern Ireland and Bermuda Medical Society. He has also worked for the last 25 years with international charity Operation Smile and currently serves on their advisory board for paediatric anaesthesia."
The live replay is below:

You can find more information on the links below from our dedicated website BermudaCovid.com, which is the most comprehensive resource and historic record available of Bermuda's handling of the pandemic.
Read More About