The First Devonshire Brownies recently held an eco-friendly hat show where they modelled hats they designed from Bermuda foliage and flowers, with the Brownies receiving tips and training from local artisan Ronnie Chameau.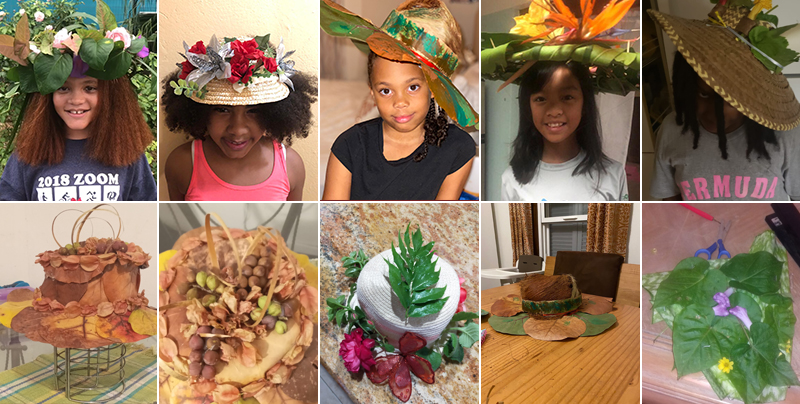 A spokesperson said, "The First Devonshire Brownies continue to beat the Covid buzz and demonstrate productivity as they zoom upwards and onwards.
"This term they have already crafted a Health is Wealth Cookbook, learned and choreographed new dances, held a Beach Bonanza, and an eco-friendly hat show where they designed gorgeous hats made from Bermuda foliage, flowers and tree bark.
"Meeting online has been fun and exciting, as every meeting is filled with ongoing engagement and badgework. They have learned Spanish from Rotary Exchange student Sydney West and have improved their writing skills, having been coached and tutored online by renowned author Joan Aspinall.
"Recently they showcased and modelled hats they made from Bermuda foliage. Historian and master hat maker Ronnie Chameau has been a driving force for the Brownies. She was a guest speaker at the unveiling of hats and will appear on future Brownie Zoom meetings to share making of banana leaf dolls and angels.
"Each participant in the hat show will receive Ronnie Chameau's most recent book on hat making from Bermuda's foliage.
"Judges for the hat show were artist Pat Lambert and designer Malik Bassett who has his Nomad Line in London, Morocco and Bermuda.
"The Brownies are now engaged in planting, having received a grant from the Bermuda Garden Club. They commenced their Brownie Green Thumb Brigade Planting Program with vegetable, flower and herb seedlings.
"They will learn about pollination, fertilization and seed dispersal from incoming Brownie botany enthusiasts from P5 West Purvis Primary school who will instruct the Brownies, based on the recent online series of trainings they received from Dr. Jamie Bacon, Education Officer of the Bermuda Zoological Society.
"This is part of the Brownie Pack's Youth Empowerment Peer Coaching Program. They will examine the interdependence of plants and animals, discover the magical work of bees and explore how seeds travel via water, wind and animals."
Read More About
Category: All, Entertainment, News