Girl Guiding Bermuda is aiming to recruit new girls and women into its ranks, with the group making a call for new program participants, along with volunteers to serve as "dedicated leaders."
A spokesperson said, "In order for us to continue working with our young ladies, we need dedicated leaders. We are looking for those that can be leaders and those that want to give back and help out.
"We are also recruiting girls to join up with the Rainbows, Brownies, Guides, and Senior Section. For those students that like a challenge, an adventure, a new experience, or need co-curricular hours, Girl Guiding Bermuda is the way to go."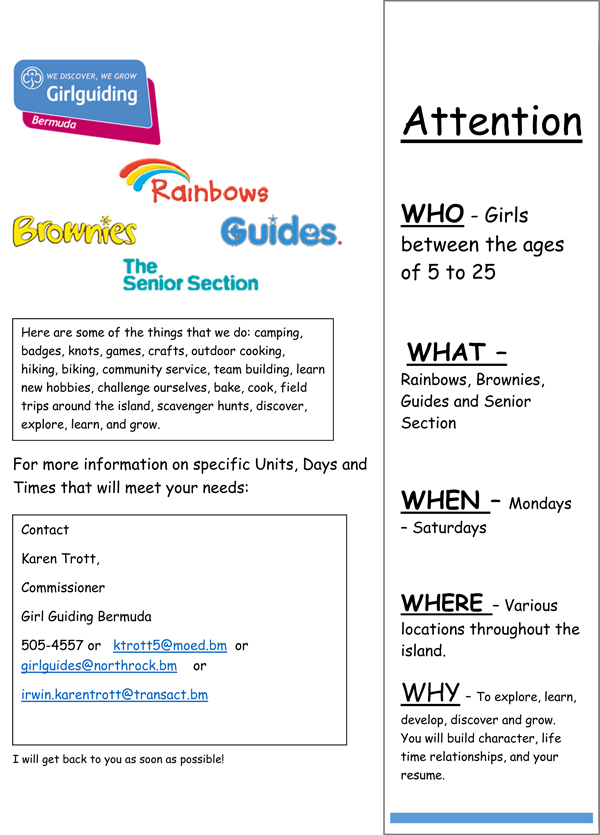 The program recruitment poster, which calls for girls and women aged 5 to 25, says, "Here are some of the things that we do: camping, badges, knots, games, crafts, outdoor cooking, hiking, biking, community service, team building, learn new hobbies, challenge ourselves, bake, cook, field trips around the island, scavenger hunts, discover, explore, learn, and grow."
The volunteer recruitment poster says, "Want to change lives? Become a Girl Guide Leader. Help with fundraising, share your skills/expertise with the girls, assist in our Guide Shop, or just come out and get involved.
"Find a flexible volunteering opportunity that's right for you with Girl Guiding. Would you like to make a difference?"
For more information, contact Karen Trott, Commissioner of Girl Guiding Bermuda, on 505-4557 or at ktrott5@moed.bm.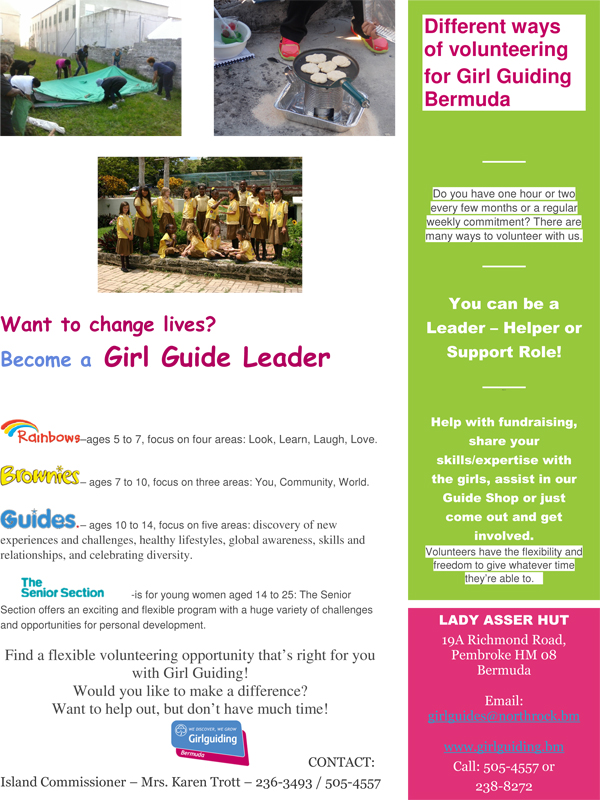 Read More About
Category: All, Entertainment