From when the island's vaccination campaign began in January until the week ending November 13th, approximately 86% of the deaths and 88% of the hospitalisations were among people who were "not fully vaccinated," the latest Government statistics stated.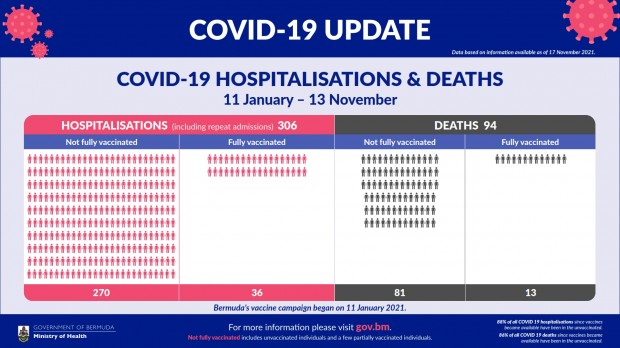 In releasing the  latest test results, a Government spokesperson said, "From January 11, 2021, when Bermuda's vaccine campaign began, to Epi Week 45 ending November 13, 2021, Bermuda's Covid-19 hospitalisations and deaths of vaccinated and unvaccinated persons are as follows:
"Hospitalisations [including repeat admissions] totalled 306, of which:
270 were not fully vaccinated
36 were fully vaccinated
"There were 94 deaths, of which:
81 were not fully vaccinated
13 were fully vaccinated
According to the most recent vaccine statistics, 69% of the population has received two doses, and that would refer to our entire population, and since young people under 12 are not yet eligible for the vaccine, the percentage of people over 12 who have two doses, is actually higher than 69%.
Sadly, our overall Covid-related death toll is 106, however the statistics the Government provides specifically cover the time since the vaccination programme began in January.

You can find more information on the links below from our dedicated website BermudaCovid.com, which is the most comprehensive resource and historic record available of Bermuda's handling of the pandemic.
Read More About