[Written by Stephen Wright]
Dánte Leverock's playing career has rarely followed the usual trajectory for an aspiring Bermudian footballer.
Every player has a different story, but Leverock's journey appears to be defined by a willingness to take the road less travelled, continually opting to veer away from the traditional path in search of new challenges.
From Staines, Leatherhead and Ilkeston in the English Non-league to Harrisburg City Islanders in the United States and from Narva Trans in Estonia to Sligo Rovers in Ireland, football has been Leverock's passport to travel the world.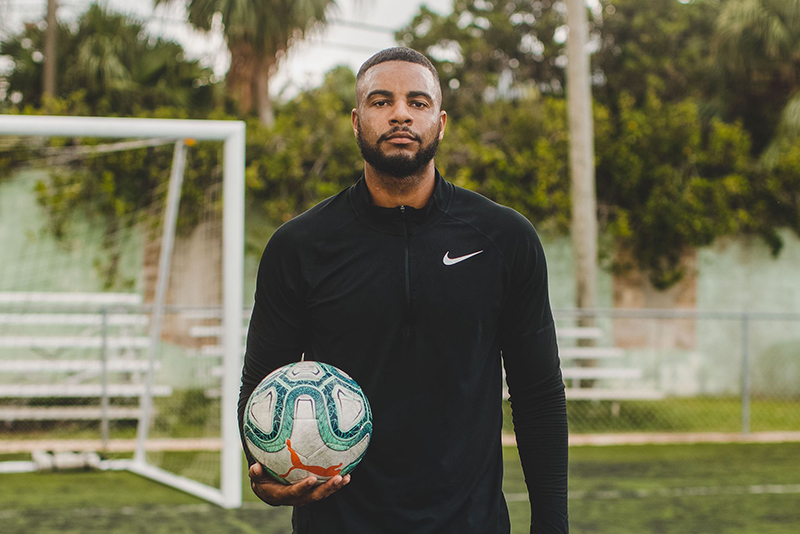 He even endured a brief, turbulent spell at Radomiak Radom, encountering racial discrimination in Poland, before returning to Bermuda to play for Robin Hood in the Premier Division.
It is only fitting then for Leverock to start the next phase of his footballing life as player-coach at Hood.
The 29-year-old is already plotting his route to the professional level, insisting he does not plan to remain island-bound for long.
"I've always felt coaching would be a natural progression for me once I finished playing [professionally]," the former Bermuda captain told Bernews.
"I've travelled the world as a player and always taken it upon myself to help coach in various academies to gain experience.
"Coaching in Bermuda isn't a long-term option for me. I've made it clear to Robin Hood that I plan to go overseas within the next couple of seasons.
"I'm open to all possibilities. The agency that represents me [4-3-3 Sports Management] is from England, so I may look to return there.
"There's also the US, where I also played professionally. Khano Smith [the former New England Revolution winger] is my cousin and is coaching out there [at Birmingham Legion in the USL Championship].
"David Bascome [the Baltimore Blast head coach] has also been coaching in the US for years. These guys are part of my network."
In the absence of several first-team players, Leverock experienced a tough start to his Hood reign, losing 5-0 away to PHC Zebras last weekend, but is confident of his side being competitive this term.
"I'm still integrating into the role of player-coach," said Leverock, who was appointed Hood coach following John Barry Nusum's decision to step down for personal reasons.
"I've always seen myself as a leader; however, there are certain things I can't do now. You have to set a standard as a coach for the players, especially the impressionable younger ones.
"I'm the type of guy to say, 'If you don't come training, you won't be playing'. That was me as a player, and that's me as a coach.
"Sure, we need to win games and need to be competitive, but developing the whole club for the long-term is just as important. That's Hood's vision, to produce young players so the club can be competing again for the league title in two to three years.
"Timmy Figureido is still on the coaching staff, and I have mentors like Richard Todd, John Barry and even my gaffer for the national team, Kyle Lightbourne, a former Hood coach, to lean on."
Although Leverock insists he is not wedded to any particular style of play, he said he draws inspiration from the tactical approaches of Thomas Tuchel, the Chelsea head coach, and Antonio Conte, now in charge at Tottenham Hotspur.
"You have to be flexible as a coach," he said. "These days there are systems within systems! My idols are [Thomas] Tuchel and [Antonio] Conte. We will be looking to play 3-5-2 or 3-4-3. I believe that best suits our personnel."
Leverock, who is still available for Bermuda selection, has already gained the Uefa B Licence and is partly eyeing a return to a professional environment so he can complete the A Licence before moving on to the Pro Licence, the final coaching qualification available.
"To get your A Licence and Pro Licence, you have to be in a high-quality environment. That's a pre-requisite," said Leverock, who also coaches youngsters as part of his DaRock Elite Performance programme.
"I want to take this as far as I can. Coaching the national team one day is also on the agenda. That would be the greatest honour."
While Leverock is characteristically open to pursuing professional coaching opportunities in England, the US, or elsewhere, it seems his final destination could be closer to home.

Read More About