[Written by Stephen Wright]
Danté Leverock said his ambitions remain undiminished as he prepares for the next chapter of his coaching career after stepping down as head coach of Robin Hood.
The former Bermuda captain announced his departure from Hood on Monday after 12 months in charge of the Premier Division side.
Leverock said he is proud of his time at the club and learned some important lessons during his tenure.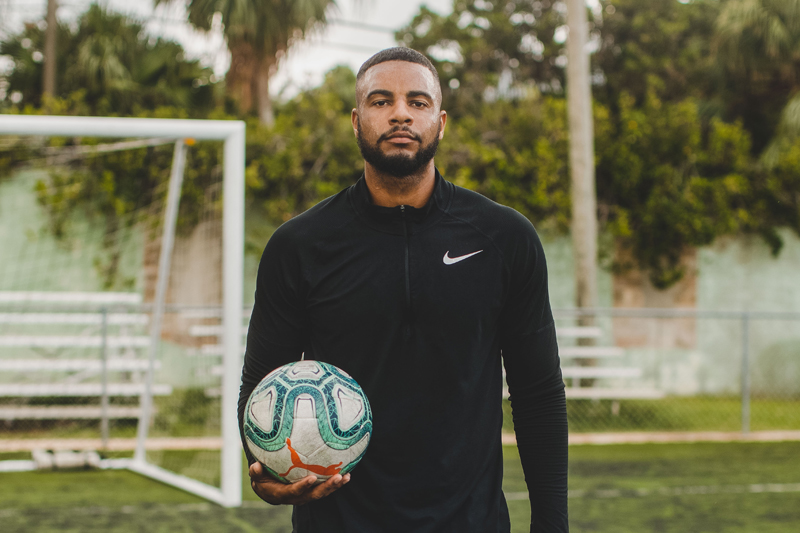 "I'm very grateful to Alex [Belvedere] and Bobby [Emmett], the Hood executive, for trusting me and giving me a chance," said Leverock, who guided Hood to sixth in the table last season.
"It's helped me grow as a coach, having more responsibility, becoming more organised, coming up with sessions, having to manipulate sessions, because in Bermuda you never know what numbers will show up.
"We didn't quite have the numbers this season. We lost 11 under-17 players who have gone overseas [to college], which is good to see.
"We've also suffered some serious injuries to senior players. We weren't going to be a strong team in terms of numbers and quality."
The 30-year-old has made no secret of his desire to coach professionally and is busily gaining various coaching certificates and badges to help achieve his goal.
He admits he was sometimes frustrated by the "lackadaisical" attitude of the local game and yearns to return to the professional environment he experienced as a defender at Harrisburg City Islanders in the United States, Narva Trans in Estonia and Sligo Rovers in Ireland.
"Coaching Hood has lit a fire under me," said Leverock, a paraeducator at Francis Patton Primary School.
"I want to get my Uefa Pro Licence, and I'm on the road to that. I'll start my B Licence in March next year.
"I've already spoken to Greig Paterson, the Scottish FA Head of Coach Education and Development, about doing my A Licence straight after that. I really want to push on.
"I still want to become the youngest ever Bermuda national team coach."
Leverock also plans to grow his DaRock Elite Performance coaching company and is forging links with professional teams in the UK to help create pathways to the pro game for local players.
"I'm trying to create a full-time academy," he told Bernews. "I have links with Everton, Southampton and Rangers.
"I'm looking to take a team to Scotland in the summer and bring in some Everton coaches for a local camp.
"There are lots of realistic pathways for players to become professionals. Not everyone will sign for a Premier League club. Look at my career; I took a different route, and it opened doors for me."

Read More About