Family Centre is getting set to present their 'Old Bags' event on Thursday [Nov 18] at the Horizons Clubhouse on South Shore Road in Paget from 1.00pm to 8.00pm.
A spokesperson said, "Family Centre Presents its Popular 'Old Bags' Event – a Silent Auction of 'Designer Inspired' New Handbags and Sale of Gently used Handbags, Clothing and Accessories to Support Children and Families in Bermuda.
"Family Centre is excited to present our 'Old Bags' event on Thursday, November 18, 2021 at the Horizons Clubhouse on South Shore Road in Paget from 1pm to 8pm.
"Family Centre supporters and the community have been inquiring about our next sale event, following the popularity of our 'This Old House' held last year and the initial 'Old Bags Event' in 2019. This will be a hybrid event that will allow everyone to join in the fun. All proceeds from the event will benefit Family Centre.
"This year's event will include two new features. There will be an interactive online auction where you can participate using a smart device, as well as, racks of new and never worn designer clothing.
"All roads will lead to Horizons to view and find great bargains and treasures that may be the perfect accessory or gift item. Grab a friend to attend the event and find fabulous pre-holiday purchases while supporting a charity at the same time.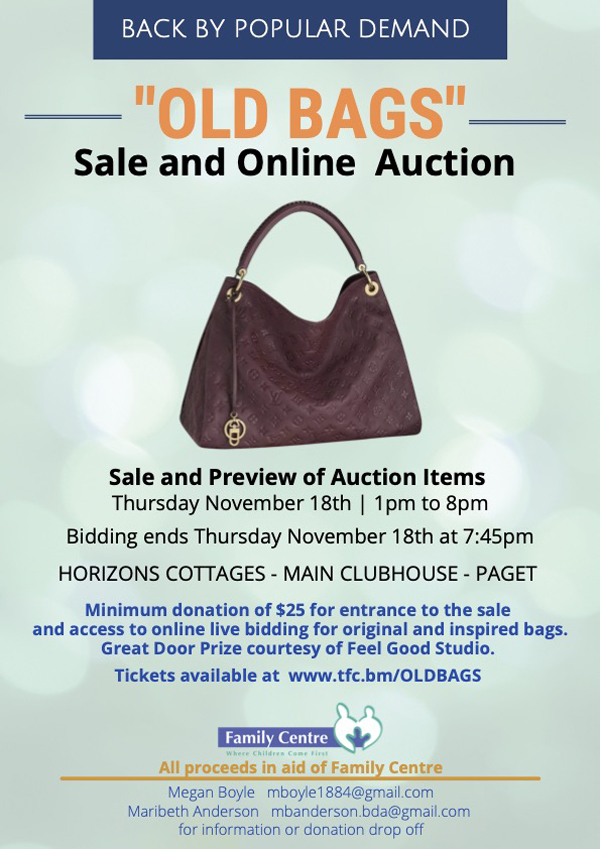 "After the overwhelming success of the 2019 Old Bags event, we are very excited that we were able to organize the event once again. We have changed the format a bit so we can work with Covid restrictions and give everyone a chance to participate,"  stated Megan Boyle, a member of the Family Centre Special Events Committee.
"For example, we have moved to a larger space so we can spread the items out more and we have moved to online bidding for our silent auction. This way people can come, see, feel, and shop for the amazing bags that are in the auction. We are very grateful to all of the members of the community who have donated to this event to help us raise funds for Family Centre."
Maribeth Anderson, a member of Family Centre's Special Events Committee organizing the event explained, "Family Centre's 'Old Bags' event is a fantastic opportunity to purchase gently used handbags, travel bags, jewelry, and accessories.
"Handbag brand names include Jimmy Choo, Prada, Ferragamo, Coach and many more. Suitcases will be at fantastic bargain prices and will include brands such as Tumi, Kiplinger and Samsonite. There is something for everyone."
A spokesperson added, "The fun continues when the real-time online bidding begins for new 'Designer Inspired' handbags such as Hermes, Louis Vuitton, Celine, and Gucci to name a few.
"Enjoy the fun of outbidding contenders for your favourite item. The auction closes on Thursday, November 18 at 7:45 pm. There will be Wi-Fi access for those who are attending the event so they can bid as they shop."
According to Thania Redman, Family Centre Relationship Development Director, "It has been a lean year for many charities as we continue to adjust to a contracting economic environment. Fundraising is pivotal in sustaining our work within the community. Family Centre is extremely appreciative of our Special Events Committee consisting of Maribeth Anderson, Megan Boyle, Georgia Benevides and Samantha Sangster for their commitment and perseverance to deliver a safe and creative fundraising event that the community can enjoy."
Family Centre's Executive Director, Dr. Sandy De Silva stated, "We are so grateful to the Special Events Committee for again putting on a fundraising event where both Family Centre and the public can benefit. Participants of the event can walk away with fabulous items for super prices; while the proceeds of the event will help to fund our critical programmes and services that help children and families to cope with adversity and move forward with their lives."
According to Dr. De Silva, "We have seen first-hand the increased need for mental health support for children, youth and families in our community. Family Centre aims to ensure that children and teens can access mental health care and wraparound support needed to thrive in their lives. So, please come on out and support this fundraising event on November 18th."
The organisation added, "Register now to attend the event on Family Centre's website here. A minimum donation of $25 is required. You may also purchase tickets at the door. If you are not able to join us at Horizons, register online and your ticket purchase will provide you with a link to the online auction featuring 20 amazing handbags and other exclusive items.
"For more information on the 'Old Bags' event email Hannah Collins at funddevelopment@tfc.bm or visit Family Centre's website at www.tfc.bm. This is a hybrid SafeKey event with Covid safety protocols. Advance ticket purchase is highly recommended."
Read More About